Irregular Weekend Schedules Linked To Obesity In New Study

mbg SEO Editor
By Christina Coughlin
mbg SEO Editor
Christina Coughlin is an SEO editor at mindbodygreen. She graduated from Georgetown University in 2019 with a degree in psychology and music.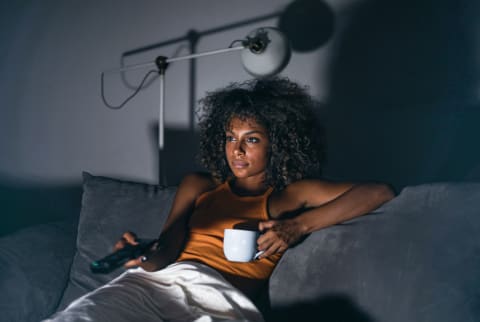 Image by Studio Firma / Stocksy
January 22, 2020
The weekends are a break from our day-to-day work life, which often means abiding by a different schedule. A new study has found this "eating jet lag" (or changing up your typical schedule on the weekend) can lead to a higher BMI and may even be linked with obesity.
Researchers at the University of Barcelona studied over 1,000 people between the ages of 18 and 22 in Spain and Mexico, comparing participants' body mass indexes with changes in eating times throughout the weekend.
Advertisement
This ad is displayed using third party content and we do not control its accessibility features.
"Eating jet lag."
To better streamline this process, the scientists created the term "eating jet lag" to measure variability in eating habits during the weekend. To determine this marker, they looked at what time participants typically ate breakfast, lunch, and dinner during the weekend as compared to a typical weekday. The "jet lag" was classified as a difference of more than 3.5 hours when comparing meals across days of the week.
Researchers found that participants who experienced eating jet lag had a higher risk of obesity, with an average BMI increase of 1.34 kg/m2.
As an explanation for this link between obesity and eating jet lag, the authors of the study blame something called "chronodisruption," where there is a lack of consistency between the body's own internal time and the social time the person is experiencing.
"Our biological clock is like a machine, and is ready to unchain the same physiological and metabolic response at the same time of the day, every day of the week," says head researcher Trinitat Cambras, Ph.D. "Fixed eating and sleep schedules help the body to be organized and promote energy homeostasis. Therefore, people with a higher alteration of their schedules have a higher risk of obesity."
So, what should we do?
The authors of this study say that more research is needed to examine the reason behind this discovered link and are looking for more explanations for the physiological mechanisms behind eating jet lag that contribute to a higher BMI and greater risk of obesity.
In the meantime, researchers urge people to try their best during the weekend to maintain a consistent schedule. Although it can be tough, eating and sleeping schedules have a large impact on our health and can contribute to our risk of obesity.
That being said, weekends can still be a way to relax and debrief from a busy week. It's OK to change your schedule up slightly, but the synchronicity is key to promoting health.
Advertisement
This ad is displayed using third party content and we do not control its accessibility features.
Reset Your Gut
Sign up for our FREE doctor-approved gut health guide featuring shopping lists, recipes, and tips