paid content
 for

Eat Like An Applegatarian! An Integrative Nutritionist Gets Real About Sustainability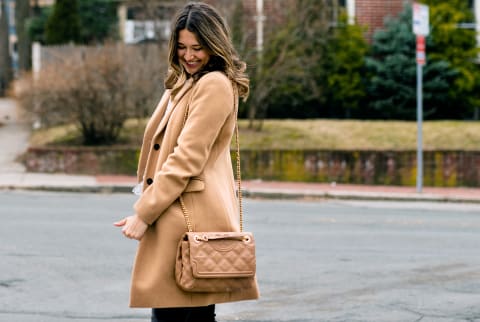 Image by Katie Lemons / Contributor
March 13, 2020
When I think about health and well-being, my definition of what it means to be healthy has become broad and expansive. Over the years, it's evolved to incorporate far more than just what's on my plate.
As a nutritionist and a newly minted physician assistant (!), I spend a lot of time thinking about how food plays a role not just in our health, but in medicine and assisting in the treatment of chronic disease. So it's impossible to ignore the way in which food gets to the plate—the journey, evolution, and life cycle of a product, truly from farm to table.
One tangible way to help build a future of better, cleaner food is spending my dollars on companies committed to advancing regenerative farming, agricultural practices aimed at restoring and revitalizing the food system from the ground up. It's why I'm so passionate to be partnering with Applegate. With their clean meat standards, focused on promoting the natural growth of animals and environmentally responsible practices, leading the industry, I do consider myself an Applegatarian (and if you know me, I typically don't subscribe to food labels!). In other words? I'm someone who consciously chooses clean, craveable meat for ethical*, environmentally responsible**, and delicious reasons.
They say that an apple a day keeps the doctor away, but I'd like to rephrase it to, "Being an Applegatarian makes this nutritionist say hooray!" It's been a slow and steady process on how I can do my part to be both nutritionally and environmentally conscious holistically in my life, but one that I'm proud of seeing the progress.
Here are some doable ways that I've been more mindful about practicing for sustainable living and nutrition: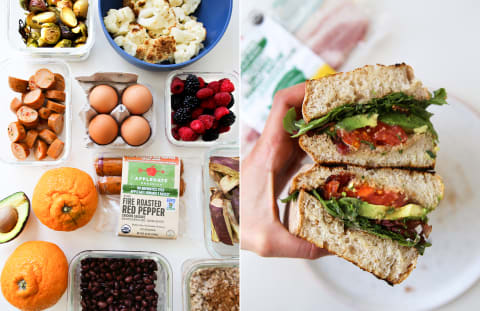 Image by mbg Creative / Katie Lemons
1.
Preventing food waste by mindfully meal prepping.
One of my absolute biggest pet peeves is when I have to throw food out. It's both morally and financially frustrating, so I'm incredibly methodical about meal prep. Two things make a major difference in reducing my food waste: only buying what I need, and prepping in a way that optimizes diversity of meals to prevent boredom and waste.
2.
Refilling glass bottles from a local bulk home/beauty products store.
I'm so lucky to live in a neighborhood that echoes my own beliefs on sustainability and decreasing single plastic use. Whenever I'm low on laundry detergent, hand soap, and even epsom salts, I walk on over with my glass bottles for a refill. This way, the only product I'm purchasing is the product itself, rather than the packaging that comes along with it.
3.
Bringing a straw, cutlery, and a reusable cup with me wherever I go.
I keep a set in my car and in my backpack at all times. Even if I don't have plans to eat out, you never know when they'll come in handy!
4.
Taking public transportation or walking whenever I can.
I'm incredibly fortunate to live in a city where public transportation is easily accessible. Whenever possible, I hop on the train or bus to get to my destination, and only use my car if absolutely necessary or when traveling long distances. While this may seem small, every action (small or large) helps!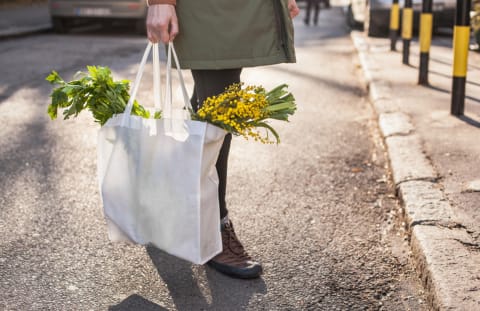 Image by JELENA JOJIC TOMIC / Stocksy
5.
Spending my money on companies who are environmentally responsible.
As I mentioned earlier, I like to put my money where my mouth is headed. As in, spending my dollars on companies who are committed to doing good both in their products and their intentions. Not only is it hugely important to be eating sources of meat raised without antibiotics, growth hormones or animal by-products, but investing in companies who are investing in the environment and committed to advancing agriculture systems like regenerative farming.
Which is why I'm thrilled to pick up a package of Applegate Organics® Turkey Burger to make burgers with sweet potato fries on the weekend. Or roasting up some bacon to have for brunch or toss in a BLT sandwich!
At the end of the day, while food is what got me started in my profession, it isn't my focal point. It's one piece to the puzzle of well-being: To me, food serves as nourishing and energizing fuel to make me feel my best, so that I can then go out and act and perform at my most optimal potential and capacity—for myself, for others, for my community, and for the environment.
*Ethical: Animals raised with no antibiotics ever or growth promotants, on vegetarian feed with no animal by products (beef is 100% grass-fed) and with space to engage in natural behaviors and promote natural growth.
**Environmentally responsible: Applegate requires all animals to be raised without antibiotics. Applegate is committed to advancing agriculture and processing systems like organic, non-GMO and regenerative farming.

Katie Lemons
Food Blogger
Katie has a master's in nutrition and functional medicine, with the intent of integrating nutrition into her future medical practice. She focuses on how food can be used as a comprehensive preventive wellness plan to improve overall mood and well-being. With a hard-science background and affinity for puns, she aims to create simple, healthy recipes and present current nutritional research in a fun way that's easy to digest.