I'm A Regulatory Legal Expert & This How You Can Be A Conscious Beauty Shopper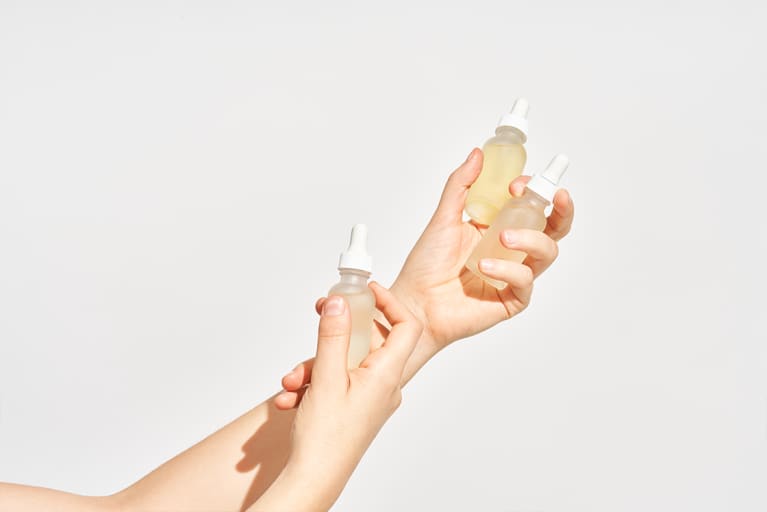 When we talk about clean beauty, we are essentially talking about regulation—or the considerable lack thereof. The "clean" beauty movement started as an alternative to traditional beauty products. A certain subset of consumer and product formulators felt that current regulatory standards weren't keeping up with the current research suggesting that some very commonly used ingredients may be tied to adverse health effects, were considered hormone disrupters, or and are harmful to the environment.
See, as legislative attorney Melanie Benesh for the Environmental Working Group explains in a recent episode of Clean Beauty School, the FDA has very limited power over the cosmetics industry as it stands now. And this means consumers are left to their own research to decide what they would like to use in their topicals.
"The basis for our current system is the Food and Drug Cosmetic Act of 1938. It's a broad bill that covers several industries and is 800-plus pages in total. Almost each section of it has been given meaningful updates in the 80 years that it's been around," she says. "All except the section that covers cosmetics, which is only about a page and a half."
Here, what to do about it.
Call your reps & get involved at the state level.
Listen, there are a lot of things to get involved in politically right now—racial justice, environmental advocacy, health care—so we understand that you may not want to add another ticket item to contact your reps about. (There's only so many hours in a day and energy to be spared!) But if you feel inclined and empowered to reach out to your representatives, there are bills and legislative items at both the federal and state levels.
At the federal level, Benesh explains, there's the Senate's Personal Care Product Safety Act and the House's FDA Cosmetic Safety and Modernization Act. Both are reasonably popular across the aisle, and even brands and celebrities have testified before Congress about their support. (On that note, even big conglomerates like Unilever, Johnson & Johnson, Procter & Gamble, and L'Oréal USA have backed these.) Currently, COVID-19 has become the top priority for the FDA (a good and necessary thing!), so these haven't been getting as much attention. However, in the meantime, you can contact your representatives to tell them you support both of these initiatives. "These don't get as much attention or publicity as other legislative agendas, so even one or two voices of support mean a lot for these representatives," says Benesh.
At the state level, California and Maryland are certainly leading the pack. (Most notably California's Prop 65, which has the strictest domestic regulatory standards available at the moment.) No matter where you live, we encourage you to check to see if your state has legislation in consideration—and if so, voice your support. It can go a long way, not just for your home state but for others as well. "The states are doing much of the work on this front," she says. "In fact, you're seeing a lot of brands reformulating their products to meet California's standards because they don't want the hassle of producing two different products."
Look to the European Union.
So, it's no surprise that the E.U. has better and more robust standards than we do here. They regulate or ban over 1,400 ingredients; we're at about 20. (I will say—as I explain the episode—it's a slightly misleading stat, as some of the ingredients in the 1,400 are those that would never have been in beauty products to begin with; regardless, they are certainly strides more advanced than we are.) So why is the E.U. more stringent? Well, they have a premarket regulatory system, meaning they look at ingredient safety prior to it hitting the shelf. That doesn't exist here.
"The E.U. follows the precautionary principle, which means that they are not going to let a chemical onto the market until they have received a certain amount of data that it's safe," she says. "In the U.S. it's the reverse—so we have more of a philosophy that we assume something is safe until proven otherwise. So in some ways, we're the Guinea pigs."
Use your purchasing power. 
Ultimately the market is changing—this is undeniable. People want products and systems they can put their trust in, for their own health and the planet. The global "clean" beauty market has an expected growth rate of 12% each year, for the next six years—at least. That's a huge signal to companies that it's in their best interest to get on board.
It's important to push for changes now, so we have to worry less in the future. "The burden really shouldn't be on consumers. We already have so much to worry about, and it is unfair that we're being asked to do more in order to keep ourselves and our families safe," she says. "That's why it's really important to me to fix our regulatory system."
If you're looking for more engaging beauty conversations, listen to our new beauty podcast, Clean Beauty School. Subscribe on iTunes, Google Podcasts, or Spotify.