Take A Peek At IKEA's New (And Seriously Wellness-Inspired) Collection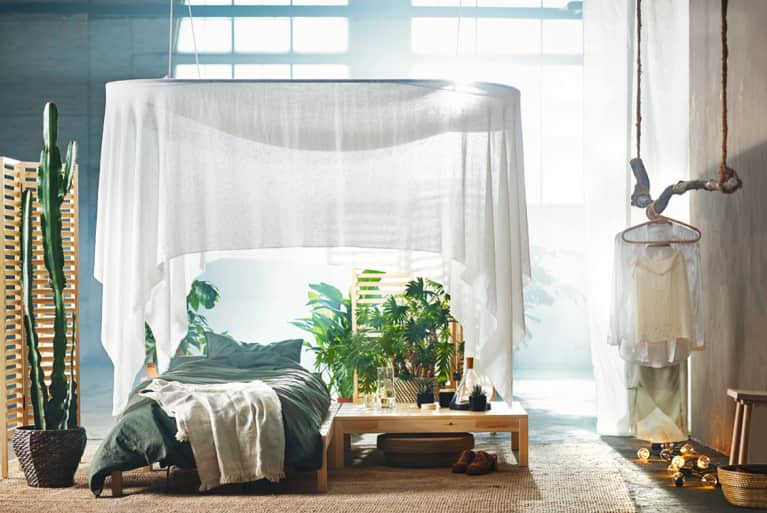 Last spring, we applauded IKEA's increasingly sustainable and transparent collections that utilized natural materials and small-batch building techniques. Come summer, we cheered for their announcement that select U.K. locations would start selling solar panels to eco-conscious shoppers. And the household mecca's latest line has us celebrating (and updating our home wish lists) yet again.
The brand's just-announced Hjärtelig collection pulls inspiration from the wellness world with offerings that promote mental and emotional well-being at home.
"Hjärtelig invites us to press the 'pause' button, if only for a little while, on a daily life that's often hectic, complicated, and online. Whether to practice some yoga, tend to a plant, or simply relax amongst beautiful, natural materials, the Hjärtelig collection is about the moments [that allow us] to re-focus and revitalize ourselves," reads a company news release.
Featuring a yoga bag and blocks for a bedroom flow and soothing scented candles in containers that can be used to store jewelry once the wick winds down, its offerings promote movement, mindfulness, and ease at home. Designers Andreas Fredriksson and Maja Ganszyniec also studied people's sustainable habits to craft furniture that made them a little easier to follow. For instance, for those of us who make piles of clothes that we've worn once but don't feel the need to wash just yet, their Hjärtelig bench provides a stylish place to throw the in-between pieces. The designers have also included plenty of clay planters for bringing some of the outdoors in.
Anyone else grabbing their blue bag in anticipation?
Take your green home up a notch with these seven earth-friendly swaps.