Close Banner
Advertisement
This ad is displayed using third party content and we do not control its accessibility features.
paid content
 for

I Tried It: Why Rent the Runway's Newest Membership Is The Most Sustainable (And Affordable) Way To Shop This Fall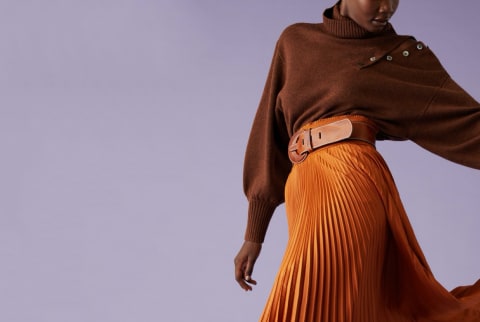 Image by Rent the Runway / Contributor
To me, one of the most important parts of my day is picking out my outfit; not only does it help lift my confidence, but it helps to set the tone of my entire day. There's just something about putting on that tweed blazer with the gold buttons that empowers me to feel like I can accomplish anything—even if I'm wearing it while WFC (working from couch)! Talk about the psychology of clothes.
This year definitely emphasized the role that my outfit plays in my day and my mood, but it also slashed my shopping budget in half. Since I am someone who definitely works hard to budget my monthly fashion allowance, I jumped at the chance to test out Rent the Runway's newest membership (and I even got them to give me a discount code—RTRXMBG—for 50% off your first two months of their 8 or 16 item plan; it might even be the best deal you'll find)!
Financially more responsible: Spend less, wear more.
"Spend Less, Wear More": It really says it all. With the economic standing of 2020, I don't think I am alone in saying finding a more affordable way to shop has been a top priority. So, when I first heard about Rent the Runway's new 8-Item program for $135 a month, it was clear I needed to find out more. The 8-Item program allows you to pick out eight pieces each month from Rent the Runway's impressive lineup of designer clothes. This is amazing because the average consumer wears up to $5K in retail value of clothes per month. It means that I could still shop my favorite brands and enjoy the confidence boost that comes from an outfit I love but at a fraction of the cost.
During my first shipment, I wanted to ensure that I diversified my order, so I got a pocketbook I had always wanted but could never find the budget to buy, two dresses that took me from Zoom call to dinner with friends with ease, and a comfy sweater that was just enough professional to wear on my client calls—but also comfortable enough that I could lounge in to watch a movie later that night.
These four options from just my first shipment totaled over $2,460. I was already eager for my shipment to come, and—lucky me—my shipment showed up just eight hours later with RTR's same-day delivery*! Talk about A+ service.
I couldn't believe that I had just ordered $2,460 worth of clothing for just one of my swaps for the month. If you think about that correctly, that's $2,460 worth of clothing for approximately $68!
Better for you and the planet.
The retail industry is the second-largest polluter in the world (oil is the first). When Rent the Runway started, they wanted us to rethink the way we got dressed but also help better our planet. Rent, Reduce, Reuse—three pillars of the Rent the Runway philosophy that exemplify how every one of us can help be a part of the solution, just by getting dressed in the morning!
Rent: Every time you rent, you are participating in the shared clothing economy. This helps reduce the amount of clothing that ends up sitting in your closet graveyard (aka that section in the back you haven't touched in over two years)!
Reduce: The average woman throws away about 81 pounds of clothing per year. So when thinking it through, renting things you'd wear only a few times is a more sustainable answer. And more people sharing clothing means less clothing waste.
Reuse: Once the garments are no longer suitable for rent, RTR works to extend the life cycle of the garments even further by selling them at an even more discounted price as part of their sample sale, or they donate them to carefully selected organizations like Dress for Success and Operation Prom.
Closet variety.
What I loved most about the Rent the Runway membership was that I had full closet access to the 700-plus premium designers with over thousands of clothing options, from athleisure apparel to dresses, jeans, jewelry, and handbags—anything and everything you could think of—is in this closet.
For me, as someone who is always looking to try the latest trend, this was amazing. If you have a love of clothes like me, you know one of the biggest pain points of the fashion world is keeping up with seasonal trends without overspending or cluttering your closet. All I kept thinking was, how did I not hear about this sooner?
More On This Topic
more Lifestyle
Advertisement
This ad is displayed using third party content and we do not control its accessibility features.
Advertisement
This ad is displayed using third party content and we do not control its accessibility features.