Close Banner
Advertisement
This ad is displayed using third party content and we do not control its accessibility features.
paid content
 for

I Tried A Diet Based On At-Home Blood + Genetic Testing: Here's What Happened
Registered Yoga Teacher
By Pat Bailey
Registered Yoga Teacher
Pat Bailey is a certified Bhakti Vinyasa Flow Yoga Teacher based in San Francisco and founder of The Hell Yes Life.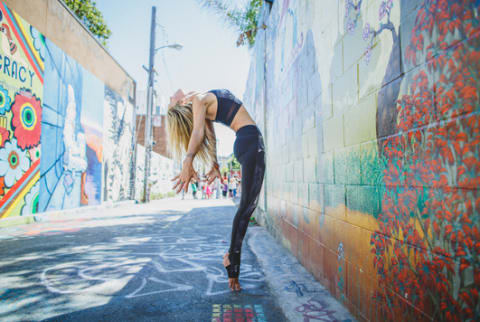 Photo by BrakeThrough Media
Albert Einstein said, "I believe in intuition and inspirations...I sometimes FEEL that I am right. I do not KNOW that I am."
I've been thinking about this a lot lately, as I have an intention for this year to trust my intuition—especially today, as I just finished a coaching session with my Habit coach Jae.
What is the "Habit test"?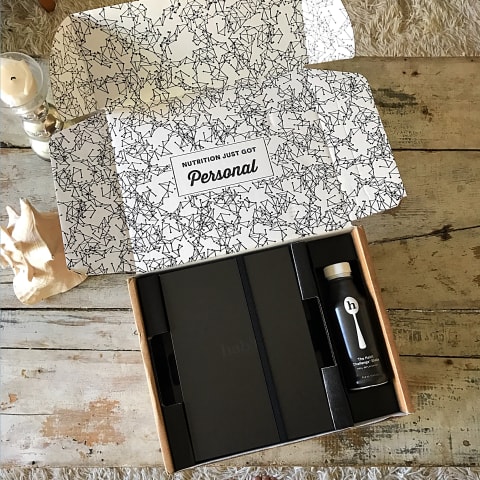 Jae works for Habit, a Bay Area-based company with a mission to "personalize nutrition." I have a lifelong history of fueling my body to perform as an athlete, most recently as a competitive cyclist. But I've never taken a nutrition test that is based on my DNA and blood work with the goal of learning to eat based on my own biology, so I was super intrigued! I'm no "bio-hacker" so I was pleasantly surprised to learn that the at-home test was easy to understand and relatively painless and fast.
Here's how it works.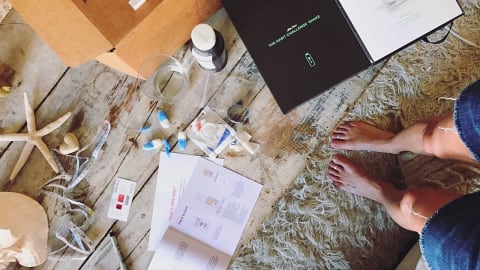 DNA is captured by swabbing both cheeks—easy. The blood is captured at three intervals: once in the beginning after fasting for 12 hours, once after the Habit shake is consumed, and then one more time at the end of the test. The drops from your finger are then placed onto a blood card. Why drink the shake? The Habit "challenge" shake uniquely captures data about how your body responds to carbs, fats, and protein during the testing process.
Before and during, I downloaded the Habit app and was guided and encouraged every step of the way. And the app continues to be helpful—it's where I now go to reference my results and get personalized meal ideas and coaching support, whenever I want!
What do the results tell you, exactly?
The results, according to Jae, show "how your blood and genes work together...offering data that a lot of people don't have access to." For me, it's where science meets intuition. Like Einstein says above, I've been "feeling" that I'm eating the right things but not really "knowing" if they are right for me—and especially not based on any personalized biological data. So I was curious: Was intuitive eating right for me? And more importantly, was I eating the right foods for my own body (since no two of us are alike)?
Here's what I learned (and changed) from the Habit test.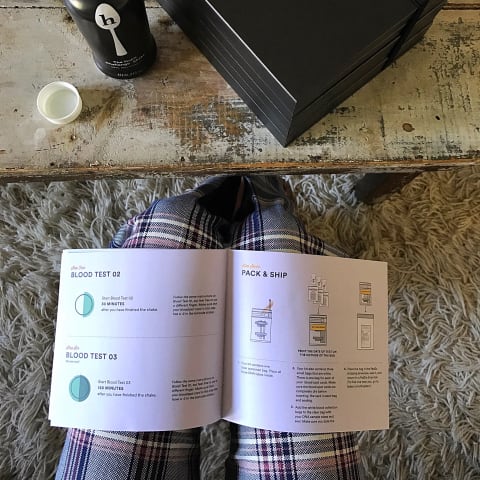 Interestingly, my test results affirmed that many of the things I'm eating intuitively agree with my biology. I love broccoli, for example, and broccoli is one of my "hero foods" according to the test. I'm also a vegetarian, and it turns out that my biology agrees with a low-protein diet. The best part of this experience has been the incredible amount of data collected and the support I have to dive into that data to make a plan that is tailored to my body—all based in science.
It's a holistic approach to nutrition. I'm learning things about my body that I didn't know before, like that I should cut back on the amount of coffee I'm drinking because one of my biomarkers shows that I may metabolize caffeine more slowly. I also learned that I'm a "Range Seeker," which means that my body can be flexible with carbs, fats, and protein and that I should aim for an average of 50 percent of my calories from carbs, 30 percent from fat, and 20 percent from protein. I was also surprised to learn that my body loves carbs, and I've adjusted my diet since, embracing them with less guilt thanks to the data to support this sound decision. An even bigger surprise? The peace of mind I have with the choices I'm now making about my diet!
When intuition and science collide.
There's feeling and there's knowing. There's intuition and there's science. When it comes to finding what feeds you, it's important to look at the whole picture and realize that one-size nutrition does not fit all because we are not one size, we are made up of unique DNA and metabolic systems, and these things comprise our personal biology, which gives us a map for creating a personalized nutrition plan. Habit is special because the results are uniquely yours.

Pat Bailey
Registered Yoga Teacher
Pat Bailey (E-RYT) is a yogi, travel writer, content creator, and the founder of The Hell Yes Academy. She is a certified Bhakti Vinyasa Flow Yoga Teacher based in San Francisco. She earned her 200HR Bhakti Vinyasa Flow Yoga Teacher Certification with Rusty Wells in San Francisco in 2014, and another 50HR certification with him in November 2017. Bailey has been featured in Refinery29, Elle, and Forbes. She is a published poet and she shares her writing and coaching on her website at The Hell Yes Life.