As a registered dietitian, new mom, and food lover, optimizing my nutritional intake with tasty food is absolutely essential. At the end of the day, I'm all about accessibility and nutrient density (without compromising flavor), and that's why superfoods play an essential role in my diet.
Traditional superfoods include dark, leafy greens, legumes, berries, nuts, seeds, and cruciferous vegetables. For added nutritive benefits we can also turn to foods like hemp seeds, maca, cacao, and goji berries. These superfoods each have their own strength, and in general, they all work to support optimal digestion and immune functioning, improve skin clarity, reduce inflammation, and increase energy and optimal wellness. Sounds pretty great, right?
Superfoods are undoubtedly an important part of my daily routine, and where I buy them matters. I always look for products that are organic, fair trade, and environmentally sustainable, like those from Navitas Organics. I first discovered Navitas eight years ago while perusing my local health food store; I had just started graduate school, where I was studying nutrition and dietetics, and began to look at my diet and lifestyle with a more informed and critical eye. I had started transitioning to a plant-based diet and was turning more and more to superfoods as a quick way to get a ton of healthy nutrients.
Now, as a new mom with limited time to prepare meals and eat, I rely on these superfoods to keep me and my family nourished. In fact, I incorporate superfoods into every meal of the day. Here's exactly how I do it:
Mornings start very early for me and these days and I appreciate foods that I can eat with one hand since I'm typically holding the baby in the other. Whole grain sourdough toast with avocado and hemp seeds is my go-to "first breakfast" of the day. The healthy fats from avocado help fill me up and hemp seeds—one of my favorite superfoods that I sprinkle on almost everything—provide plant-based protein, omega-3 fatty acids, iron, and magnesium.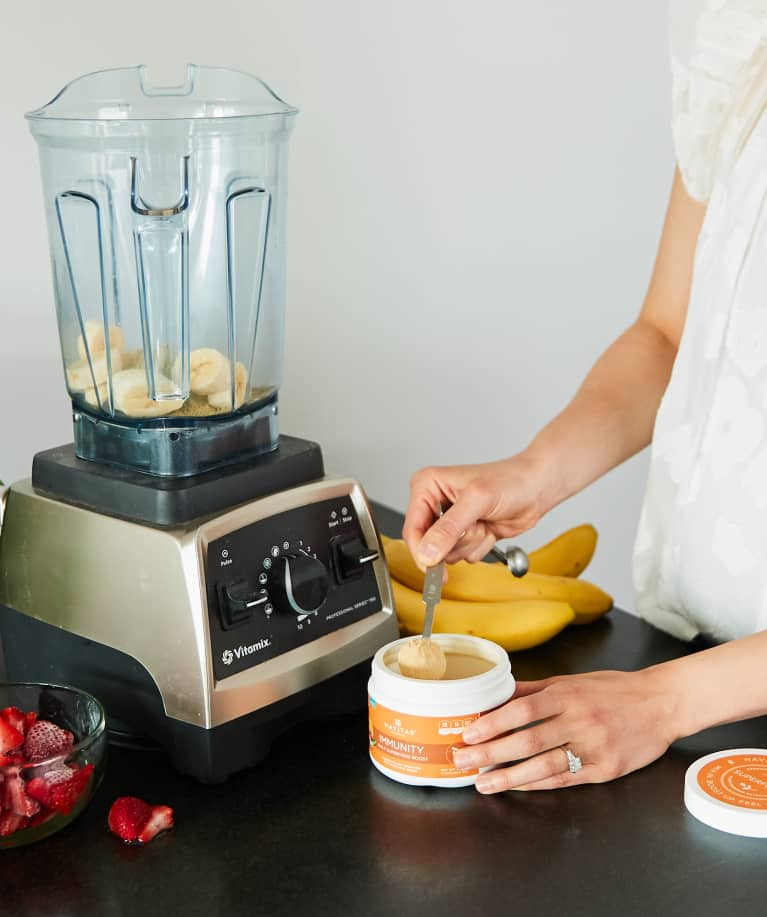 After a walk in the park or a baby-wearing barre class, I am ready for my second breakfast. I usually throw together a smoothie because I can pack as many nutrients as possible into one glass. I like to add Navitas Organics Vanilla & Greens Essential Blend, which has plant-based protein from hemp, sunflower, flax, and pumpkin seeds. It also contains powerhouse greens like kale, wheatgrass, spirulina, and spinach and offers digestive support through an added probiotic blend. My current go-to smoothie recipe is the Pink Panther— it's packed with chia seeds, goji powder, and coconut milk. Plus, the only thing better than a plant-based, protein-packed smoothie is a PINK plant-based, protein-packed smoothie—am I right?
My snacks are usually eaten on the run and I try to make them a perfect balance of protein, fat, and fiber. As a breastfeeding mom with limited time and energy, I'm even more conscious of my diet and make sure I stay properly fueled with enough calories to keep up milk production and stay energized all day long. I like making my own super-powered trail mix of goji berries, roasted almonds and cashews, mulberries, and cacao nibs. Goji berries are one of my favorite superfoods to add to trail mixes due to their nutrient potency and flavor. Goji berries contain high amounts of antioxidants, vitamins, and minerals that help with immune function, boost collagen production, and protect against premature aging.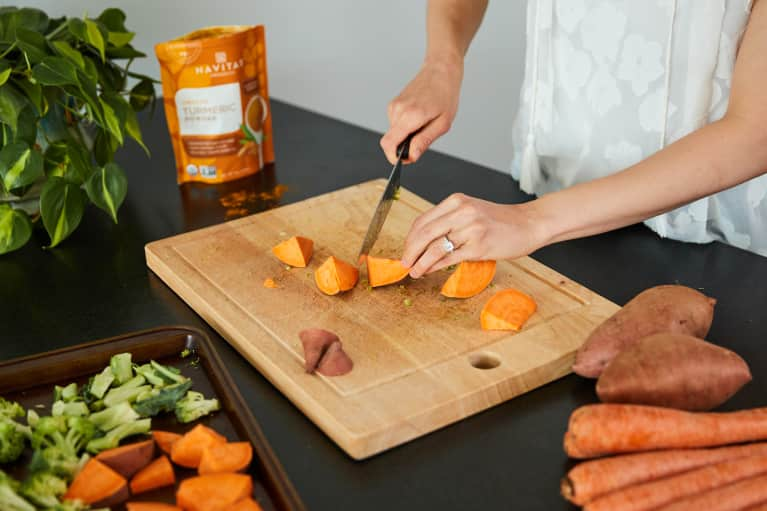 Lunch is a moving target these days so typically I toss a mix-up of meal-prepped items into a bowl. On the weekends, my husband and I will team up to cook a grain (most likely quinoa or brown rice), roast veggies, and either roast chickpeas or cook lentils or another bean. I also always try to have some tahini, lemons or limes, and avocados on hand to help form flavorful and balanced meals. Most of my vegetables are roasted with turmeric, paprika, salt, and pepper. Navitas Organics Turmeric is premium, organic, and non-GMO. It also has higher levels of curcumin— the component in turmeric that provides it with its powerful anti-inflammatory and antioxidant properties—than most brands on the market. This is great news for me, as I am constantly mindful of helping my immune system function at optimal capacity.
For dinner, I typically rotate between simple sheet-pan meals or an easy-to-assemble soup. My favorite recipe at the moment is wild salmon rubbed with cayenne, salt, and pepper, roasted alongside Brussels sprouts and tossed with salt, pepper, and cumin. Lentil soup topped with spinach or kale and lemon juice is also in heavy rotation in my household. It's quick to make, freezes well, and is full of plant-based protein and fiber. Lentils are a wonderful plant-based superfood and are a great source of folate (essential for pregnant women), non-heme iron, and magnesium.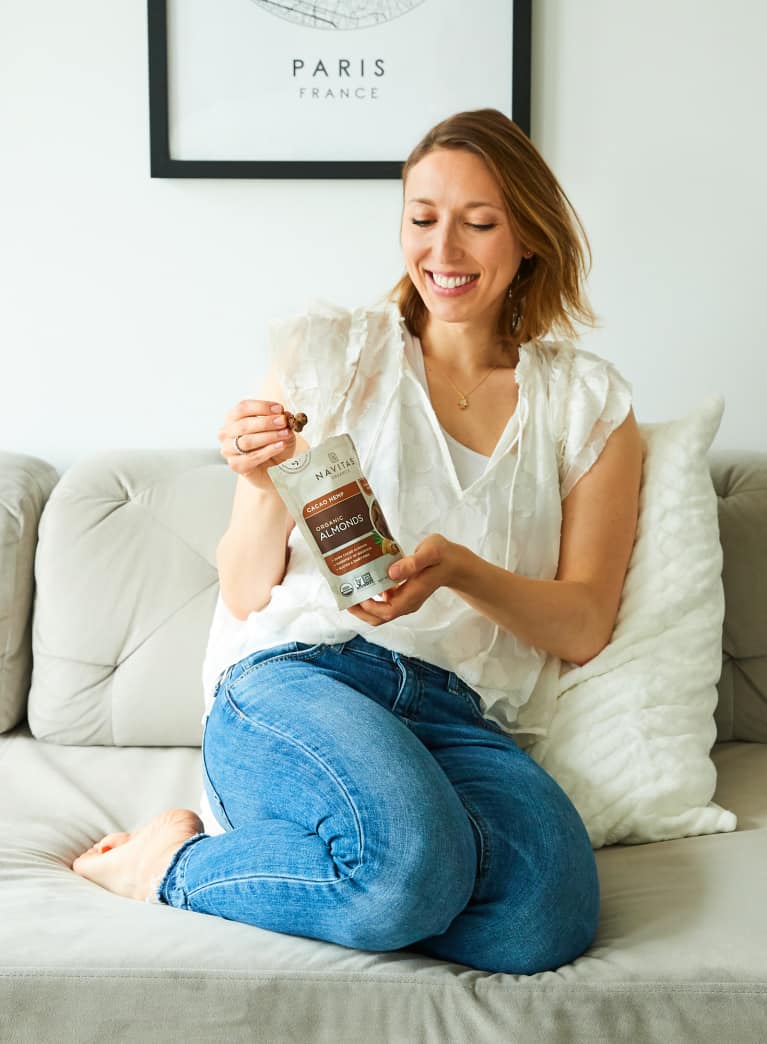 I always need a sweet treat to close out the day. I love Navitas Organics Cacao Hemp Almonds and herbal tea to help unwind. Dark chocolate is a great source of antioxidants, polyphenols, and flavonoids, which help combat free radicals in the body. Dark chocolate also helps to produce endorphins—chemicals that create the feeling of pleasure—which is the perfect way to end the day if you ask me.
So there you have it! That's exactly how I incorporate superfoods into my daily life. It's really not as hard as it seems. Whether it's chia seeds, avocado, spinach, or cacao, I'm constantly making sure each meal contains at least one powerful superfood that can be easily added without a lot of time and effort.