I Ate Like An Italian Woman Every Day For A Week — And Never Felt Better

By Leigh Weingus
mbg Contributor
Leigh Weingus is a New York City based freelance journalist writing about health, wellness, feminism, entertainment, personal finance, and more. She received her bachelor's in English and Communication from the University of California, Davis.
When it comes to health, European countries like France and Italy have always been a bit of a mystery to me. Many of the foods we're quick to deem "off limits" in the United States flow like water across the pond—you'd be hard-pressed to find a corner that doesn't have either a gelateria or a sweet-smelling pastry shop.
It could be their four to seven weeks of vacation per year, but most European women don't seem to be weighed down by their delicious, gluten and dairy-filled foods, and they're certainly not spending hours at the gym "working it off." Instead, they're full of energy and vibrancy.
So when I found myself in Italy for a week (OK, I actually spent six months planning this trip), I decided to take advantage of the lack of access to my yoga studio and grocery store to truly live like an Italian woman. Here's what happened.
The food.
Gelato, pizza, pasta, croissants, affordable bottles of the best red wine—Italy had it all, and I decided not to pass any of it up. I was cognizant of spiking my blood sugar (I am a health editor, after all), so I typically started the day with a banana and a handful of nuts to start my day off on the right foot and keep things balanced.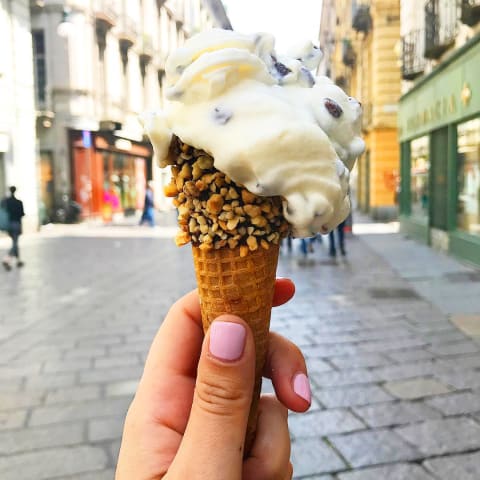 From there, I would grab a whole-milk cappuccino from a nearby cafe (unlike in the United States, almond milk is hard to come by) and maybe have a second one before lunch. Lunch typically consisted of a sandwich on a baguette, followed by another cappuccino, and on most days a scoop of pistachio gelato. Dinner was the most decadent meal of them all, filled with at least one glass of red wine and pizza dripping with cheese.
The exercise.
Limited space in my backpack (I'm a light packer), meant I didn't have room for my running shoes or yoga mat. The only exercise I did while abroad was walking, but I walked a lot. I walked to cafes, to gelato shops, and dinner, but I also walked to museums and other historic sites all over the city.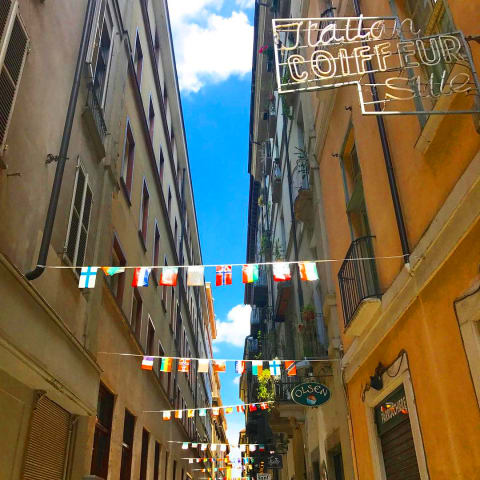 I don't wear a fitness tracker, but my phone catches most of my steps. And by the end of the day, I had typically walked between 12 and 13 miles! I may get my heart rate up and sweat more when I'm at home in the United States, but I never walk that much.
Here's what happened.
I'd been told that the higher quality grains and dairy used in Europe leads to a less inflammatory reaction in most people's bodies, but I didn't quite believe it. Eating dairy more than once or twice a week typically hurts my stomach at home, and too much bread leaves me tired, irritable, and bloated.
Maybe it had to do with the hours spent walking in the sun and clearing my mind or the easy-breezy vacation mindset, but I never once felt bloated or low energy, except for a little jet lag here and there. I also intermittent fast and typically don't eat past 8:30 p.m. because going to bed with a full stomach keeps me up. I was worried late dinners would leave me sleepless for my entire trip, but I was wrong. In reality, I've never slept better.
If you have an Italian vacation planned and have mild problems with gluten and dairy, I'd recommend throwing caution to the wind for a bit. Not only will you have more fun—the food is part of the experience!—but you'll likely return to the States feeling better than ever.
Planning your next vacation? Here are three natural deodorants to consider packing and what you need to know about exercise in Australia.

Leigh Weingus
Leigh Weingus is a New York City based freelance journalist and former Senior Relationships Editor at mindbodygreen where she analyzed new research on human behavior, looked at the intersection of wellness and women's empowerment, and took deep dives into the latest sex and relationship trends. She received her bachelor's in English and Communication from the University of California, Davis. She has written for HuffPost, Glamour, and NBC News, among others, and is a certified yoga instructor.