How Sunshine Can Help Postmenopausal Women With Lower Back Pain
mbg Editorial Assistant
By Abby Moore
mbg Editorial Assistant
Abby Moore is an Editorial Assistant at mindbodygreen. She earned a B.A. in Journalism from The University of Texas at Austin and has previously written for Tribeza magazine.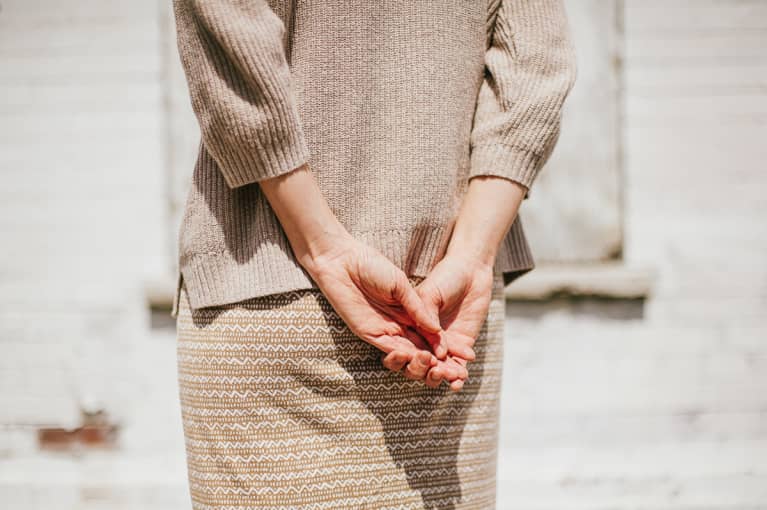 February 12, 2020 — 22:22 PM
Lower back pain is one of the most common health problems among the aging population. The issues can lead to disability and even death, but the symptoms seem to affect women more than men. New research conducted by the North American Menopause Society (NAMS) found vitamin D deficiency may be the cause.
A study published in the journal Menopause found postmenopausal women are at a higher risk of vitamin D deficiency, which can increase lower back pain and result in lumbar disc degeneration.
Lumbar disc degeneration is a musculoskeletal disease that occurs when discs between vertebrae begin to lose their cushion. The friction of the bones rubbing together might lead to severe flare-ups and intense periods of pain.
What is vitamin D's role in back pain?
Vitamin D helps the body absorb calcium, which as we all know, builds strong bones. But along with maintaining healthy levels of calcium, vitamin D also keeps phosphorus concentrations within a normal range, which helps to mineralize the skeleton—once again, building strong bones.
NAMS medical director Stephanie Faubion, M.D., said vitamin D also has "beneficial effects...on nerve and muscle pain sensitivity, muscle strength and mass, and inflammation." Which is likely why low levels of the vitamin leads to pain.
Why does this affect postmenopausal women?
Previous research has linked lower levels of estrogen—a symptom of menopause and postmenopause—to disc degeneration, but this study wanted to focus on the role of vitamin D.
Researchers studied serum concentrations of 232 women who were 65 years old on average. They then analyzed the relationship between those vitamin levels with disc degenerations and lower back pain.
All the women who had gone through menopause had a serum concentration of less than 10 ng/mL, which indicated severe vitamin D deficiency. Lower concentrations were significantly linked to lower back pain but less associated with upper back pain.
"Although not all women need vitamin D supplementation," Faubion said, "this speaks to the importance of avoiding severe vitamin D deficiency states." If you're properly supplementing but still experiencing lower back pain, research says these three exercise-based techniques can help relieve it.