The Increasing Need For Regenerative Agriculture + 4 Ways To Support It

mbg Sustainability + Health Director
By Emma Loewe
mbg Sustainability + Health Director
Emma Loewe is the Senior Sustainability Editor at mindbodygreen and the author of "Return to Nature: The New Science of How Natural Landscapes Restore Us."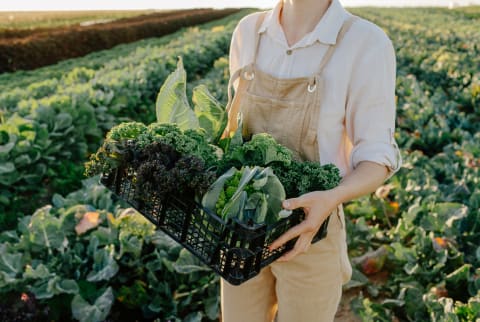 Image by Sergey Narevskih / Stocksy
October 12, 2020
We carefully vet all products and services featured on mindbodygreen using our
commerce guidelines.
Our selections are never influenced by the commissions earned from our links.
The fight against climate change is twofold: We need to reduce the amount of greenhouse gas we pump into the atmosphere and recapture some of our existing emissions to have a shot of avoiding some of the more catastrophic forecasts coming from the scientific community. Regenerative agriculture can help us do both.
Instead of eroding land, as large-scale conventional agriculture tends to do, regenerative farming and ranching reinvigorates the soil with the stuff that makes it so great: teeny tiny microorganisms that support plant growth and clean up the environment in the process. There are more organisms in a handful of soil than humans who have ever lived, and they all help sequester carbon from the atmosphere and trap it in the ground.
A new report by the Rodale Institute, an organic agriculture research nonprofit, suggests that if all our grasslands or arable acreage—basically, any land capable of being farmed or ranched—was managed with soil health in mind, it could sequester all the annual CO2 emissions produced by humans and then some. (On the other hand, previous research has found that if we don't make this transition, most of the world's topsoil will be depleted within the next 60 years.)
Rodale hopes this bold statement is enough to expedite the transition toward regenerative farming, which, the paper reads, "hasn't happened fast enough." Though the last few years have ushered in regenerative commitments from large companies such has General Mills, Danone, Kellogg's, and Nestlé, the report says that more progress needs to be made, and quick. The future of farming—and, by extension, of food—depends on it.
What's the holdup?
Implementing regenerative strategies like cover cropping, diversifying crops, and using natural fertilizers and pesticides take time and money—two things that a lot of farmers don't have.
"There are many barriers for farmers—some of the biggest from my perspective are the farmer's mindset, infrastructure, equipment, crop insurance, and technical training," Ryland Engelhart, co-founder and executive director of Kiss the Ground, a regenerative agriculture nonprofit that you might recognize from its new Netflix documentary, tells mbg.
Some of America's agriculture policies also stand in the way of progress. The government doesn't actively subsidize regenerative practices, and farmers typically stand to earn more money doing things the old-fashioned way: Growing massive fields of corn and soybeans, wheat, and rice, as quickly as possible—regardless of the impact on the land.
What can I do to help?
1.
Ask your local farmers about their growing practices.
For regeneratively grown food to take off, people have to start asking for it. As Engelhart puts it, "Demand creates the supply." This might mean asking the farm stand you frequent at the farmers market about their growing practices, or DM-ing a favorite brand to ask them whether and how they supporting the regenerative movement.
"The best way for consumers to ensure that regenerative agriculture gets adopted across the board is to speak up and put the pressure on," echoes Margaret Wilson, a communications specialist for the Rodale Institute.
2.
Support companies and farms that have already made the shift.
Poke around Regeneration International's Regenerative Farm Map to find local farms that are utilizing regenerative practices. Or, download the Cropswap app to order farm boxes from sustainable growers in your area. And when food shopping, look out for the Regenerative Organic Certified™ label (for food that is USDA-certified organic and grown with soil health in mind) and the Land to Market Verification and the Soil Carbon Initiative seal (for food that contributes to carbon sequestration).
These labeling schemes are still in their infancy, and it will be a while before they're as ubiquitous as the USDA organic seal. Some companies that are leading the transition to regenerative production in the meantime include:
When researching candidates for the upcoming election, see where they stand on agriculture reform (in addition to other climate-related topics). Write in to your local policymakers encouraging them to support regenerative reform using Rodale's template letter. Research agricultural bills that have been introduced this year, like the Agriculture Resilience Act (H.R. 5861) from Rep. Chellie Pingree in Maine. In addition to individual action, this transition will take legislative buy-in, and we all play a role in pushing for it.
Kiss The Grounds' Farmland Program supports farmers through the regenerative transition with technical training, mentorship, and soil testing with the help of donor funds.