Flight Delays & Long Lines: How To Stay Calm During Travel Chaos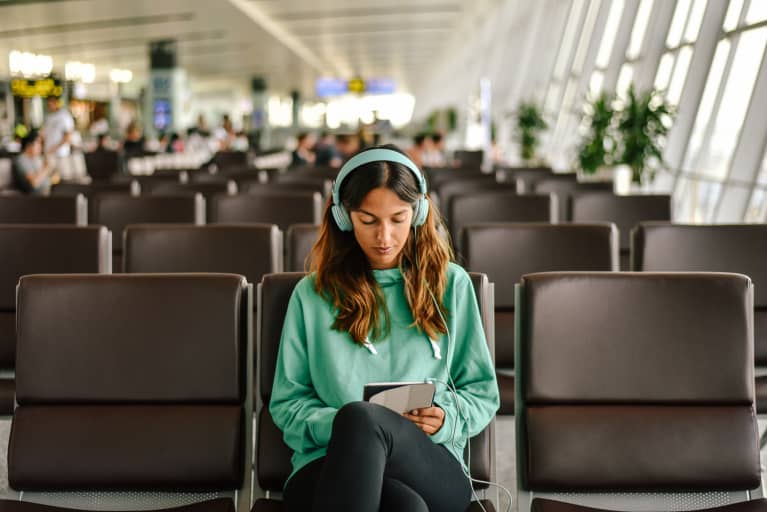 Healthy, summer, and travel can be things that often feel at odds with one another.
That doesn't need to be the case
—and, in fact, making your summer travel plans align with your day-to-day wellness standards is easier than you might think. In our new series, we're exploring everything that's unhealthy about exploring, so you can have a more well-informed journey. Welcome to
Healthy Summer Travel.
Vacations are designed to be a break from everyday stressors, a chance for you to recharge and recoup. The travel to get you there? Often less so. Maybe it's TSA lines that wind and weave, flight delays where you're stuck on the plane, with little information about takeoff and no end in sight, or missed layovers that leave you stranded in a random city, carving into your precious days off. Do you feel an uptick in your heartbeat just reading that? I certainly do.
And according to data from the Bureau of Transportation Statistics, in the last year, a little more than 20% of flights were delayed. Read: one in five flights. So, statistically, the above scenarios very well could have been you.
Plus, when you are in the midst of travel mishaps, you're likely not in a great setting to calm yourself (overcrowded gates don't offer the best vibes). And you're likely surrounded by less-than-healthy eating options, which can exacerbate the issue (airports are getting better with this, but fast food still abounds). So if you find yourself stuck, anxious, and restless during travel, there are a few things you can do.
"When we talk about travel, we need to acknowledge that travel anxiety is a real entity, and some people really do suffer from acute travel anxiety. And we do know a percentage of the population does suffer from an anxiety disorder, so those people especially can anticipate that when they travel, they might suffer from anxiety or even a panic attack," says board-certified psychiatrist Indra Cidambi, M.D.
Have an anxiety SOS game plan.
"The most important thing you can do is to come up with a coping mechanism before you leave," says Cidambi. "Have a plan in place before your trip, so if you feel anxiety coming on, you already know what you are going to do."
To start, make sure you are calm from the get-go, she says. Check in via mobile apps or fill out any form you might need to beforehand (like if you are coming back on an international flight, always fill out the customs form on the plane, not while you are waiting in line). And when you enter the airport, turn on your most calming, relaxing playlist. ("This will put you in a good mindset and distract you," she says.)
And if you feel anxiety coming on, there are a few easy techniques to try: Practice proper breathing using your stomach muscles, and reduce breathing through your chest (if you need to, use a paper bag, says Cidambi); count backward from 100 ("If you ask people to count upward, they can do it quickly, but doing it backward forces people to slow down," she says); if you have access to the restroom, sit on the toilet and put your head between your knees and breathe; splash your face with cold water to bring yourself into the moment ("When someone is having a panic attack it's very difficult to talk them out of it; sometimes you need something physical to pull yourself out," she says).
Be mindful of what you are eating and drinking.
"Two things tend to happen: One, you get through TSA, rush to your flight, and then you're on the plane and don't have anything nutritious to eat. So you're on the plane with an empty stomach, and your anxiety can increase. Then when you land, you might be tired because you didn't have a snack or meal," says Cidambi. Make sure to stock up on a few healthy snacks you can munch on during the flight, so when you arrive at your destination, you don't feel sluggish or irritated.
"The second is that the person will check in and immediately go to the restaurant and start eating and drinking, so by the time they are on the flight, they are full and uncomfortable," she says. "And alcohol can end up increasing anxiety. Especially avoid red wine; the sulfites in that can cause headaches and nausea."
"Come back the day before the vacation ends," says Cidambi. "People pack their travel itinerary so tightly, meaning they leave the first day they have off work, and they come back the night before. That's a big no because they don't have room for things to go wrong, like delays." Plus, coming back from a vacation can feel like the Sunday scaries on steroids—so factoring in a full or half-day for you to do laundry, fit in a workout, and get your things in order can help alleviate that stress. Another bonus: You can deal with jet lag easier come your first workday.
You should also keep in mind buffer time during your trip, not just at the bookends. Always add extra time into the schedule, so you don't need to stress out about being late for dinner reservations or a daytime excursion. It's vacation, after all: Add some breathing room.
And if it's your kid who gets anxious, pack gum.
My mom always packed gum on flights to help me with plugged ears. Turns out, there are a few more reasons this might help your kid during travel, according to education expert and author Caroline Maguire, PCC, M.Ed. One of her go-to tips to help a spiraling kid is to have them chew gum, having them focus on the slow, repetitive movement. "Tell your kid to focus on chewing slowly and to really pay attention to each bite," she says. "It will help them break out of their anxiety."