By Allie White
mbg Contributor
Allie White is a freelance writer and editor who covers news, lifestyle, health, beauty, and entertainment.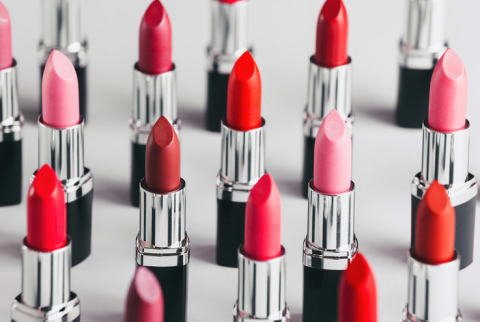 November 19, 2015
Taking care of yourself is crucial, but no one ever said it was cheap. When it comes to self-care and cosmetics, it's especially true if you're trying to only buy all-natural and green. Because these better-for-you products contain high-quality ingredients and specialty packaging, you're going to pay for it.
But don't let a price tag deter you from using cleaner products — there's almost always a way around it. Here are nine ways to save serious moolah on natural beauty products.
1. Sign up for mailing lists. (Seriously.)
No one likes a flooded inbox, but for every semi-annoying email you get, you're bound to also get some great insiders-only discount codes and flash sales. Plus, most retailers will give you a discount on your first order just for signing up. If you're really opposed to multiple daily emails, see if you can opt out for weekly or deal-specific emails.
Also think about filtering promotional emails into a separate folder. You'll have to remember to actually check the folder every few days or risk it getting out of hand (or missing a flash sale), but your main mailbox will be nice and tidy.
Example: CAP Beauty offers 10% your first purchase when you sign up for their newsletter. I'll gladly give them my email address in exchange for a discount on my next jar of Manuka honey (which usually costs $44).
Money you can save: $4.40
2. Always, always, always look for a coupon code.
I have never once pressed "submit order" without doing a quick Google search of "brand + coupon/promo code." Nine out of ten times, I'll find something worthwhile, even if it's just free shipping.
Example: I just did a quick search for a discount code for my new favorite oil cleanser and exfoliant from S.W. Basics. Guess what? I found three different codes for 15% off the combined price of $38.
3. Ask for a sample.
This often works better when you're shopping in-person, but many smaller brands are happy to introduce you to their products via sample sizes. If there's something you're interested in but aren't ready to make a purchase, there's no harm in asking.
Explain that you have sensitive skin or are on a budget, and ask if they'd be willing to send you a sample size so you can make sure you want to splurge on the full-size. They may ask you to pay for the sample, but it's a fraction of what it would cost to go all in, only to realize something doesn't work with your body.
Example: Kahina Giving Beauty offers a sample pack of 10 of their products for $20. If you bought each of these products individually, you'd be spending $718 on things you're not even sure would work with your skin.
4. Join rewards programs.
Joining a rewards program is almost always free, and will "reward" you for stuff you were already going to buy. Perks include free gifts, members-only discounts, free shipping and gift cards.
Loyalty and rewards programs are more ubiquitous among bigger chains (drugstores in particular), but as we've discovered, there are some better-for-you gems among those big box stores! And yes, you'll have to spend money to "make" money, but if you're a frequent shopper, this is a good way to reap benefits from your purchases.
Example: Through Sephora's Beauty Insider loyalty program, I've earned 796 points this year, which turned into a 20% off thank you coupon I'll put toward testing out a few Herbivore products that would have cost me $152.
5. Buy in "bulk."
I'm not talking about buying a case of your favorite essential oils wholesale (especially because beauty products that don't contain preservatives would go bad before you could get through everything). Rather, look for sets or "gift boxes" that include complimentary products.
Many all-natural skin care companies know that products not only need to work with your skin, but also with each other to be most effective, and so they cut out the guesswork by bundling complimentary products. Even though the price tag will be higher than one product on its own, there's often a discount built into bundles.
Example: Laurel's Oily/Combination set includes full sizes of four of their amazing products, one sample balm, and an artisan mixing bowl and brush for mask purposes. On their own, the individual products would run you $264 (not including the accessories), but the set costs $228.
Money saved: $36 (plus whatever the bowl and brush are worth)
6. Opt for a subscription box.
Chances are your monthly package will also introduce you to amazing things you've never heard of, but don't know how you lived without. For a set monthly price that's usually lower than the retail price, you'll get a full-size product and (usually) a sample or two.
You'll save money, but you may also stop yourself from shopping between shipments because what if that serum you're about to buy comes in next month's box? Another bonus is that most subscription boxes have "shops" where you can buy the products after your first shipment runs out, and subscribers almost always get a discount in the store.
Example: The November box from Beauty Heroes includes Josh Rosebrook's Balance Shampoo and Conditioner, plus a sample of the hairspray. Retail, they would cost $74, but you're only paying $39 for the box. If you choose to restock, you'll get 15% off their store, which is another $11 saved.
Money saved: $35 (plus $11 if you buy again)
7. Harness the power of social media.
Many brands will announce flash sales or coupon codes via social media, so it pays to follow the ones you really love. According to a recent survey, almost half of all Americans admitted they follow brands for special offers, so you'd be in good company.
If a brand or store is underperforming (delayed shipping, beat up packaging, low stock, etc.) don't be afraid to let them know in a polite, understanding way via Twitter or Facebook. If the brand cares about their customers, chances are they'll throw you an apology discount.
Example: To celebrate their fifth birthday, The Detox Market offered a 15% discount via Twitter, so I stocked up on Rahua hair products that normally retail for $156.
8. Follower the bloggers.
No one is more in the trenches of green beauty than the bloggers who write about it for a living. They often have incredibly loyal readers and speak with authority, so brands are more than happy to offer blog-specific discount codes and giveaways via beauty blogs. You can either read them all religiously like I do or follow on social media, but you're bound to see a promotion or two every couple of weeks.
Example: The Green Product Junkie spotlights current green beauty deals every week, and also partners with brands to give her readers free treats. This week, she partnered with Mahalo to give readers a free $50 mask with purchase, plus 10% off and free shipping. What would have cost $270 came down to $209
9. When in doubt, DIY.
Instead of spending $56 on sugar scrub and another $32 on an herbal steam blend, why not DIY?
Money saved: However much you want!

Allie White
Allie White is a freelance writer and editor who covers news, lifestyle, health, beauty, and entertainment.