Close Banner
Advertisement
This ad is displayed using third party content and we do not control its accessibility features.
paid content
 for

Go the Distance: 4 Ways to Rejuvenate, Relax, and Stay Safe on Vacation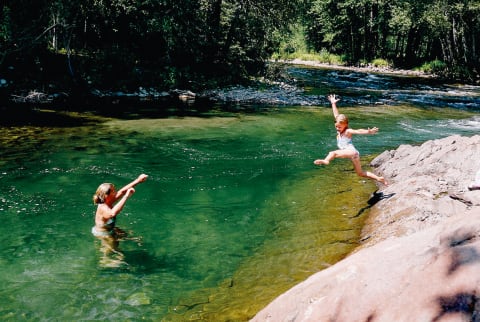 Image by Visit Sun Valley
We've all fallen victim to the unfortunate, but not uncommon, "stressful vacation" paradox. Sometimes you head out of town with the intention of fully embracing an OOO attitude, but end up tied up in more knots than you were at your desk. Overscheduling and the "fear of not doing enough," are often the culprit, but another key factor? Your choice of destination.
Luckily, there are places like the mountain town of Sun Valley, Idaho that are naturally designed for mental and physical relaxation. Normally we stay away from "have it all," language, but in Sun Valley it's not an exaggeration. Unwind and relax against a backdrop so beautiful, you may never want to leave. Once you're there, rejuvenate your spirit and take full advantage of what Sun Valley has to offer, we recommend you: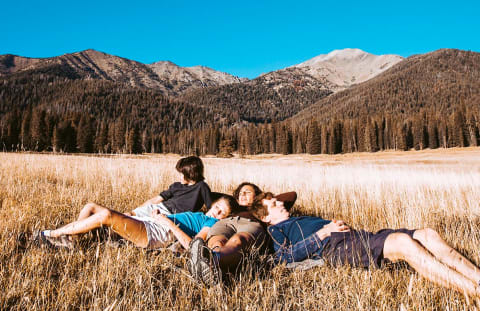 Image by Visit Sun Valley
Hit the Trails:
Sometimes the key to mental release is simple: move your body. After a steady increase in screen time the past few months thanks to zoom calls galore (professional and social), hitting the trails is just what the doctor ordered. Take in the scenery beyond your screen saver, and practice mindfulness in the mountains. There's more than one way to travel through the trails - grab a mountain bike, saddle up on horseback, opt for a peaceful walk, or challenge yourself on a trail run. Whichever mode of movement you choose, you won't have to "press play" to hear the birds chirping and fresh summer air!
Try Something New:
The beauty of trying a new activity? Zero pressure, especially when you're off duty. You're your only audience, and the time to pick up a golf club, try a yoga class, or fly fish (there's no shortage of creeks and rivers in Sun Valley) is now. Channel your vacation mindset and daydream only about possibilities, exploration, and which cocktail to enjoy at happy hour. The beauty of a new activity is the abandonment of expectation, which is really what getting away is all about.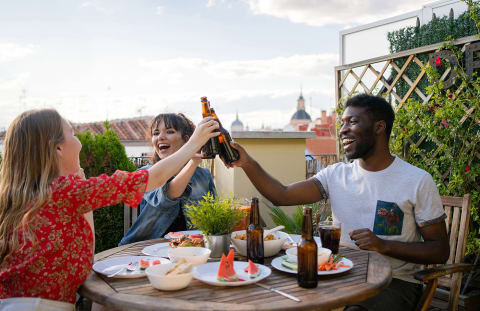 Image by Luis Velasco / Stocksy
Sit, Sip, Savor, See:
When the going gets tough (as it has in 2020), turn to Sun Valley's most valuable resource: the great outdoors. Sun Valley is perfectly set up for distanced dining, or if you prefer, to-go options aplenty for you to bring to your favorite perch with a view. Formerly open streets are closed with public dining tables available, or take a seat riverside, 'tis the summer to discover your new favorite picnic spot. There's something about eating outside that makes you savor every bite that much more. So slow down, and make it a completely sensory experience: taste, sights, sounds and all the feels.
Attend the Wellness Festival:
Make a virtual "appearance" at the Sun Valley Wellness Festival & Conference- it's as important as ever to keep well-being top of mind, no matter where you are. This August 22nd & 23rd, Sun Valley's Wellness event is in full force, but due to the coronavirus pandemic, the conference has been creatively adapted into a full virtual format featuring sleep expert and neuroscientist Matthew Walker as the keynote speaker, University of Washington Director of Infectious Disease Medicine and COVID-19 expert Seth Cohen, MD, MSc, along with twenty other groundbreaking presentations by renowned wellness thought leaders. This is your chance to experience a taste of Sun Valley Wellness from the comfort of your home via a Virtual Pass. It's an opportunity you won't want to miss, and will undoubtedly inspire you to come to beautiful Sun Valley for the 2021 Sun Valley Wellness event next summer.
Simply put, Sun Valley will let you really channel off duty energy, and feel safe and healthy doing it. You'll find true peace of mind in an unparalleled setting, and know you're safe the entire stay. Sometimes the solution is simple: quality food, new activity, good company, and the great outdoors. Dive into the details for your Sun Valley trip here, endless inspiration guaranteed.