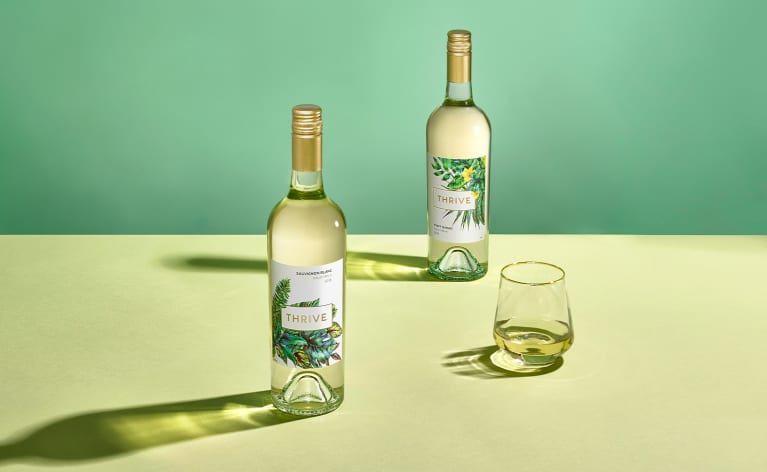 We've eagerly awaited spring's arrival for weeks (OK, more like months). And now that it's finally here, we're taking full advantage of the sunshine—including wining and dining al fresco.
Now's the perfect time to treat yourself to the freshest ingredients of the season, paired with two white wines that kick up the flavor in springtime and summery dishes. Our pointers for pairing and sharing a bottle of sauvignon blanc and pinot grigio this season, right this way.
Some wines are made for savoring under the stars. Sauvignon blanc is one of them. For zestier fruit flavors, try out Thrive's California Sauvignon Blanc Vintage 2018: The winemakers harvested the grapes at optimum ripeness, during cool California nights. The wine's expression is bright and crisp, with layers of lemon, lime, green apple, and a touch of tropical fruit.
How to pair: Sauvignon blanc's citrusy notes intensify the zip of a citrus-centric dish. Pair your sauv with wild-caught scallops, lightly seared in coconut oil with red grapefruit and orange, garnished with arugula sprouts and a drizzle of lemon and honey. We love the mix of sweet and tart in both the dish and the wine; it's an ideal match.
That light-bodied freshness you find in a sauvignon blanc also complements the green herbaceous tastes of springtime vegetables, like asparagus, leeks, and baby peas. Whip up a seasonal frittata or risotto using your farmers market finds to serve with your sauv blanc for a seasonal pairing that sings.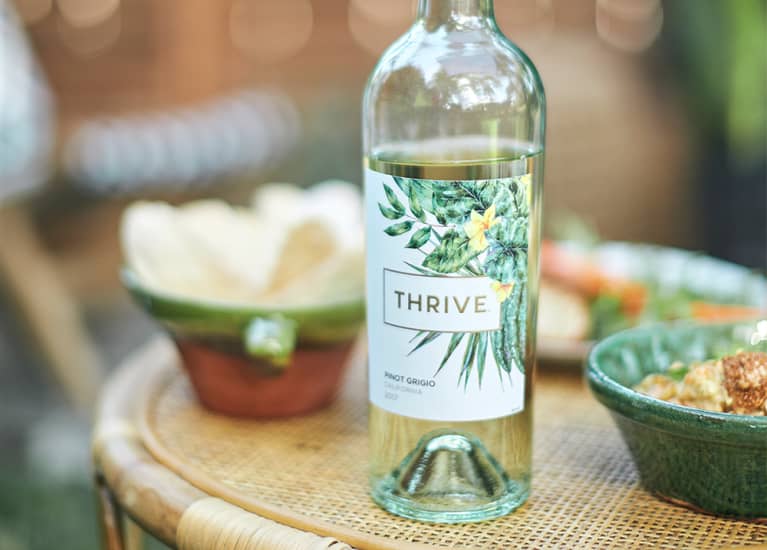 The ultimate picnic-pleaser? That would be pinot grigio. Thrive's iteration, its California Pinot Grigio Vintage 2018, is lively and vibrant, with notes of juicy melon, crisp green apple, and a hint of honey. The grapes were sourced from both cool and warm climate regions in California and fermented in steel tanks, giving the wine a unique complexity that showcases the tropical fruit aromas.
How to pair: Pinot grigio is very food-friendly, so almost anything goes. However, we like to pair our glass with the grill: a grilled chicken and whole wheat orzo salad with arugula and topped with fresh goat cheese. The wine's bright fruit profile complements the toasty char of the chicken, the nuttiness of the orzo, and the spice of the arugula. The pinot's hint of honey softens the tangy flavor of goat cheese. For vegetarians, the same dish will do, but substitute the chicken for grilled veggies like zucchini and red bell pepper.
A light and balanced pinot grigio could also go well with a light fish. Think wild-caught halibut or mahi-mahi. We serve ours over a bed of zucchini noodles, tossed with garlic and dill. The crisp noodles are a nice contrast to the sumptuous mouthfeel of the wine. Alternatively, to play off the tropical tastes, top your mahi-mahi with a pineapple and mango salsa. It's a cool combination for a hot summer day.
The key to creating the perfect pairing.
Find a wine that brings out the flavors of your dish's elements. The wine should not overpower the food, or vice versa—it should complement it, whether that's with contrasting or similar flavors and aromas. Thrive doesn't use heavy oak or intrusive winemaking styles. That allows the fruit flavors to shine through, making it easy to pair with fresh spring and summer ingredients.