Looking For A New Fermented Favorite? Try A Sourdough Fizz
mbg SEO Editor
By Eliza Sullivan
mbg SEO Editor
Eliza Sullivan is an SEO editor at mindbodygreen. She writes about food, recipes, and nutrition—among other things. She studied journalism at Boston University.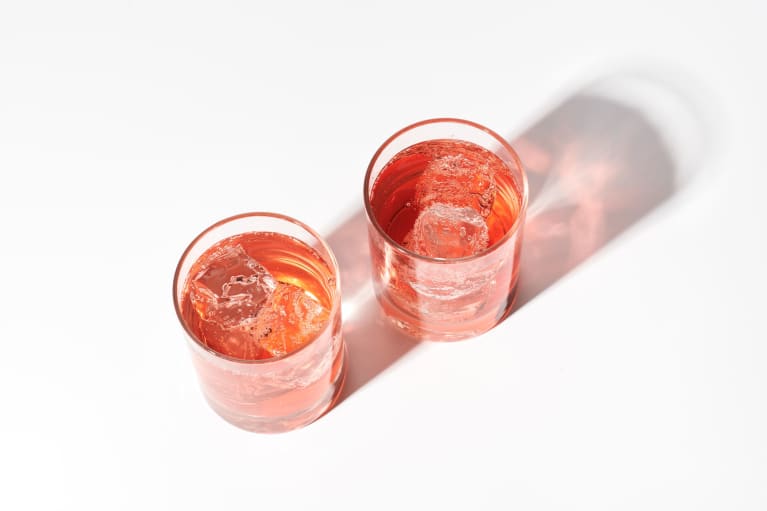 Our editors have independently chosen the products listed on this page. If you purchase something mentioned in this article, we may
earn a small commission
.
Just a few months ago, it seemed like at least half the people we know had suddenly taken up bread baking—and sourdough, specifically, had a serious uptick in popularity. Now that the craze has died down, and even though you may still be baking loaf after loaf, keeping up a sourdough starter means constant discards.
And while there's plenty of fun options for what you can make with that discard, this is a fresh take that we're definitely going to be trying. From new cookbook The Sourdough School: Sweet Baking, the basic idea is a fermented beverage, along the vein of a kombucha—but starting with your starter instead of with a SCOBY—and it's known as a "sourdough fizz."
"Sourdough fizz is a sparkling, fruity, acidic, slightly sweet, aromatic fermented drink," writes Vanessa Kimbell, author of the book and operator of The Sourdough School, where they focus on nutrition and digestibility of bread and the broader health of the gut microbiome.
One of the essential components of making the fizz is remembering to 'burp' the mixture—but luckily, Kimbell has some tips to make sure the bottle won't explode: "First, leave the bottle where you will see it often (in the school, we leave it next to the coffee machine). Secondly, set an alarm or reminder on your phone as a backup."
7 ounces organic fruit syrup (recipes below)
1½ pints water, left to stand for 20 minutes to dechlorinate
¼ teaspoon sourdough starter
You will also need a sterilized 1-liter bottle.
To make the sourdough fizz, you'll need a ratio of about 1 part fruit syrup to 4 parts water. By then adding the starter, you are turning it into a natural probiotic.
Let me give you a small but crucial piece of advice: Your starter has to be in good health and not contaminated in any way. I advise you to use a refreshed starter that has been allowed to then rest in the fridge for 2 to 3 days to sour. It should have a vinegary tang to it. You want it to have a low pH because unwanted and potentially pathogenic bacteria will not survive in an acidic starter.
Likewise, ensure that you have clean hands and use sterilized bottles. That way, you can be confident that you are culturing just the beneficial microbes.
The principle for making sourdough fizz is incredibly simple. Mix the water and syrup together in a sterilized 1-liter bottle, and give it a good shake to get the syrup evenly distributed throughout the liquid.
Then you need to add a form of inoculation: We use our sourdough starter. You only need the tiniest amount: usually around ¼ teaspoon (3 to 4 grams). Close the lid on the bottle and give the mixture another vigorous shake. This isn't merely to disperse the sourdough starter through the cordial. It also helps to oxygenate the water, and yeasts need some oxygen to reproduce.
Leave the bottle on the work surface, with the lid on, for about 3 days (in the summer, it can take as little as 2 days). After a few days of anaerobic fermentation at room temperature, it will be ready.
The critical thing to remember whenever you have a bottle fermenting is its potential to explode. I'm really not exaggerating! You need to "burp" it to release the buildup of gases generated by the fermentation regularly; otherwise, you risk a spectacular explosion.
Once your fizz is fermented and is effervescing gently, you can pop it in the fridge. It's still worth burping the bottle every 2 to 3 days to start with; it will eventually calm down, but you'll still need to burp it once every 2 to 3 weeks once it has settled down. It will keep for about 4 to 6 weeks and gets progressively sourer as time goes on.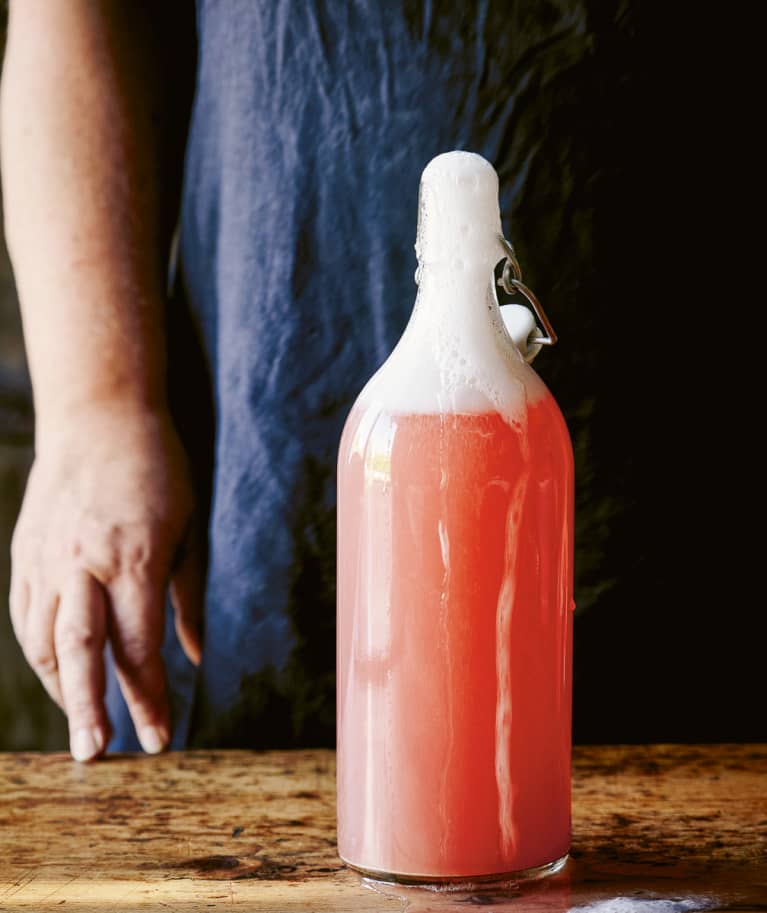 An easy variation to try:
Chamomile and Honey Sourdough Fizz: Combine 1⅓ pints cooled chamomile tea with 5½ ounces raw honey in a sterilized bottle. Add ¼ teaspoon sourdough starter and leave to ferment as right.
Homemade fruit syrups to make:
Ingredients for a Honey, Ginger & Orange Syrup
Zest and juice of 4 oranges
5½ ounces root ginger, grated
18 fluid ounces water
9 ounces raw honey
Ingredients for a Lemon Syrup
Zest and juice of 6 lemons
A handful of lemon verbena, lemon thyme, or lemon balm leaves (optional)
18 fluid ounces water
9 ounces raw honey
Ingredients for a Cherry Syrup
1 pound + 5 ounces cherries
4 cloves
18 fluid ounces water
9 ounces raw honey
Method (for all three syrups)
Place all the ingredients except the honey in a large saucepan and bring to a boil. Reduce the heat and simmer until the liquid has reduced by a third.
Allow the mixture to cool, using a fork to lightly mash the fruit to create a pulp as they cool.
When the mixture reaches below 86°F, add the honey and stir well to combine. By adding the honey at this temperature, it's able to retain its microbial benefits.
Strain and decant into a sterilized glass bottle. It will keep in the fridge for up to 3 months.