How To Actually Make A Salad Taste Good, According To One Of The World's Biggest Food Bloggers

Contributing Food Editor
By Liz Moody
Contributing Food Editor
Liz Moody is a food editor, recipe developer and green smoothie enthusiast. She received her creative writing and psychology degree from The University of California, Berkeley. Moody is the author of two cookbooks: Healthier Together and Glow Pops and the host of the Healthier Together podcast.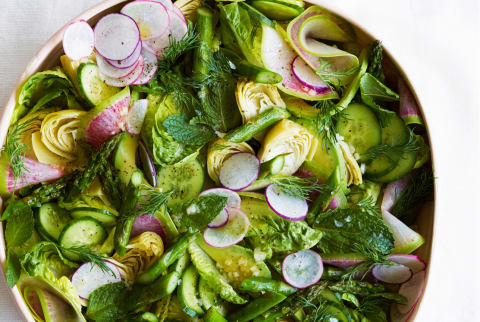 May 3, 2018
Gaby Dalkin might be the newly crowned queen of modern California cuisine. The mega-popular blogger behind What's Gaby Cooking has just released her newest cookbook (one of our top 10 picks for spring),
What's Gaby Cooking: Everyday California Food
. It's the kind of book that will actually make you crave vegetables. Because the robust salad section had us drooling, we tapped Gaby for some of her best tips on making a salad that actually tastes good. From the six ingredients you should always include to her thoughts on pre-boxed salad greens, here are her bookmark-worthy tips.
mbg: What's the secret to making a salad that actually tastes good?
Gaby Dalkin: Here's the deal...no one wants a salad with that store-bought mixed green lettuce and tomatoes—it's just sad. It's all about really crafting something gorgeous, and guess what? It takes no time at all. There are a few basics:
1. A great base.
Pick something fun, maybe baby kale, butter lettuce, red leaf lettuce, little gem...get crazy.
2. Veggies.
Add some various vegetables with different textures. You can add them raw; you can add some leftover grilled veg, extra roasted sweet potatoes from dinner two nights ago...it's all fair game.
3. Dressing.
Do you want something like a vinaigrette, or do you want a creamy base?
4. Give it some crunch.
Throw in some nuts, seeds, croutons, etc.
5. Protein.
If you want to, add some grilled chicken, roasted salmon, poached shrimp...etc.
6. Add the extra goodies like cheese, herbs, fresh fruit, toasted quinoa, hemp seeds, etc.
Then it's game time! Toss it up and enjoy the fruits of your labor!
mbg: Are there any store-bought dressings you like?
GD: I really support making your own salad dressing. It's super easy, and I do it once a week on Sunday afternoons, so I have it on hand for the week. Just stick all the ingredients in a blender, and let it do all the work for you—voilà! I store it in an airtight container in the fridge and use it as needed. Super easy and way healthier!
mbg: Lettuce in a box or bag versus free-form—what's your take?
GD: I buy it all! Depending on where I am, I'll grab free-form lettuce from the farmers market, a box of triple-washed spinach or baby kale from Whole Foods, or a bag of organic romaine lettuce from any other market. I always try to look through the boxes and bags to make sure the lettuce looks as fresh as possible. Sometimes if one or two pieces look a little wonky, I'll skip that bag and move to the next!
mbg: What's your go-to quick and easy salad?
Baby spinach, sliced Persian cucumbers, a whole avocado, and my mom's balsamic vinaigrette dressing that's in my cookbook! If I have any leftover roasted veggies, they are going in this too! It's my go-to for every night, and it works with any main dish!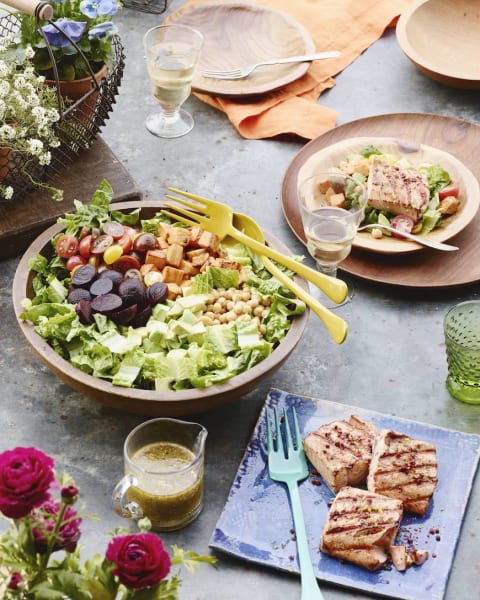 mbg: What's your go-to salad when you want to impress?
Depending on the season, I want a majorly loaded salad with fresh fruits, vegetables, and a little protein. Maybe some fresh strawberries that are at the peak of their season, grilled chicken or salmon, avocado (naturally) and a really easy vinaigrette! You could even jazz it up more with the addition of extra fruits, so it's as colorful as possible.
Spring Cobb Salad With Asparagus, Artichokes & Avocado
8 heads little gem lettuce, bottom 1 inch (2.5 cm) trimmed off and separated into individual leaves
4 Persian cucumbers, thinly sliced on a diagonal
1 Easter radish, very thinly sliced
1 ripe avocado, pitted, peeled, and thinly sliced
3 tablespoons chopped fresh dill
3 tablespoons chopped fresh mint
8 canned artichoke hearts, drained and halved
12 ounces roasted asparagus (recipe follows), cut into 2-inch (5-cm) pieces
Lemon-Champagne Vinaigrette (recipe follows)
Kosher salt and freshly cracked black pepper
Arrange the lettuce leaves in a large salad bowl. Top with the sliced cucumbers, radish, avocado, dill, mint, artichoke hearts, and roasted asparagus.
Toss with the lemon-champagne vinaigrette, and season with salt and pepper. Serve immediately.
Roasted Asparagus
2 pounds (910 g) asparagus, ends trimmed
1 tablespoon olive oil
Kosher salt and freshly cracked black pepper
1 teaspoon herbes de Provence
Zest and juice of 1 lemon, plus extra lemon wedges
Preheat the oven to 425°F (220°C).
Lay the asparagus on a baking sheet, drizzle with the oil, and sprinkle with salt and pepper. Sprinkle with the herbes de Provence and place in the oven. Roast for about 15 minutes, until just tender.
Remove the baking sheet from the oven, drizzle with lemon juice, and dust with the lemon zest.
Lemon-Champagne Vinaigrette
Juice of 1 lemon
1 tablespoon Champagne vinegar
2 cloves garlic, finely chopped
1 shallot, finely chopped
⅓ cup (75 mL) olive oil
Kosher salt and freshly cracked black pepper to taste
Combine all the ingredients in a small bowl and whisk to combine. Adjust the salt and pepper as needed.
The dressing will keep in an airtight container in the fridge for up to 5 days.