Close Banner
Advertisement
This ad is displayed using third party content and we do not control its accessibility features.
paid content
 for

How To Make Plant-Based Eating Easier This Year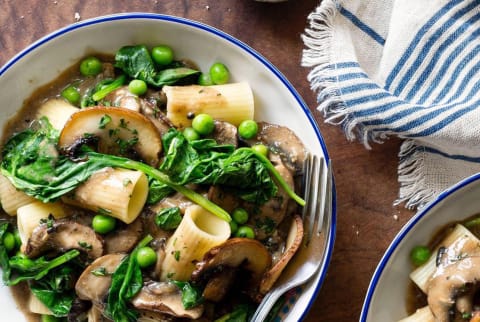 The New Year is a great opportunity to start fresh with new habits (and to ditch some of the old ones that aren't serving us anymore). The major theme that emerges for most people is that they want to feel their best. But how do we realistically do this without overwhelming our routines with extra to-do's and "shoulds"?
Eating more plants is one of the essentials for keeping our health in check1 and our energy levels up. Whether you're vegan or just dabbling in a plant-based lifestyle, there are plenty of ways to make sure you're eating lots of plants without sacrificing flavor or time—or even animal protein. It's important to remember that eating plant-based doesn't have to be all-or-nothing, and it can be as simple as adding a few more vegetables to your routine. (As a note, vegan diets typically refer to not eating animal products for ethical reasons; plant-based diets, rather, focus on including as many plant-based ingredients as possible.)
Here are a few ways you can use food to feel your best this year:
Focus on ingredients.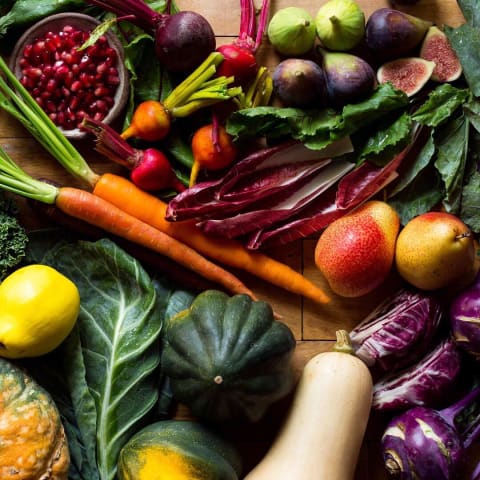 Organic, seasonal produce and sustainable ingredients are key to getting the most benefits out of your food. Food that's in season is not only fresher but also tastes better! Think more vibrant colors, better texture, and naturally available nutrients—win, win, win. It's important to know where your food comes from and that it's good for the earth and your body. A base of good-quality, organic produce is a great place to start, no matter how you prepare it—but cooking good ingredients into delicious dishes is part of the fun.
Start slow.
If you're looking to get into the plant-based eating game, there's no need to go from zero to 100. Commit to preparing one vegan or plant-focused meal a day and take it from there.
Find simple recipes that you like.
If you want to make a plant-based eating habit that lasts, you have to actually like what you're eating. Find a few easy-to-prepare meals that you really enjoy. These can be basic breakfasts (think smoothies or loaded oatmeal) or one-pot meals like soups, stews, and curries that you can make ahead for lunches and dinners.
Find a buddy.
Whether it's an office mate, BFF, or your significant other, fire up the buddy system to help each other cook, swap recipes, and enjoy meals together. It's easier to make a good habit stick if you have positive reinforcements from people around you.
Make a meal plan.
We're not talking about Pinterest boards filled with recipes, multiple shopping lists, or charting out menus on your calendar (although you can totally do that if it's your thing). There's an easier way: Try a meal delivery kit. Sun Basket's meal kits align with your priorities of eating organic, seasonal produce and sustainable ingredients and are delivered to you with easy but impressive recipes created by James Beard Award-winning chef Justine Kelly.
Their plant-focused menus make it easy to eat vegan or vegetarian, and their pescatarian and Mediterranean menus allow for a moderate amount of lean animal protein. The fact that everything is pre-portioned and delivered to you with quick and easy-to-follow recipes makes eating well simple and fun.
Three surefire options to fit more plants into your diet deliciously with meal plans from Sun Basket:
Vegan meal plan: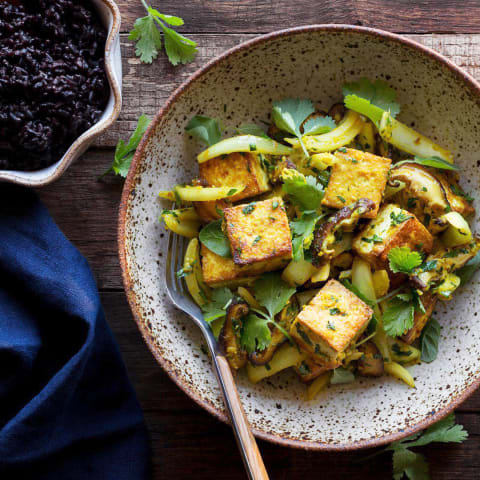 These high-protein dishes have a combination of vegetables, plant-based protein, and good fats and are high in fiber. All meals are free from dairy, meat, fish, or any other animal products (like honey or gelatin) and come with original tasty sauces that make your meals even more delicious. These meals really highlight how great plants can taste.
Mediterranean meal plan:
The Mediterranean diet, rated Best Diet Overall and Best Diet for Healthy Eating by US News and World Report, features legumes, veggies, grains, and some white meat and fish. Sun Basket's dietitian-approved Mediterranean meals make eating plant-focused taste incredible while providing lots of the good stuff that the Mediterranean diet is lauded for. It's a perfect option for including more plants without going full-fledged vegan.
Pescatarian meal plan:
Pescatarians typically follow a mostly plant-based diet but supplement it with fresh seafood, which is a great source of lean protein and omega-3 fatty acids. To get the most out of this way of eating, make sure your seafood is wild-caught and sustainably sourced.
Seek low-impact packaging and less food waste.
Meal planning with Sun Basket keeps you on track with your plant-eating goals AND helps to reduce food waste—something we should all be conscious of. Because they send you exactly what you need for each recipe, your risk of wasting food is much lower than the usual grocery store haul, which is better for the planet and your wallet. Plus they send it all in 100 percent recyclable and compostable packaging.
Be flexible.
Whether you're flexible with what's on your plate or your schedule, make sure you give yourself room to change things up. Sun Basket lets you skip, double up (perfect for dinner parties), or choose any recipe you like from any of the meal plans—making it easy to switch it up while still eating plenty of plants.
Above all, your new habits should be easily incorporated into your life, help you reach your goals, and make you feel great.
More On This Topic
more Food
Advertisement
This ad is displayed using third party content and we do not control its accessibility features.
Advertisement
This ad is displayed using third party content and we do not control its accessibility features.