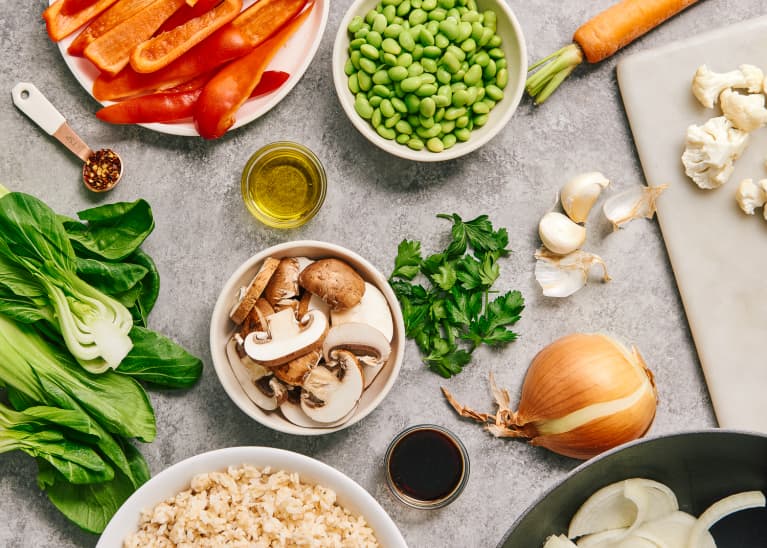 When it comes to weeknight dinners that are simple, nutritious, and reliably delicious, you can't really beat a stir-fry. This lightning-fast cooking method is ideal for those too-hot nights when you don't want to turn your stove on for longer than 10 to 15 minutes at a time.
And it also works particularly well with summer veggies—zucchini, corn, scallions, bell peppers, onions, eggplant—which barely need a flash in the pan to taste their best. So while traditional stir-fries might have you picturing ingredients like beef, chicken, or tofu, we're flipping the script and making the stir-fry our go-to plant-based, soy-free dinner of the summer.
Hear us out: It's a meal that requires minimal planning and shopping, especially if you keep a wholesome one-and-done stir-fry sauce on hand (we always have a bottle of Primal Kitchen® No Soy Teriyaki Sauce & Marinade in our fridge so we're ready to go). It's also a leftovers-friendly scenario, easily turned into a warm or room-temp grain salad or lettuce wrap on Day 2. But the best thing about your new favorite dinner plan? Rather than a single recipe you'll eventually get sick of, it's an easy-to-customize template that you can riff on endlessly using the bounty at the farmers market, your backyard garden, or even what's just lying around the fridge.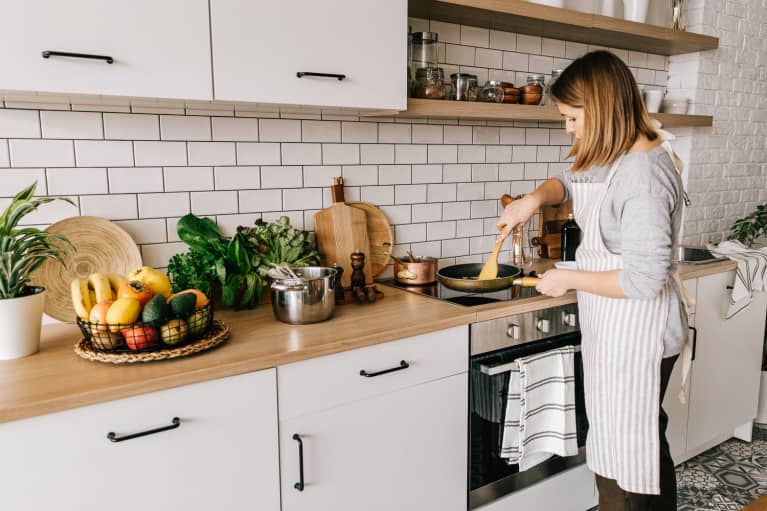 Here's the basic method for our soy-free, plant-based stir-fry.
Choose a base. Brown rice, wild rice, and quinoa are all great grain options, but you can use whatever you like. Zoodles or cauliflower rice can make great gluten- and grain-free options. (Pro tip: Rice or kelp noodles are fun when you're ready to mix it up.)
Choose a high-heat cooking oil. Because stir-frying requires quick-cooking at high heat, you want an oil with flavor that will hold up in the wok and won't set off your smoke alarm while you're at it. Primal Kitchen® Avocado Oil and sunflower oil are great neutral-flavored options, while coconut oil, peanut oil, or sesame seed oil all add their own extra flavor to your stir-fry.
Choose one to three vegetables. In our opinion, the more the merrier, but with the right toppings, even a one-vegetable stir-fry can make a delicious meal. If you're going the three-veggie route, you can experiment to find your favorite flavor combos or what's in season at the farmers market, but a good rule of thumb is to choose a type of onion (vidalia, spring onion, scallions, red onion, or even pearl onions cut into petals); something green (kale, Swiss chard, poblano pepper, snap peas, zucchini); and something any other color of the rainbow (bell peppers, summer squash, corn, cherry tomatoes, fairy eggplant, and so on).
Choose your sauce. To keep things simple, we like to go with a reliable soy-free, ready-made sauce; Primal Kitchen® No Soy Teriyaki Sauce & Marinade is our current favorite. It's smooth, sweet, and savory, and the fact that it's gluten-free, paleo-friendly, and Whole30-approved makes it super versatile for home chefs.
Choose your extra flavors. Minced or grated garlic, ginger, or hot pepper are all great additions to the start of any stir-fry. A handful of chopped herbs or snipped chives, white or black sesame seeds, or chopped cashews or peanuts all make great toppers when you're done cooking.
Once you've got a stir-fry mapped out, it's time to cook. The most important rule: Prep in advance. You'll want all your vegetables chopped into uniform-size pieces (or in the case of smaller items like snap peas or cherry tomatoes, left whole). Keep in mind that you want to add the vegetables to the wok one type at a time, in order of how long they take to cook—starting with the longest cooking and ending with the quickest cooking. If you're not sure, a quick Google search can give you basic pan-fry or wok cook times for most vegetables.
Not feeling very creative? Here are a few winning combos to get you started.
Cauliflower + scallion + sesame seeds + Primal Kitchen® No Soy Teriyaki Sauce & Marinade (This recipe was a hit at mbg revitalize 2019!)
Jasmine rice + fairytale eggplant + red bell pepper + scallions + minced garlic and ginger, red pepper flakes, and sesame seeds + soy-free sauce
Short-grain brown rice + mixed mushrooms + fresh corn kernels + garlic scapes, minced hot pepper, and cilantro + soy-free sauce
Quinoa + red onion + carrot matchsticks + zucchini half-moons + snap peas + minced garlic and ginger + soy-free sauce
Bonus meat option: Ground pork + coleslaw mix + scallions + chopped macadamia nuts + toasted sesame seeds + cilantro + Primal Kitchen® No Soy Teriyaki Sauce & Marinade (get the Egg Roll Bowl full recipe on primalkitchen.com)