Have You Tried Adding Weed To Your Smoothie?

Contributing Food Editor
By Liz Moody
Contributing Food Editor
Liz Moody is a food editor, recipe developer and green smoothie enthusiast. She received her creative writing and psychology degree from The University of California, Berkeley. Moody is the author of two cookbooks: Healthier Together and Glow Pops and the host of the Healthier Together podcast.
July 8, 2017
Cedella Marley (yes, she's Bob Marley's daughter) is one of the leading experts on cooking with weed—in fact, her new book,
Cooking with Herb
,
is entirely devoted to the subject. "Herb is a wondrous plant," she says. "It contains more than 80 different cannabinoids that interact in various ways with the human body's endocannabinoid system (which can) help regulate the nervous system and may even counter diseases like multiple sclerosis, glaucoma, and cancer." Here, she shares her marijuana-spiked Spirulina Smoothie, a daily go-to.
Cedella's Spirulina Smoothie
I begin every day with this spirulina smoothie. Spirulina is a protein- and iron-rich blue-green algae that gives me a natural and filling boost. I add it to a smoothie just like adding protein powder. Frozen blueberries help chill the drink without diluting it; if using fresh blueberries, you will probably want to add a few more ice cubes. Especially when herb-enhanced, this is a great way to mellow out post-workout while still feeling replenished and healthy.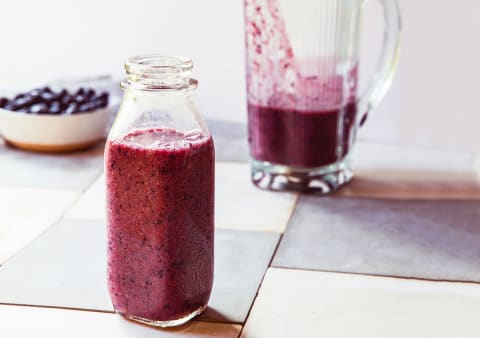 Makes 2 8-ounce smoothies (5 mg THC per servings)
1 cup hulled and halved fresh or frozen strawberries
1 cup fresh or frozen pineapple chunks
1 banana
¾ cup fresh or frozen blueberries (if using fresh, increase the number of ice cubes)
1 tablespoon honey
2 teaspoons spirulina powder
1 teaspoon CannaOil (see below)
4 ice cubes
Add to a blender in this order: strawberries, pineapple, banana, blueberries, honey, spirulina powder, CannaOil, and ice cubes. Blend until smooth, stopping to stir and scrape down the blender jar if necessary. If you like it more like a juice than a smoothie, thin it out with cold filtered water.
Divide between 2 glasses and serve.
CannaOil
Makes 2 cups (1 serving = ½ teaspoon = 5 mg THC)
2 cups coconut oil, extra-virgin olive oil, or grapeseed oil
¼ ounce (7 g) cannabis flower (dose based on 15 percent THC herb)
Grind the herb using a hand grinder (you don't want it to be powder-fine—think dried oregano).
Combine the oil and herb in a medium saucepan and bring to a low simmer over medium heat (the oil should be hot but not boiling).
Reduce the heat to low and cook the infusion very slowly, stirring occasionally and maintaining a temperature of between 200°F and 250°F, until the top layer in the saucepan changes from watery to glossy and thick, about 2 hours.
Set a sieve over a medium bowl and line the sieve with cheesecloth. Pour the infusion into the sieve and let it sit until all of the oil is filtered, about 5 minutes. Fold the ends of the cheesecloth over the herb and use a rubber spatula to press on the solids, extracting as much oil as possible (discard the solids). Transfer to a jar, seal, and store at room temperature for up to 3 months. Note that CannaOil made with coconut oil will solidify; reheat gently to liquefy if necessary.
Based on excerpts from
Cooking with Herb
by Cedella Marley, with the permission of Pam Krauss Books/Avery, a division of Penguin Random House. Copyright © 2017.
And do you want to turn your passion for wellbeing into a fulfilling career? Become a Certified Health Coach! Learn more here.