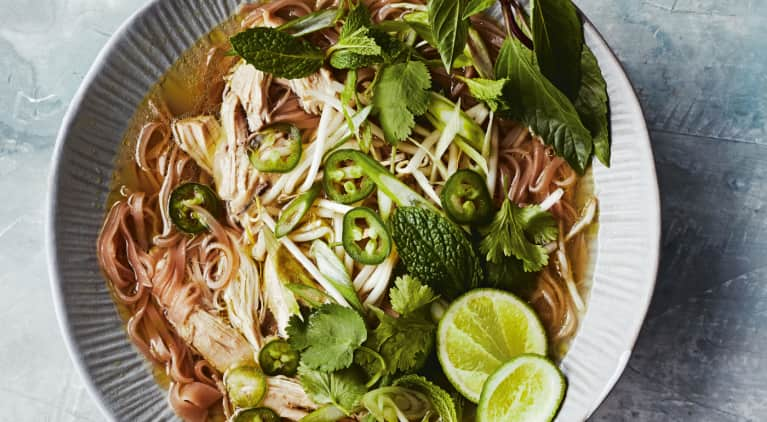 Gina Homolka, the brains behind the hugely popular, award-winning blog and the NYT best-selling author of the two cookbooks that followed suit, is back with her third, and trust us, it's a good one (if you finally got that pressure cooker you've been dreaming about over the holidays, you're in luck). Skinnytaste One and Done: 140 No-Fuss Dinners for Your Instant Pot®, Slow Cooker, Air Fryer, Sheet Pan, Skillet, Dutch Oven, and More is an epic kitchen-counter tome that will win your weeknights this year—think nutritious, satisfying meals; easy-to-find ingredients; and simple steps to get dinner on the table fast. Here's one of our favorite recipes!
A few years ago, I tasted my very first bowl of pho, a Vietnamese noodle soup, and immediately became addicted. The problem was, I would have to drive at least 40 minutes to get a decent bowl of it any time a craving struck. So naturally, I learned how to create it myself.
Pho is notoriously difficult to make from scratch since it involves a lot of ingredients and time spent cooking. But I figured out a quick and easy version that uses a pressure cooker and canned broth as a shortcut, as well as bone-in chicken to add depth of flavor to the broth. The fish sauce and aromatic herbs give the broth its trademark balance of savory and fresh. You can double this recipe if you want extra for leftovers.
Shortcut Vietnamese Chicken Pho 
Serves 4
Ingredients
Pho Broth:
2 teaspoons avocado oil or olive oil
3-inch piece fresh ginger, peeled and halved lengthwise
1 large yellow onion, peeled and halved
4 cups low-sodium chicken broth*
2 tablespoons fish sauce
4 bone-in chicken thighs (5 ounces each), skin removed and fat trimmed
½ small bunch fresh cilantro
½ tablespoon coriander seeds
½ tablespoon raw sugar
5 ounces rice stick noodles
1 cup bean sprouts
2 large scallions, sliced
¼ cup fresh cilantro leaves
1 fresh jalapeño pepper, thinly sliced
Handful fresh mint leaves, for garnish
Handful fresh Thai basil leaves, for garnish
1 lime, cut into wedges
Sriracha sauce (optional)
For the pho broth: Press the sauté button on an electric pressure cooker. When hot, add the oil and ginger, and place the onion halves in the bottom of the pressure cooker cut side down. Cook, without moving, until they are both charred, 4 to 5 minutes. Stir in 1 cup water, the broth, fish sauce, chicken thighs, cilantro, coriander seeds, and sugar.
Seal and cook on high pressure for 18 minutes, until the chicken is tender. Quick release, then open when the pressure subsides. Transfer the chicken to a plate. Strain the broth and discard the solids.
For the bowls: Return the broth to the pot. Press the sauté button and bring the broth to a boil. Add the noodles and cook until pliable and opaque, 3 to 4 minutes.
Remove the chicken from the bone, slice, and transfer to 4 shallow bowls. Divide the noodles among the bowls (about 3½ ounces each). Top each bowl with ¼ cup bean sprouts and equal amounts of the scallions and cilantro.
Pour 1 cup of the broth over each bowl and serve topped with the jalapeño, mint, basil, and lime wedges. If you like spice, top with the Sriracha as well.
No pressure cooker? No problem!
To make this in a large pot or Dutch oven, follow the recipe through step 1, but increase the chicken broth by ¼ cup. Bring to a boil over high heat. Reduce the heat to low, cover, and cook until the chicken is tender, about 35 minutes. Continue the recipe at step 2, beginning with transferring the chicken to a plate.
* Read the label to be sure this product is gluten-free.
Skinnytaste One and Done: 140 No-Fuss Dinners for Your Instant Pot®, Slow Cooker, Air Fryer, Sheet Pan, Skillet, Dutch Oven, and More is available for purchase now.