I Tried Sephora's Newest Natural Hair Care Brand — And I'm Hooked
mbg Beauty Director
By Alexandra Engler
mbg Beauty Director
Alexandra Engler is the Beauty Director. Previously she worked at Harper's Bazaar, Marie Claire, SELF, and Cosmopolitan; her byline has appeared in Esquire, Sports Illustrated, and Allure.com.
A common question beauty editors get asked is what is our favorite beauty subject—be it skin care, makeup, body, or hair. For the longest time, I loved skin care: I've been a stickler about my routine since I was a preteen testing out drugstore finds and acne treatments. But a few years ago, I decided to stop straightening my hair. In fact, I cut hot tools entirely and started to rehab my curls. From that moment on, I've been a hair care fanatic.
And while the natural and nontoxic brands abound in skin care, it's not necessarily the same for hair. Sure, there are great options out there, but the natural hair care and styling market is well behind that of the skin care market in terms of sheer mass of products available.
So when I am introduced to a natural hair brand that works well—I get excited. Enter: Together Beauty, which recently exclusively dropped under the clean umbrella exclusively at Sephora. It was born of the wisdom of longtime hairstylist and cofounder Sam Brocato, who says he's been playing around with natural product formulations for years at his own salon. (He runs his namesake Sam Brocato Salon, a trendy spot in New York.) "The low-hanging fruit is conditioners and moisturizers; those are easy to formulate naturally. But it's incredibly hard to get the same results with styling products without using synthetically based ingredients," says Brocato. "We've been using all of these in the salon, before launching, and they've been incredibly successful."
Their list of "no" ingredients is quite impressive: sulfates SLS and SLES, parabens, formaldehydes, formaldehyde-releasing agents, gluten, phthalates, mineral oil, petroleum derivatives, artificial dyes, and synthetic fragrances. Then what they do put into it (more on that below) is the stuff of hair care dreams—and it's all 95% natural, give or take. Even their styling products, a category known for damage-inducing ingredients, are full of good-for-you stuff. "I didn't want window-dressings, fillers, and green-washing," says Brocato.
Here, some of my favorites from the line:
Wash & Co Cleansing Conditioner
"Most cleansing conditioners don't actually clean the hair, which is why many people avoid them," says Brocato. This is made with a super-gentle coconut-oil-derived surfactant, so it lifts dirt and buildup without stripping your strands or being harsh on the scalp. It's great for those in-between days when you need a wash but you don't need a full shampoo. (Think post-yoga but not post-hot-yoga.)
Wash & Co Cleansing Conditioner, Together Beauty ($29)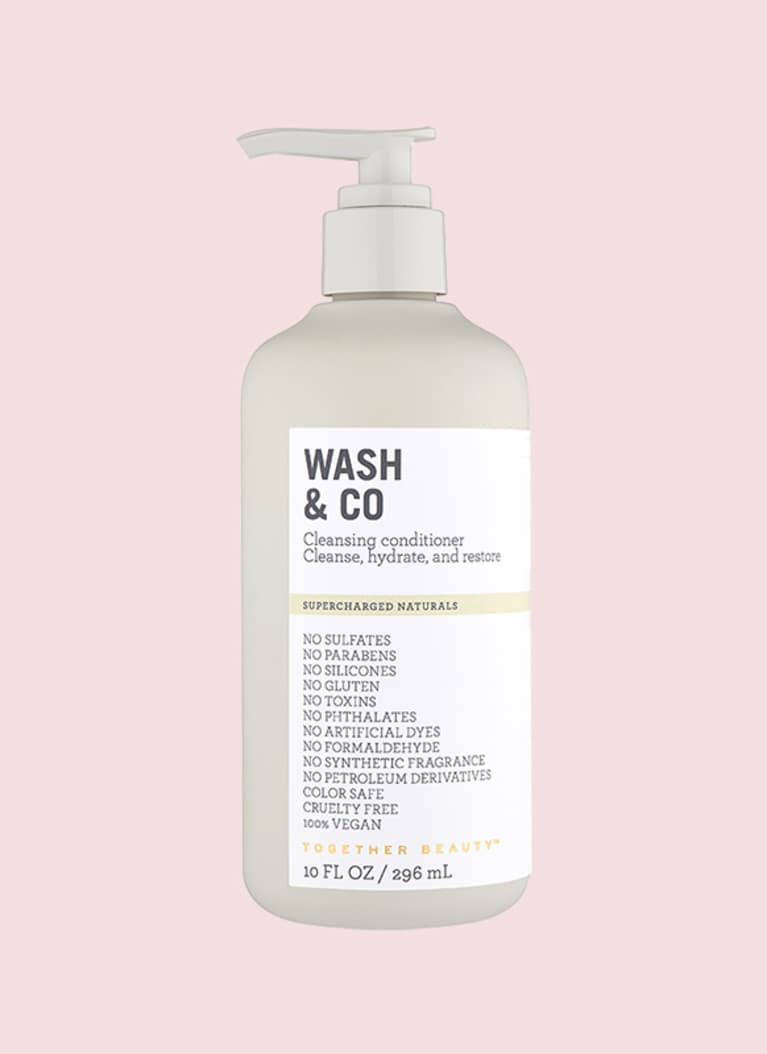 Purple Reign Shampoo
Take this from a dedicated blonde: It is hard to find a deep violet shampoo that's clean, natural, and effective. Most natural options are lilac-hued, which doesn't color-correct brassiness as well as a rich plum like this. (It's made with purple rice to achieve the tone.) They also have a black shampoo for dark hair as well as your more standard moisturizing or volumizing options.
Purple Reign Shampoo, Together Beauty ($24)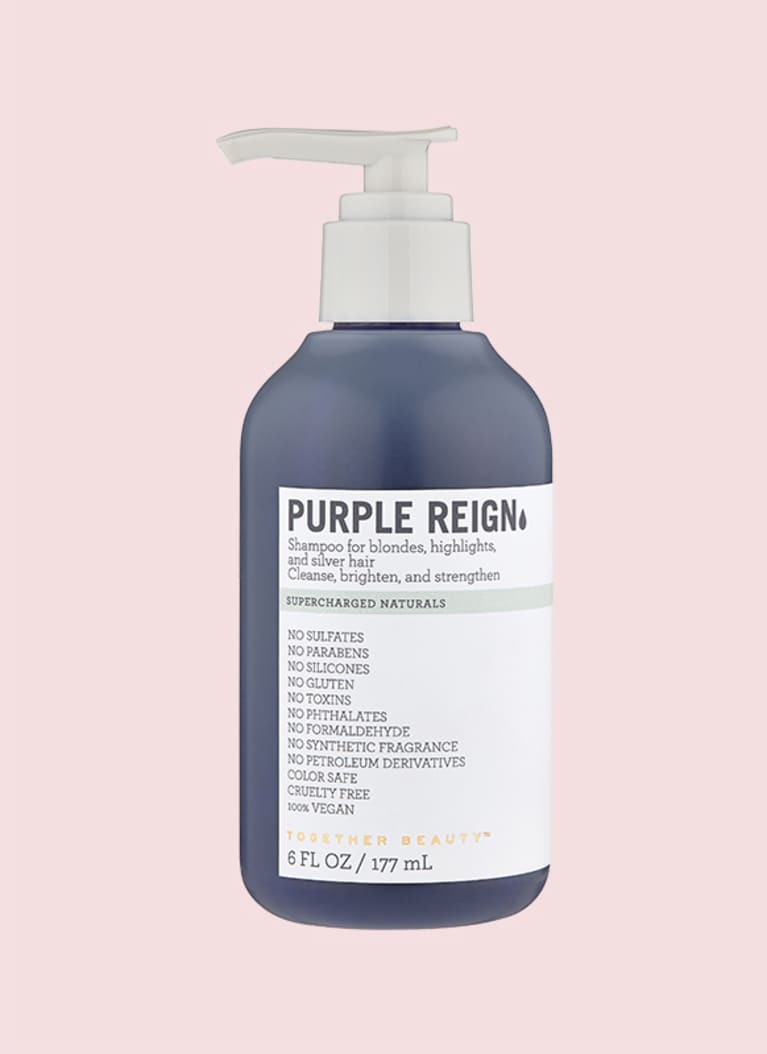 Crown + Glory Smoothing Mask
I use a mask in place of a conditioner, but any hair type could benefit from this (just use it occasionally, not every shower). The mongongo oil, quinoa, baobab seed, and castor oil blend is incredibly hydrating, but it washes out effortlessly, so you're not dealing with extra weight while styling.
Crown + Glory Smoothing Mask, Together Beauty ($28)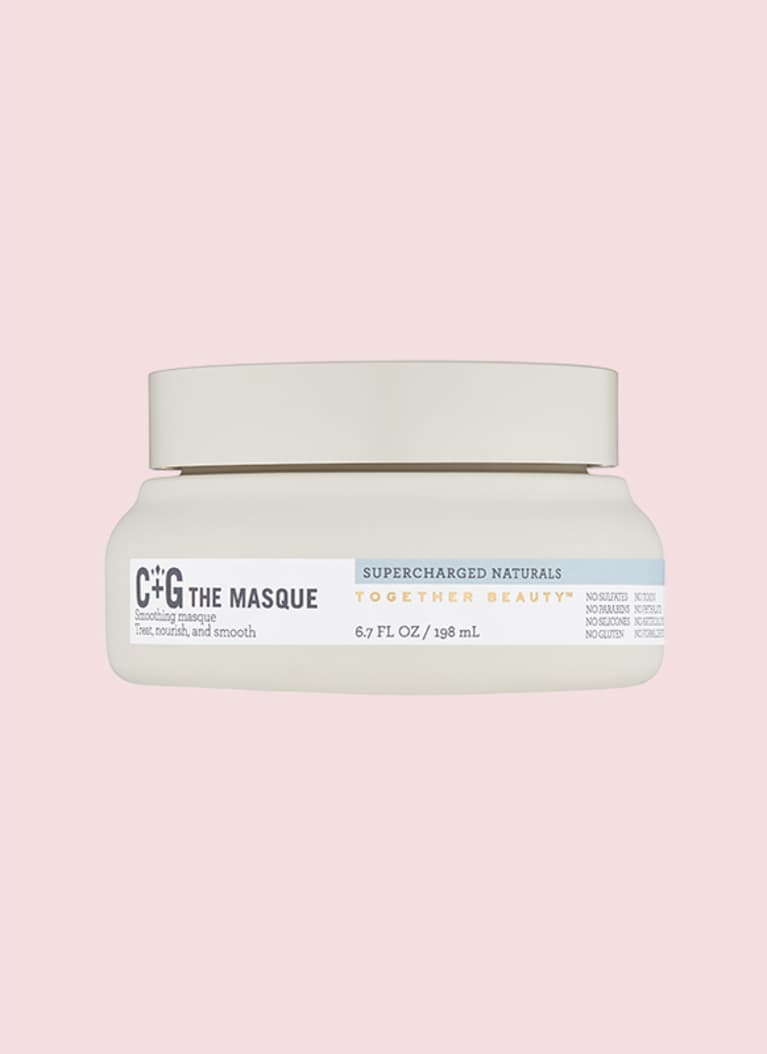 Flower Supply Hair Oil
Truly an all-in-one oil: Seal in water by applying it on damp, smooth ends post-styling, tame fly-aways in an updo, apply it on dry skin for an added boost, and use it as a nighttime treatment for a smoothing aromatherapy moment (it has Bulgarian lavender oil). Be warned: A little goes a long way.
Flower Supply Hair Oil, Together Beauty ($45)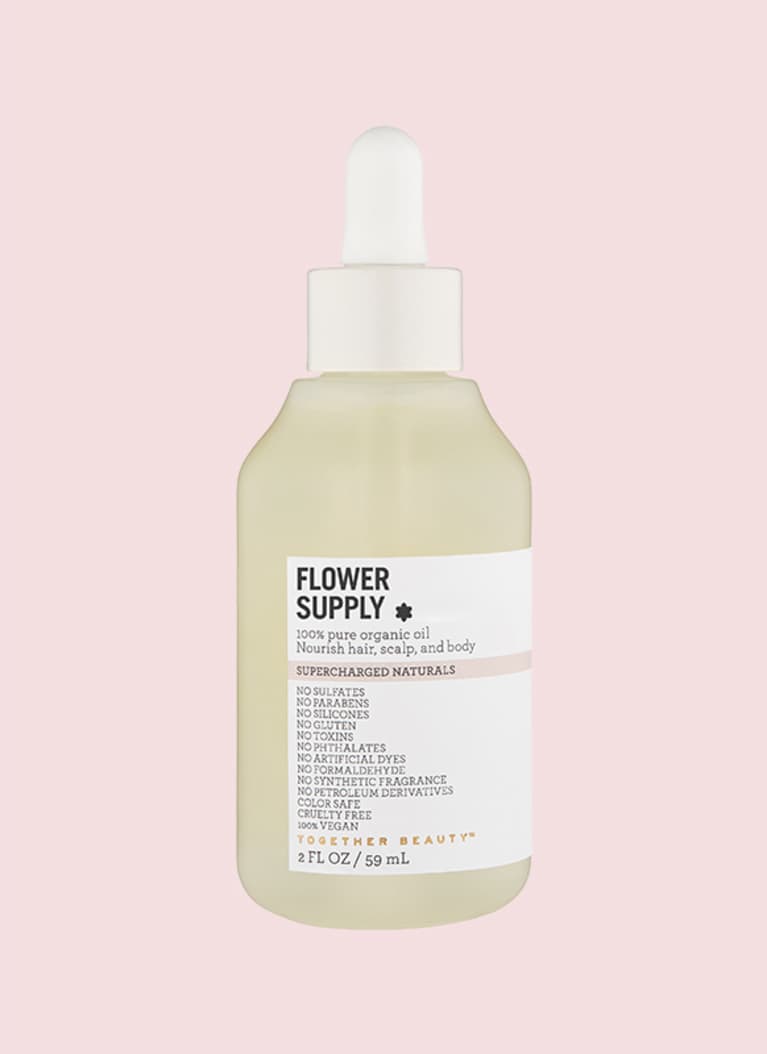 Whatever Wherever Leave-In Conditioner
Leave-ins are typically thought of as hair care, but when formulated well, they do double-duty as hairstyling as well. This does just that (it moisturizes and protects strands with sunflower sprout extract and baobab proteins) but also provides bounce, shine, and frizz-control.
Whatever Wherever Leave-In Conditioner, Together Beauty ($27)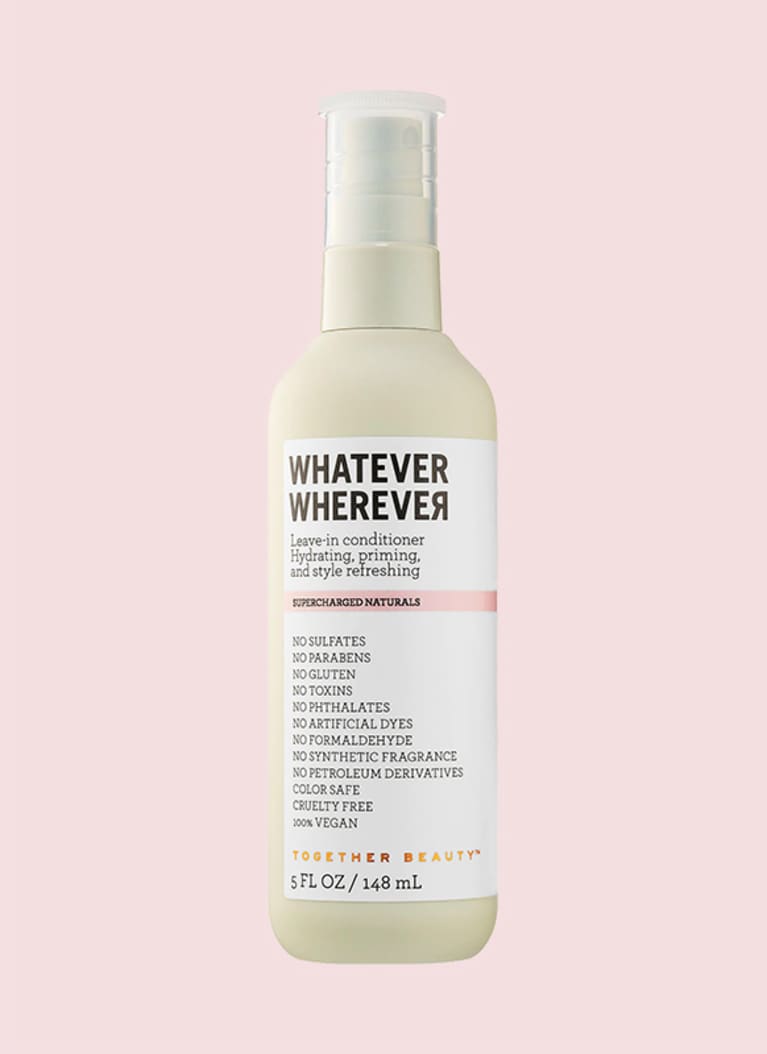 Sugar Wave Texture Spray
It was with a heavy heart that I gave up salt sprays a few years ago. I loved the messy, undone texture they'd give my curls and waves but couldn't stand the damage of everyday use. "Salt is corrosive, so it will dry out your hair over time," says Brocato. This uses sugar in its place and gives hair that sexy, beachy body—sans crunch.
Sugar Wave Texture Spray, Together Beauty ($27)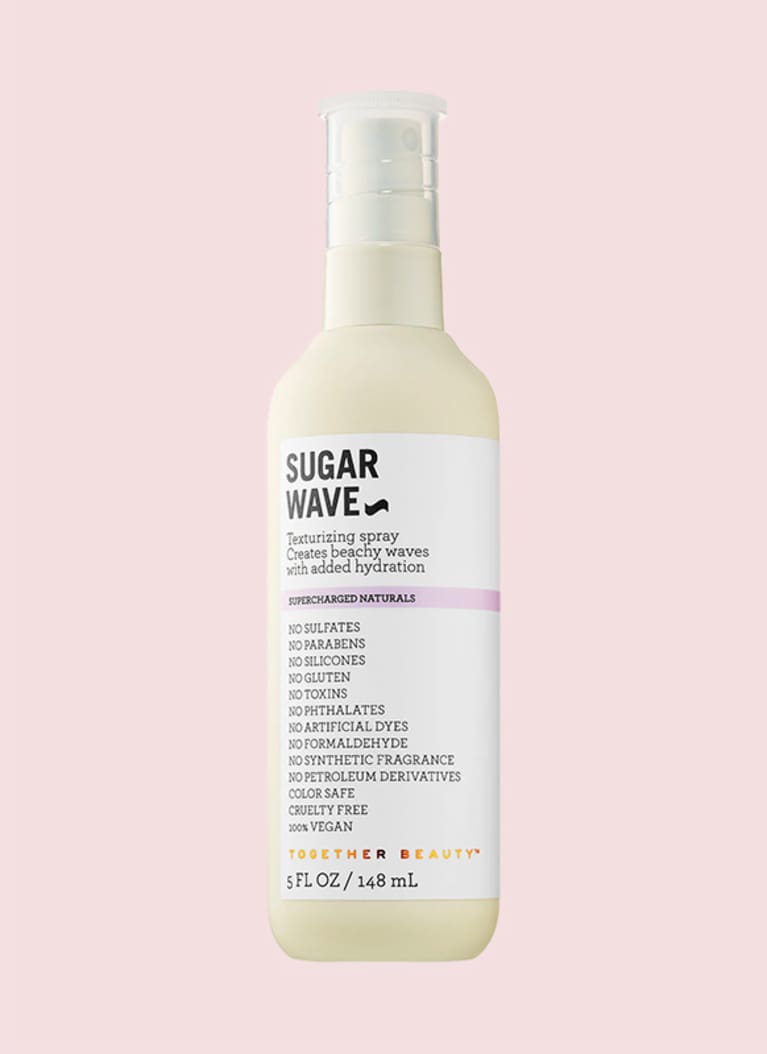 Wax Poetic Texturizing Wax Spray
This wax spray was a total surprise. When I think of wax, I think of men's grooming and tubs of thick, sticky salves. But this is light and easy on hair while providing tons of hold. Plus, it's made with castor seed oil so it won't dull strands like normal texturizing sprays might.
Wax Poetic Texturizing Wax Spray, Together Beauty ($26)