Close Banner
Advertisement
This ad is displayed using third party content and we do not control its accessibility features.
How To Help Your Kids Foster Gratitude Daily: Expert Tips From A Clinical Psychologist

Health & Parenting Writer
By Sharon Brandwein
Health & Parenting Writer
Sharon Brandwein is a freelance writer and certified sleep science coach whose work has appeared on ABC News, USAToday, Parents, and Forbes.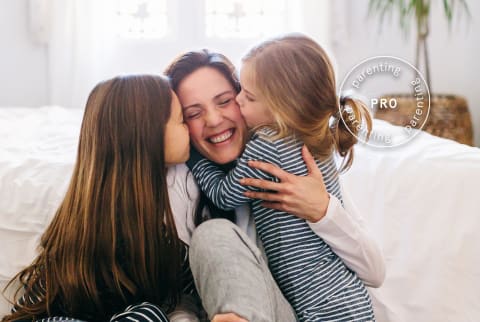 Image by BONNINSTUDIO x mbg creative / Stocksy
We carefully vet all products and services featured on mindbodygreen using our
commerce guidelines.
Our selections are never influenced by the commissions earned from our links.
In mindbodygreen's parenting series, Pro Parenting, mbg utilizes our wide network of well-being professionals to help parents deal with the day-to-day of child-rearing. No matter the topic, we've got a professional who can offer their best advice and insights.
As we approach the season of giving and thankfulness, gratitude for all that we have is top of mind for many of us. And while it's nice to take a beat and put things back into perspective, the truth is gratitude isn't something to be saved up and observed later. We should all practice a little mindfulness each and every day. And while it's easy enough for adults to understand and do, gratitude may be a bit more vague and maybe even confusing for kids.
And if you hit the internet for help with the practice, you'll find plenty of resources on the topic—albeit most of which are largely focused on adults. But we know that gratitude should start early, so we consulted the experts for tips on cultivating gratitude in kids. Ahead, Kelsey Latimer, Ph.D., CEDS-S, RN/BSN, clinical psychologist, nurse, and founder of KML Psychological Services, shares some fun ideas to help your little one foster gratitude daily.
What is gratitude? 
Before we dive in, Latimer shares some thoughts about gratitude.
Simply put, gratitude is a feeling of thankfulness and appreciation for the good things in your life. While children (and some adults) may focus on material things, Latimer says that's where gratitude practices typically start, but that's never where it ends.
"When you don't know what gratitude is, you might focus more on material things," says Latimer. "Usually, that's where a professional can come in to help (both adults and kids) understand that gratitude is not necessarily about 'things.' Once we move past the material things and get more specific about the things we truly value—on a deeper level, that's really where things open up, and people realize that they have so much more than they think."
And while research shows that gratitude can benefit adults by reducing stress and anxiety1, fostering empathy, strengthening social relationships2, and even contributing to better physical health, Latimer says kids reap those benefits as well.
How to help your kids practice gratitude
1.
Put things in kid-friendly terms
For most parents, the first step in fostering gratitude in their kids is to explain it to them in terms they can understand based on their age and emotional maturity. "If you have a very young child, you're probably not going to use the term 'gratitude,' says Latimer. "You're better off using a term like 'thankful' as even little kids will understand this basic concept."
Latimer adds, "Parents with older children may have some flexibility when talking to kids about gratitude. Not only does the flexibility come from what language you can use, but they can also go into more depth on the topic."
2.
Let your kids take the reins
"Kids usually have some really great ideas," says Latimer. "Once you discuss the concept with them, ask them for ideas on how they want to express their gratitude. Not only are they likely to come up with more creative ideas than any adult ever could."
Moreover, when the idea comes from them, they're far more likely to commit and see it through. They won't view it as another chore Mom and Dad told them to do.
"Ideally, gratitude shouldn't be something only the kids are doing," says Latimer. "Parents can encourage practicing gratitude as a family by choosing an activity that everyone can get involved in, whether that's adopting a family that's less fortunate, planting a garden in an area where there's a food desert, or volunteering in a homeless shelter—it's something they can do together."
Latimer adds, "Not only can this help your child practice gratitude, but it can also open up discussions and bring your family closer together."
Fun ideas to help kids practice gratitude daily
Try a gratitude jar
"Kids really enjoy seeing the product of their gratitude," says Latimer. "If that sounds like your child, try a gratitude jar."
And it's as easy as it sounds. Start with an empty jar with little slips of blank paper.
"Encourage your child to write something they're grateful for every day and add it to the jar," she says. "Even better, they can have fun and get as creative as they want—decorate the jar, use colored paper, stickers, etc. This exercise gives your child a visual for what they're doing. They can actually see their gratitude grow over time."
Or a gratitude board
"In the same vein, older kids could opt for a gratitude board," says Latimer. "Much like the jar, they can visually see what their gratitude looks like and watch it build over time. Of course, this one will look more like a collage, and your child can keep it in their room."
Encourage older kids to try journaling
"For older kids (and adults), one of the most effective ways to practice gratitude is journaling," says Latimer. She adds that sitting down to write may sound stressful and daunting, but it doesn't have to be. "To get your child started, take a blank piece of paper; make three columns for people, places, and things; and fill them in."
Latimer adds that while this is a great activity for practicing gratitude, consistency is key —"It's only through consistency that we begin to see the change in our thought process."

Sharon Brandwein
Health & Parenting Writer
Sharon Brandwein is a freelance writer who specializes in parenting, health, and sleep. Sharon's work has appeared on ABC News, USAToday, Parents, and Forbes. Brandwein is also a Certified Sleep Science Coach. When she's not busy writing, you'll probably find her mixing in with her kids or digging through vintage books in local antique shops.