These Graphic Designers Are Making Helping Homeless Women Incredibly Simple

By Caroline Muggia
mbg Contributor
Caroline Muggia is a writer, environmental advocate, and registered yoga teacher (E-RYT) with a B.A. in Environmental Studies & Psychology from Middlebury College.
Image by Leandro Crespi / Stocksy
February 8, 2019
There were 63,498 homeless people in New York City alone reported last December. The numbers showed that the amount of New Yorkers sleeping each night in municipal shelters is 76 percent higher than it was 10 years ago—and this doesn't even account for people who are sleeping unsheltered.
This means shelters are more crowded and resources are limited. One of the most limited resources: menstrual products for women. In fact, menstrual products are some of the least donated items in shelters, and if they have them at all, they're in short supply because of the cost.
Erin Da Eun Song, a graphic designer in New York City, became aware of just how difficult it was for homeless women to get access to menstrual products during their periods after speaking to her one of her friends who she met as a student at Savannah College of Art and Design.
She and her friends Yitong (Cindy) Shen and Jae Who, both art directors in New York City decided to use their graphic design experience to create a poster with a pocket that reads: "Your chance is here, help another woman." These posters make it easy for women using the bathroom to leave an extra pad or tampon in the pocket for a homeless woman to pick up.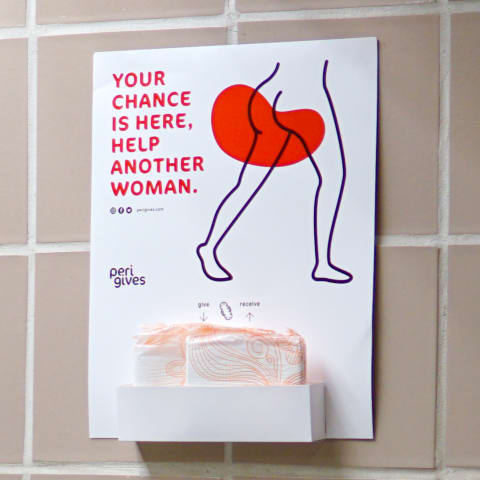 Image by Perigives / Contributor
Initially, they tested the process by putting up posters in the public bathrooms at transportation hubs like Penn Station and Grand Central Station. Within a few hours, the original products they stocked had been taken, and new pads and tampons were left in their place.
The grassroots initiative called Perigives has already received an overwhelming response on social media after people read about the posters and the co-founders hope word continues to spread. Interested in participating? Here's how you can help:
Print your own posters & hang in public bathrooms
While the designers are getting the posters around the city where they can. You can help out by heading to the Perigives website and printing the poster for yourself. The pocket can easily be created using double-sided tape. Next, hang it around female public restrooms and watch the magic unfold.
Share with others
The Perigives founders point out that most people they spoke to had not thought about the issue of lack of menstrual products for homeless women and wanted to help. This means you have the power to raise awareness about this issue by telling others about this initiative.
This epitomizes mindbodygreen's You.We.All mantra as it provides access to a healthier way of life, builds community, and is a simple solution for those who need it most. As we head into the weekend, we're thinking about where we can hang this poster because it's too simple not to.

Caroline Muggia
Caroline Muggia has a B.A. in Environmental Studies & Psychology from Middlebury College. She received her E-RYT with Yoga Works and is a graduate of the Institute for Integrative Nutrition. A writer and environmental advocate, she is passionate about helping people live healthier and more sustainable lives. You can usually find her drinking matcha or spending time by the ocean.