paid content
 for

How To Have Your Best Self-Care Vacation In Santa Monica
By Ashley Mateo
mbg Contributor
shley Mateo is a freelance writer and editor in NYC. She recieved her B.S. in journalism from Boston University and has written for Self, Women's Health, Runner's World and more.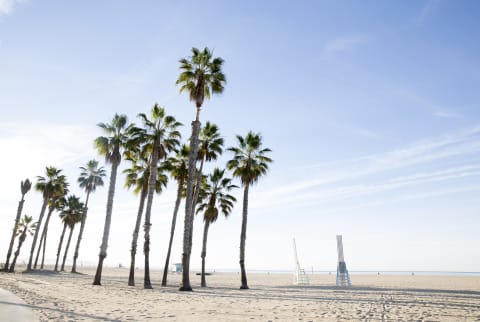 Image by Santa Monica Tourism
September 21, 2021
Advertisement
This ad is displayed using third party content and we do not control its accessibility features.
It's time. After the last couple years we've all had, you're craving a thoroughly transportive, rejuvenating getaway. But also, not too far away. You want to feel the ocean breeze in your hair and sand between your toes, to feast on fresh, nourishing food, to rest your hardworking body and also challenge it in fun, new ways. Where to do all of that? Santa Monica. With its oceanfront location, 300 days of sunshine, and inherently active way of life, it's a no-brainer for health-conscious travelers. In this seaside escape, there's an experience to restore every kind of wellness seeker right now. From beach workouts and al fresco dining to luxury spa treatments that provide emotional and spiritual healing, this city-by-the-sea is tailor-made to help you relax. Plus, with all those outdoors activities and reasons to enjoy the fresh air, it's the safest way to vacation — and thanks to the Santa Monica Shines COVID-19 program, you can rely on extra assurance at many hotels, restaurants, shops and more. (Be sure to check local guidelines for the latest travel and health safety information.)
Read on for five ways to practice the best kinds of self-care while soaking up the SoCal sun.
Wake up near the water.
Set along 3.5 miles of stunning shoreline, it's easy to score a room with a view in Santa Monica. For those drawn to the heart of the city, the recently opened Hilton Santa Monica Hotel & Suites offers 286 rooms (211 of which are suites) a short walk from the beach, the Santa Monica pier, and the open-air, car-free Third Street Promenade, with its 80-plus shops and restaurants. About a mile away at 70-suite Hotel Oceana, you can book bespoke, wellness-focused experiences—from private daily yoga classes in Palisades Park and guided hikes through Temescal Canyon to oceanfront horseback riding, and helicopter rides up the coast. And at the 1920's era Fairmont Miramar Hotel & Bungalows, set on five lush acres atop the bluffs overlooking the Pacific Ocean, you can bunk up in one of 31 private bungalows (or any of the 300 other rooms) and get access to Exhale, a full-service spa offering everything from acupuncture to massages, scrubs, waxing, and facials—some of which can be done al fresco.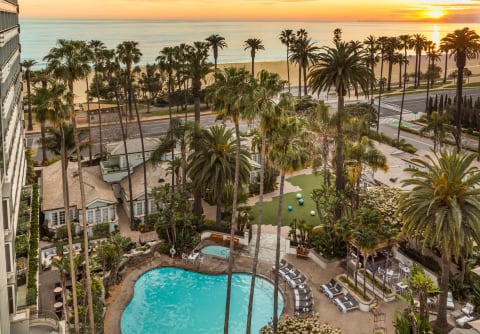 Image by Fairmont Miramar Hotel & Bungalows
Advertisement
This ad is displayed using third party content and we do not control its accessibility features.
Exercise in the open air.
It's not just the original Muscle Beach or the first-come first-served volleyball courts that draw fitness fanatics out of the gym here. On Santa Monica beach, you can watch the waves crash as you pedal along to a Beach Cycle spin class, move through morning and sunset flows with Beach Yoga SoCal, and fly through the air in an aerial arts class—like trapeze or silks—with TSNY Los Angeles on the Pier. And on Self-Care Saturdays on Third Street Promenade at Arizona Avenue, you can join free workouts from local studios like HOODFIT, WERQ Fitness, and Shakti Naam Yoga. Not one for organized classes? Explore the 22-mile Marvin Braude Beach Trail via bike, paddle into the Pacific on a stand-up paddleboard or in a kayak, or try your hand at beach tennis, a combo of volleyball, tennis, and badminton.
Image by Santa Monica Tourism
Advertisement
This ad is displayed using third party content and we do not control its accessibility features.
Pamper yourself.
Just visiting the beach can be a deeply uplifting experience—crashing waves release negative ions into the air which research shows can alleviate depression. But if you want to take your self-care to the next level, join one of the weekly sound baths on the Santa Monica Pier with AZ I AM or on the sand with Beach Yoga SoCal. For a more traditional spa experience, visit the Santa Monica Proper Hotel's brand new, 3,000-square-foot Surya Spa, where—in addition to offerings including therapeutic massage, steam and oil treatments, cooking, yoga, and meditation—Ayurvedic guru Martha Soffer offers custom-designed programs supporting physical, mental and spiritual health. And if retail therapy is more your style, stroll down Pico Boulevard, where you can browse unique art galleries, custom jewelry shops, and indie boutiques.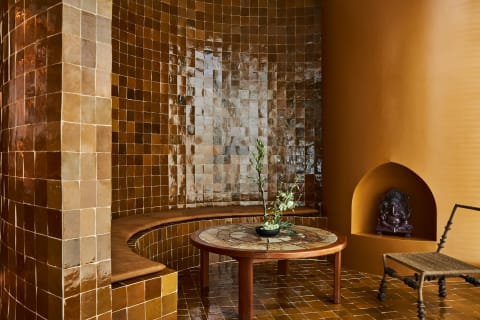 Advertisement
This ad is displayed using third party content and we do not control its accessibility features.
Dine alfresco.
Outdoor eating is an integral part of the Santa Monica experience — and now is the perfect time to explore expanded outdoor dining options, thanks to 100 sidewalk dining areas citywide. Go all in with the Santa Monica Picnic Company, which caters exclusive beachside experiences—featuring professionally designed furnishings, chef-curated cheese and charcuterie boards, and refreshments, plus extra items like mood lighting and floral arrangements as well as add-on activities like surf lessons or bocce ball. Otherwise, brunch all day while people-watching on Bardonna's Montana Avenue outdoor patio, or savor the tastes of Italy (plus local farmers) at La Puglia on Wilshire. Inside the Fairmont Miramar, you can grab seasonal and locally-sourced breakfast, brunch, dinner, and grab-and-go options at FIG Restaurant, on an open patio that overlooks the pool. If you're not sure what you want, head to Interstellar, steps from the Third Street Promenade, where you can get Korean-influenced tacos, burgers and rice bowls, breakfast burritos, and pasta dishes—something for everyone.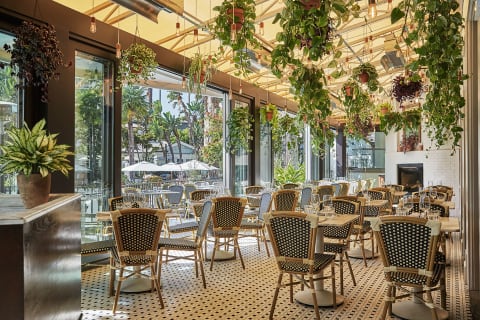 Advertisement
This ad is displayed using third party content and we do not control its accessibility features.
Get a taste of local culture.
This summer, two blocks of Main Street were transferred into an open pedestrian plaza—something that will continue September 18-19, and October 16-17. Meander in and out of boutiques like Berry Lee Shoes, which has been providing footwear, bags, and hats to shoppers since 1986; the flagship Hoorsenbuhs jewelry store (maybe you spotted their designs on Rihanna?); and Lost & Found, which sources clothing, home goods, and apothecary items. Main Street is also home to the city's famous Sunday farmers market and evolving art and cultural exhibits. As you're strolling, admire a huge selection of the 130-plus street art murals that decorate the walls and buildings throughout Santa Monica's eight square miles, then take a sun-drenched break in Tongva Park, six acres that were named for the indigenous Tongva people who once populated this area of Southern California. Relaxed and inspired, you'll be ready to bring a bit of that Santa Monica state of mind home with you.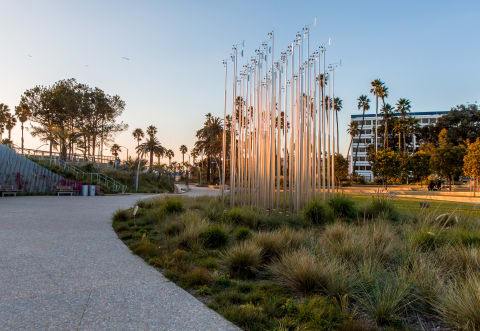 Image by Santa Monica Tourism