paid content
 for

The No. 1 Way To Detox Your Bedroom & Sleep Better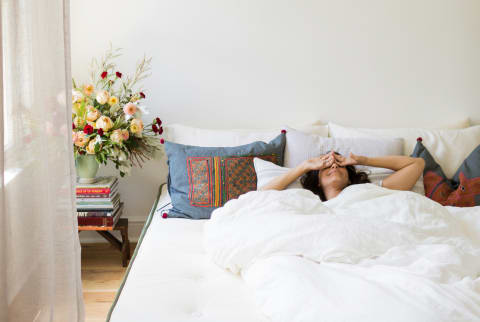 Photo by Avocado Mattress / Melissa Kruse
November 3, 2017
By now, most of us know that sneaky toxins can make their way into our food, beauty products, and home goods. That's why buying organic, opting for natural skin and hair care, and going for BPA-free plastics are cornerstones of any healthy lifestyle. But there's one more source of chemical contamination that we haven't placed as much attention on—and we spend a third of our lives on it.
Yep, it's time to talk mattresses.
Our bedrooms should be sanctuaries.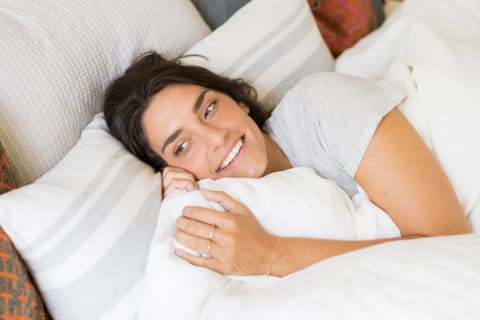 Photo: Avocado Mattress / Melissa Kruse
Many traditional bed-in-a-box mattresses are made with petroleum-based polyurethane foams (or memory foams). Chemical adhesives are often used to bond these foam layers together, and chemical flame retardants are added to meet federal flammability requirements. So, rather than making our bedrooms a sanctuary for health and well-being, many mattresses are filled with pollutants that—slowly, over time—find their way onto our skin and into our air and bodies.
According to the EPA, indoor air quality can up be up five times more polluted than outdoor air. Research suggests that the associated risks of chemical contamination may include headaches and fatigue, increases in asthma, cancer, fertility struggles, preterm birth, autism, obesity, lower IQ, memory and learning problems, and advanced puberty. That's reason enough to trade in your mattress!
The natural solution.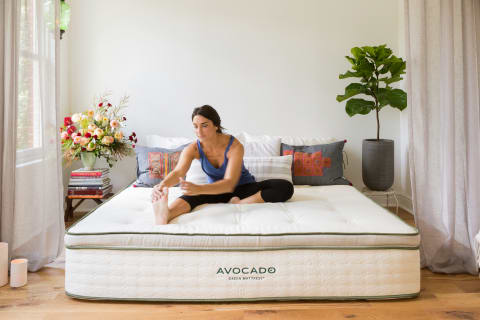 Photo: Avocado Mattress / Melissa Kruse
Before you start sleeping on the floor, you should know that there are mattresses out there made with natural ingredients that don't rely on so many synthetic materials and potentially harmful chemicals—like Avocado Green Mattress.
An Avocado Green Mattress (as the name suggests) is made with natural and organic materials, including 100 percent natural Dunlop latex, a generous layer of natural wool from New Zealand, and organic cotton grown without synthetic fertilizers or pesticides. It also contains an internal pressure-point system to support your body's natural curves (goodbye, back problems).
But what's most important is what you will not find in an Avocado mattress: no petroleum-based polyurethane foams, no chemical adhesive between the comfort layers, and zero chemical flame retardants. The entire mattress—including their green pillows!—has been Greenguard Gold Certified, meaning it's been rigorously tested and identified as being low in chemical emissions.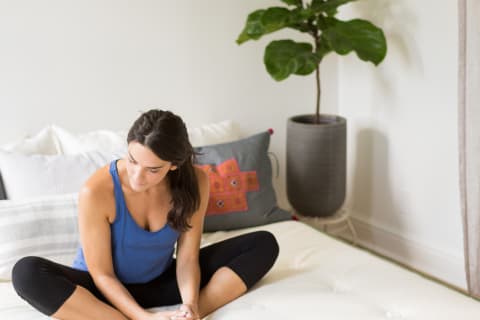 Photo: Avocado Mattress / Melissa Kruse
Going green doesn't need to break the bank, either. An Avocado Green Mattress starts at a reasonable price point, and the company donates 1 percent of their revenues to nonprofits with a strong environmental mission, so you can feel good about your purchase.
And when you top your mattress with an organic mattress protector, organic cotton sheets from one of the many online luxury brands, and pair it with a bed made with sustainably harvested wood and low VOC paint, you're well on your way to detoxing your bedroom and having sweet, green dreams.