Clinical Sexologist and Psychotherapist
By Robert Weiss, PhD, MSW
Clinical Sexologist and Psychotherapist
Robert Weiss PhD, MSW is a clinical sexologist and practicing psychotherapist, he has his master's in social work from the University of Southern California, Los Angeles, and his doctorate in human sexuality from the International Institute for Clinical Sexology.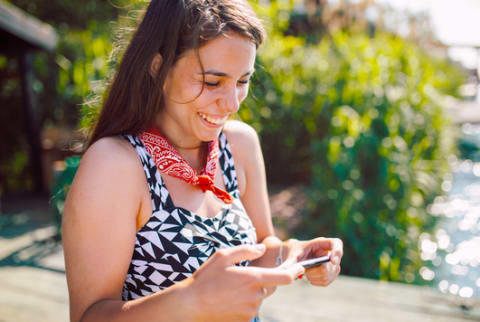 August 24, 2017
Our technological landscape is bursting at the seams with dating and hookup websites and apps, social media, video chats, and other ways to meet and greet and feel the heat. Unfortunately, if you don't know what you're doing, you can waste quite a lot of time and energy chasing the wrong people, and it can exhaust you pretty quickly. But it's more likely than ever that you (or someone you know) will actually find the love of their life through a dating app.
1. Know what you want.
If you're looking for a long-term relationship, stick to sites and apps that facilitate this. This Consumer Reports survey found that Match was the best site for finding a long-term relationship—by a large margin. Thirty-three percent of Match users reported having relationships lasting longer than six months. OKCupid, Tinder, and eHarmony trailed Match but were still considered decent places to look for love. Despite success stories from users, Tinder scored lowest of these sites, with only 13 percent having found relationships that lasted longer than a month.
You might also consider venues like JDate, ChristianMingle, and BlackPeopleMeet if it's important to you to share your religion or culture with your partner. And it gets even more niche than that. You can find a partner based on your musical interests with Tastebuds, search for fellow vegetarians with VeggieDate, find someone who shares your interest in BDSM with FetLife, or even look for someone who shares your STD profile via Positive Singles, an anonymous dating site that matches people accordingly.
If you're looking for casual dating or just want to hook up, Tinder is a viable option (although people absolutely do find long-term relationships there). SKOUT is hookup-friendly because of its immediacy (it lets you chat with people nearby), but that's not all they offer. More ubiquitous hookup apps like Grindr (specifically for gay men) and Adult Friend Finder are bread-and-butter hookup apps where there's no uncertainty about what people are there for.
2. Be honest.
The most important tip for successful dating (and even successful hooking up) is to be honest in your profile and your online interactions. There are two things about which you must absolutely tell the truth:
Who you are: gender, race, age, body size/type, etc. Pictures help with this, obviously, provided you use a recent picture of yourself (and not some hot model that you'd like to resemble.)
What you want: long-term relationship, casual dating, just sex, etc.
When you're honest, the people who are looking for what you're offering will find you, and if/when you decide to meet them IRL, they won't be disappointed. If you're dishonest, you might lure someone in, but eventually that person is going to find out what you really look like, how you really spend your time, and what you really want from a partner. Telling the truth about these things up front will save you and the people you interact with a lot of time and heartache down the line.
3. Search intelligently.
Many of these sites and apps let you search in specific ways—age range, type of relationship sought, location, level of education, hobbies, religion, etc. Some sites limit the search options to age and location and serve up potential matches, often learning from what you choose so your matches become more and more personalized over time. With the sites that match you via criteria, however, the best approach is to pick three to five specifics that are important to you and use them to narrow your search. After you eliminate the people that don't fit your wish list, look at the remaining profiles to see who you find attractive and interesting.
4. Be persistent.
Finding romance (or even a good hookup) can be difficult, even with digital assistance. If you're searching for a long-term partner, you should expect to have at least one or two dates with 15 to 25 people before you find the right person. So, if you're looking for lasting love, you need to date, and you need to do it without being tied to the outcome of any one situation. Most of the people you meet are not going to be a great match. You just need to keep trying until the right person shows up.
5. Stay positive.
Many people go on a few dates that don't go well and decide they must be too fat, too unattractive, too poor, too uneducated, too old, or too whatever else it is they feel insecure about. The first few people they meet don't seem interested, so they erroneously conclude that everyone else will feel the same way. This belief is not true! There is a lid for every pot.
It doesn't matter if you feel unattractive and that your last date apparently agreed with this assessment; someone out there is going to take one look at you and swoon. Don't cheat that person, or yourself, out of that experience just because your last few dates wilted your self-esteem.
Robert Weiss, PhD, MSW
Clinical Sexologist and Psychotherapist
Robert Weiss PhD, MSW is an expert in the treatment of adult intimacy disorders and related addictions, based in Los Angeles. A clinical sexologist and practicing psychotherapist, he has his master's in social work from the University of Southern California, Los Angeles, and his doctorate in human sexuality from the International Institute for Clinical Sexology. Robert frequently serves as a subject matter expert for major media outlets including CNN, HLN, MSNBC, OWN, The New York Times, The Los Angeles Times, and NPR.