Close Banner
Advertisement
This ad is displayed using third party content and we do not control its accessibility features.
Serpent Nails Are Effortlessly Cool — Here's A Trick To Get The Look

Beauty & Health Editor
By Jamie Schneider
Beauty & Health Editor
Jamie Schneider is the Beauty Editor at mindbodygreen. She has a B.A. in Organizational Studies and English from the University of Michigan, and her work has appeared in Coveteur, The Chill Times, and Wyld Skincare.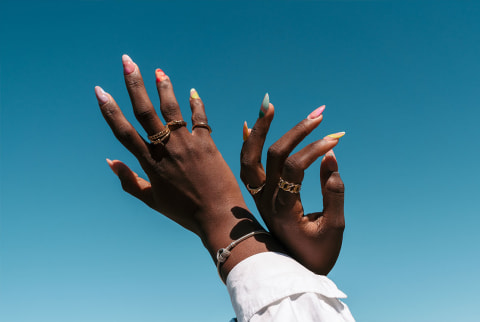 Image by Lucas Ottone / Stocksy
We carefully vet all products and services featured on mindbodygreen using our
commerce guidelines.
Our selections are never influenced by the commissions earned from our links.
Nail trends come and go, but textured tips have certainly reigned supreme over the last several months. Consider the resurgence of "velvet nails," for example, which require magnetic polish to create a plush, fabric-inspired look. And let's not forget the absolute chokehold "glazed doughnut nails" have had on the zeitgeist; thanks to Hailey Bieber, countless beauty fans crave lacquer that glistens like warm, sticky icing.
Shiny metallics, too, have experienced their time in the sun—and a simple trick can transform your regular foil finish into a full-on snakelike effect. A little shimmer here, some strategic top coat there, and you'll wind up with effortlessly cool, three-dimensional "serpent nails." Slither on to the full tutorial ahead.
What are serpent nails?
No, it doesn't involve drawing a snake on your nail plate (although, feel free to interpret the art as you please). Rather, serpent nails refer to the scaly, shiny texture of snakeskin—think not slimy but rough and bumpy.
It sounds intricate, but the look is actually pretty low-lift. In fact, the metallic shade will do a lot of the heavy lifting since the polish will have a slightly different hue every time it catches the light.
Shimmer polishes are also the perfect combo of neutral and fun, experts say, so it's worth having them in your arsenal. The serpent nail trick just elevates your everyday metallics a step further, offering a touch more edge.
How to create the look. 
First things first: Select your serpent-inspired color palette. "The most common colors used to achieve a serpent, reptilian nail look include deep metallic green, black, and brown," says Jin Soon Choi, editorial manicurist and founder of JINSoon. "Other colors such as holographic blue, purple, and teal are also popular." Feel free to choose your own reptilian adventure here—but metallic or chrome hues will really help you nail that scaly effect.
OK, here comes the tricky part. "There are a few ways to create serpent nails with regular nail polish," says Choi. You could opt for the netting method—after applying your polish of choice, apply netting on top while the polish is still wet (here's a great option from Amazon), then finish with a top coat.
You could also use a nail art stamper or sponge to create a uniform scale pattern. Simply apply a base coat of polish, wait for it to dry completely, then dip your stamper into a metallic hue before lightly pressing it onto your nails. After attempting both netting and stamping, I found the latter method easiest—I didn't have a proper stamper, but a regular kitchen sponge works just fine if you use the edge.
The pores of the sponge create a scaly, almost cloudlike effect. (If you choose dreamier pastel hues, you could easily create "cloud nails." But that's a tutorial for another day.) Just make sure to tap the sponge super lightly; if you press too firmly, the polish will bleed and create one big blob.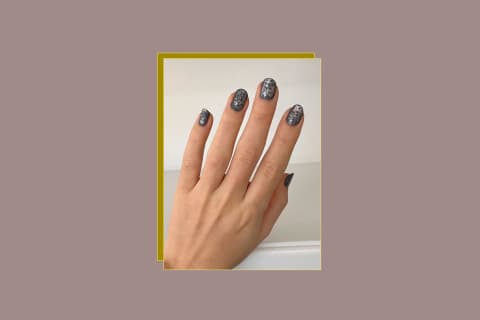 Image by Jamie Schneider / mbg beauty editor
For the more valiant nail artists among us, Choi does offer a hand-painted tutorial using a dotting tool: "Apply different layers of colors and chromes in an abstract paint-like manner," she explains. "Create the curved-shape pattern of scales with the smallest dotting tool available or a toothpick, which is easier to use than a striping brush, by gently scraping the polish in thin wavy lines. Finally, use a nail art pen to create a contrast between the scales by outlining each scale with a different color."
Choose whatever painting method works best for you! Then if you want to further play with texture, Choi recommends dabbing some glitter on top of your work to give your serpent nails more dimension. "Combining with magnetic nail polish can create a unique design as well," she notes.
As always, finish off the look with a top coat; according to Choi, a sparkly number will give your digits a glimmering effect, while a matte formula has more of an edgier spin. (JINSoon offers a glossy and matte top coat for both ventures.)
The takeaway. 
If you're looking for an on-trend yet easy way to elevate your nail art, I highly suggest you give serpent nails a try. All you need is a metallic lacquer, a kitchen sponge, and a glossy or matte top coat to achieve a cool, reptilian finish. I should note, I do not have superb nail art skills—so if I can execute it, you absolutely can, too.

Jamie Schneider
Beauty & Health Editor
Jamie Schneider is the Beauty Editor at mindbodygreen. She has a B.A. in Organizational Studies and English from the University of Michigan, and her work has appeared in Coveteur, The Chill Times, and more. In her role at mbg, she reports on everything from the top beauty industry trends, to the gut-skin connection and the microbiome, to the latest expert makeup hacks. She currently lives in Brooklyn, New York.