How To Apply Mascara Like A Pro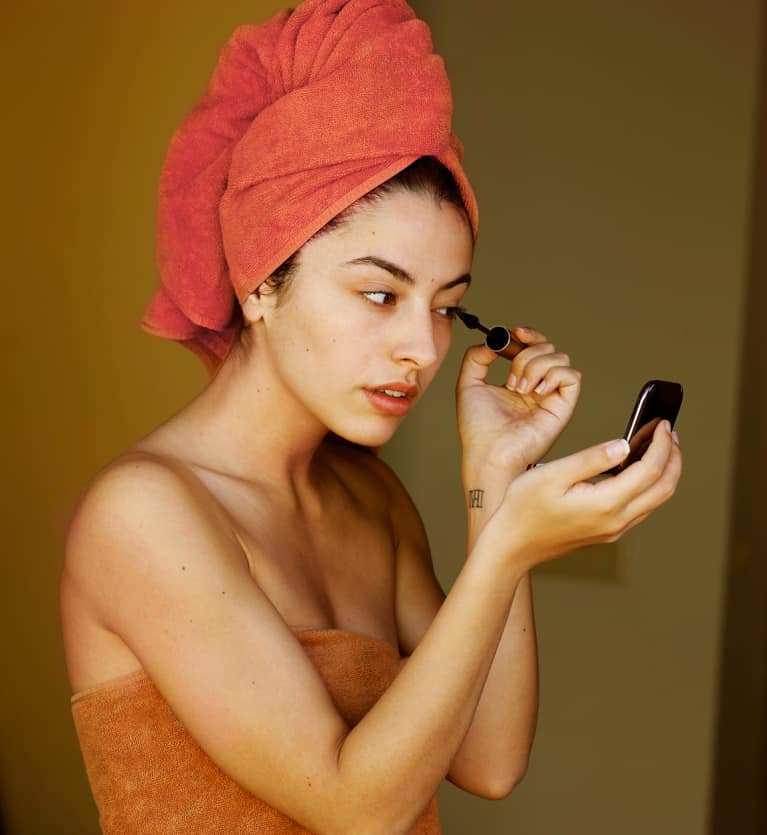 Our editors have independently chosen the products listed on this page. If you purchase something mentioned in this article, we may
earn a small commission
.
Bright-eyed, bushy-tailed, and brilliant—mascara has a big job. And yet, even after finding a brand and product you love that works well, it can be tough to nail the same results time and time again. The truth is that you might be getting in your own way with some bad mascara habits. Technique is especially important to address with natural products, which can be a little less forgiving than their conventional beauty counterparts.
Green beauty expert and celebrity makeup artist Katey Denno has a few tried-and-true rules when it comes to mascara application and product care that seem small but can change how big your eyes look, how defined your lashes are, and how "neat" and "tidy" they look. If you want to apply mascara like a pro, follow her tips to a T:
1. Put your mascara on already-curled lashes.
If you wait to curl your lashes until after you apply mascara, the mascara will separate where the curler hits. "You may not see it from the front, but everyone will see it from the side that there's a chunk of your eyelashes that doesn't have mascara on it, especially if your lashes are light," Denno said.
2. Make sure you thoroughly wipe off the wand.
A lot of green beauty brands haven't spent the extra money on packaging that helps to remove the excess mascara. And that's OK! But it requires an adjustment in how we care for our mascara wands. "You may need to wipe it on top of the tube itself to avoid massive clumping," she recommended.
3. Have a lash comb handy.
"Almost always, if you are putting on more than one coat of mascara, your lashes may need a little help separating," Denno said. "There's a Tweezer Man lash comb that has teeny tines, perfect for the lashes."
4. Apply mascara from the roots.
Sometimes people avoid painting the roots of their lashes for various reasons. "But if you only paint the tips, it will weigh down your curl and, when you turn your head, people will see half-done lashes," Denno said—probably not the look you were going for.
5. There's no universal wand that works for everyone.
When it comes to choosing wand, Denno maintains that it's totally a personal preference. Some people love the "teddy bear" wand that's larger and fluffier; others have gotten used to the hard plastic one with spiky nubs—but you should try a few different ones before you decide on the best. It's all about your eye shape, your lashes, and how you maneuver the wand with your hands. "As we get older and our lids get thicker (thanks to fluid retention in the part of the lid where the lashes take root) it's a little more difficult to apply mascara without getting it on that part of the lid," Denno said. You might notice as you age that you need a different kind of wand. Noted!
For product, Denno prefers "very black" over brown, soft blacks, or barely there grays—"if you're going to put mascara on, use black," she said. She often uses the Honest Company mascara in her green beauty YouTube tutorial videos but is still on the hunt for a perfect formula.
Want more from Denno? Here's exactly how to make your natural foundation look flawless, and a 3-step tutorial on making your eyes look bigger and brighter.