You'll Want To Steal Bobby Flay's Secret To Staying Fit (Even While Eating All The Time)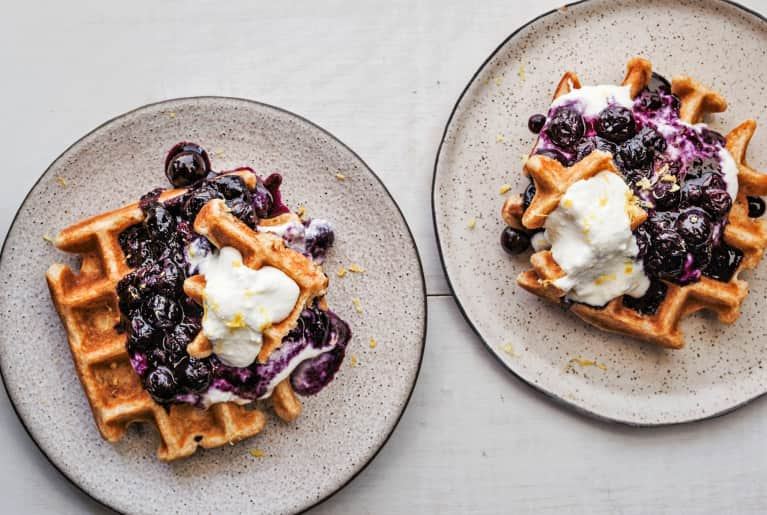 January 3, 2018 — 10:35 AM
We all know Bobby Flay and his cooking as being synonymous with grilling, flavor, and burgers. But what does the renowned chef, TV star, and restaurateur actually cook and eat for himself?
Since he doesn't believe in deprivation when recipe developing (bacon and butter still find a place on his table), his secret to staying healthy is using flavor (think rubs, relishes, and marinades) to transform lean proteins, whole grains, and fresh produce into crave-worthy meals. In Bobby Flay Fit, Bobby shares fitness tips and a look into his daily healthy routines, which, yes, sometimes includes waffles, including this spelt version with blueberry compote and lemon ricotta cream.
Making waffles with ingredients such as whole-wheat and spelt flour can be tricky; there is a fine line between light and fluffy and leaden and flat. "It took some research, but I think I figured out the perfect ratio of ingredients to produce one really amazing waffle: delicious and healthy," says Bobby. "Blueberries make every breakfast better, plus they are full of antioxidants. Finally, while there's nothing fake about it, this whipped cream fake-out of part-skim ricotta will fool your taste buds, for sure."
Spelt Waffles With Blueberry Compote & Lemon Ricotta Cream
Serves 6
Ingredients, Lemon Ricotta Cream
1 cup part-skim ricotta
1 tablespoon confectioners' sugar
1 teaspoon grated lemon zest, plus more for garnish
1 teaspoon fresh lemon juice
Ingredients, Blueberry Compote
1 pint fresh blueberries, or 1 pound frozen blueberries, thawed
2 tablespoons honey or pure maple syrup
1 teaspoon fresh lemon juice
Ingredients, Spelt Waffles
1 cup spelt flour
1 cup whole-wheat flour
1 tablespoon granulated sugar
2 teaspoons baking powder
1 teaspoon baking soda
⅛ teaspoon fine sea salt
2 cups low-fat buttermilk
5 tablespoons unsalted butter, melted
2 large eggs
1 teaspoon finely grated lemon zest
Nonstick cooking spray
Make the ricotta cream: In a small bowl, combine the ricotta, confectioners' sugar, lemon zest, and lemon juice and whisk until light and fluffy. Cover and refrigerate for at least 30 minutes and up to 2 hours to allow the flavors to meld.
Make the compote: In a small saucepan, combine the blueberries, ¼ cup water, and the honey and bring to a simmer over medium heat. Cook until the mixture thickens, about 7 minutes. Transfer to a bowl, add the lemon juice, and let cool at least slightly.
Make the waffles: Preheat the oven to 275°F; set a rack on a baking sheet and put in the oven.
In a medium bowl, whisk together the flours, granulated sugar, baking powder, baking soda, and salt. In a large bowl, whisk together the buttermilk, butter, eggs, and lemon zest. Add the flour mixture, and mix just until the batter is combined. Let rest for 15 minutes.
Heat a waffle iron according to the manufacturer's instructions; spray with nonstick spray. Pour batter onto the iron (the amount depends on the size of the iron), leaving a ½-inch border on all sides. Close the iron and cook until the waffle is golden brown and crisp, 3 to 5 minutes. Transfer to the rack in the oven to keep warm; repeat with the remaining batter.
To serve, top the waffles with the blueberry compote and ricotta cream. Garnish with lemon zest.