How The Chemicals In Your Yoga Mat Could Mess With Fertility + What To Do About It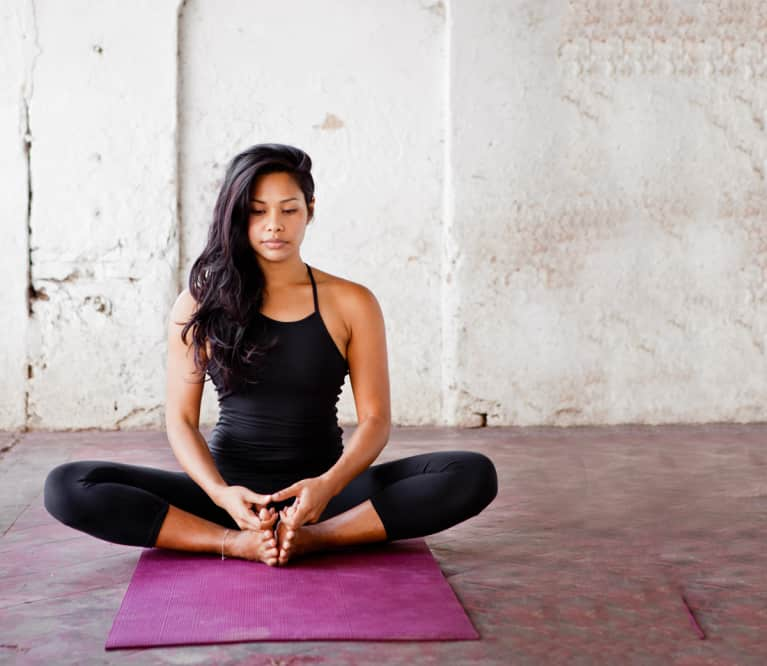 If you're a woman who regularly practices yoga, a new study published in Environmental Health Perspective last week may have sounded a few alarm bells: Apparently, there are chemicals in yoga mats that can make it more difficult to get pregnant.
These chemicals are called organophosphate flame retardants (PFRs), and they're a class of chemicals found in most yoga mats. So while your mat won't catch fire while you're in downward-facing dog, it probably is slightly toxic. In an attempt to find out what impact PFRs have on fertility, researchers followed 211 women who were trying to get pregnant through in vitro fertilization (IVF).
The researchers tested for metabolites of PFRs in each woman's urine, and they found that the women with higher levels of these metabolites were 31 percent less likely to have the embryo successfully implant in the uterus, 10 percent less likely to achieve fertilization, 41 percent less likely to get pregnant, and a 38 percent less likely to give live birth. Yikes.
Can you do anything about the chemicals you've already been exposed to?
If you hit the yoga mat seven days a week and don't love the results of this study, Aviva Romm, M.D. and natural women's health expert, notes that PFRs aren't only in yoga mats. "Flame retardant chemicals are everywhere," she says. "And yes, it's a real risk. Unfortunately, we can't do anything about the ones we've been exposed to, per se, but we can keep our detox systems and elimination healthy and strong."
Erica Chidi Cohen, doula and co-founder of the reproductive wellness company LOOM, says that you should evaluate how much time you're actually spending on your yoga mat. "I like to get people to adopt a 70/30 rule," she says. "So if someone is working out every single day and using a yoga mat at a studio that probably contains PFRs, buy your own mat. If you're doing yoga only three or four times a month and don't want to make the investment, maybe it's not worth it. So it's really about how often you're using that product. But we can and should do our best to avoid them whenever and however we can."
What you should know about PFRs if you're trying to get pregnant.
When it comes to fertility, Cohen says the most important thing women can do is lower their stress levels. "The No. 1 thing we're trying to reduce for people trying to get pregnant is anxiety," she says. "While that study is helpful—because knowing more about chemicals and solvents and how they impact your fertility is always important—in terms of being alarmed, I wouldn't necessarily go on red alert, but I would definitely look more closely at every yoga mat I do have and try to make a quick switch. There are tons of great natural yoga mats out there!"
If you're in the market for an all-natural, chemical-free yoga mat, you have options. Manduka has an excellent selection of nontoxic rubber yoga mats, as does Jade and Yoloha, which makes cork yoga mats.
The reality is that while there are plenty of toxic yoga mats, there's no need for a yoga-related meltdown. After all, yoga is supposed to lower your stress—and you can avoid PFRs a lot more easily than you think.