How Serena Williams Helped Me Learn To Love My Body

Corporate Psychologist
By Patricia Thompson, Ph.D.
Corporate Psychologist
Patricia Thompson, Ph.D., is a corporate psychologist, management consultant, executive coach, and author. She received her Ph.D. in clinical psychology from Georgia State University.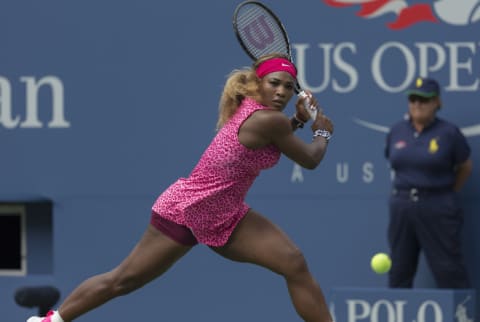 July 23, 2015
I remember when my status as a fangirl of Serena Williams was officially cemented. It was during the 1999 US Open, when she won her first grand-slam title. I found myself inspired by this 18-year-old who seemed almost like a warrior princess with her combination of power, athleticism and confidence.
In the 16 years since then, she has continued to inspire. me In addition to being the oldest female (at age 33) to have the world number one ranking, at Wimbledon this year, she earned her second "Serena Slam" (winning four consecutive tennis grand slam tournaments). And, if she is able to win the US Open in September, she will be the first woman to win a calendar grand slam since Steffi Graf did it over 25 years ago.
For the ways she has handled herself throughout her career, here are four life lessons I have learned from Serena:
1. Beauty comes in all shapes and sizes.
Throughout her career, Serena's strong and athletic physique has been an object of criticism. Perhaps as a result of all this scrutiny, Serena admitted that in the past, she has struggled with body issues, wishing she were thinner, like her older sister, Venus. However, across time, she came to love her body, as she told Harper's Bazaar in 2010: "Since I don't look like every other girl, it takes a while to be okay with that. To be different. But different is good."
Seeing the incredible things she can do with her body and the way she has embraced her physique as sexy has made me much more appreciative of my own frame, which is much more strong and athletic than the typical "yoga-type" body that is often held up as the standard of beauty.
2. Don't be afraid to make changes to grow physically and mentally.
Ever since Serena first started the sport in Compton, CA, she was coached by her parents. This obviously worked really well for her, as she won many championships under their tutelage. However, after a first-round loss in the French Open in 2012, she realized something needed to change. For the first time in her life, she decided to work with a new coach, Patrick Mouratoglou. Since then, she has been virtually unstoppable. Of her 67 titles, 29 have come in the past three years (after an age when most players have long retired).
Serena serves as a great reminder to me to not to let comfort with the familiar hold me back from making much needed changes to stretch myself. Whether it's trying out a new workout or leaving a job that was no longer challenging me, I know that change is necessary for growth.
3. Use obstacles as fuel.
Despite all of the highs in her life, Serena's career has not been one without lows. Perhaps the two biggest lows for her were her sister's murder in 2003 and a life-threatening pulmonary embolism in 2010. Yet, Serena is a lesson in resilience. When she needed help, she sought it out by going to therapy for depression and seeking support from her family. And, with a renewed appreciation for life and broader perspective after her brush with death, she became incredibly focused on her goals.
While my life hasn't had the same dramatic twists and turns as Serena, she has taught me to seek help and support when difficulties arise. At the same time, it has shown me that we all have the inner strength to bounce back.
Speaking of resilience, one of the things I always find inspirational about Serena is her ability to get back on track despite falling behind in matches (to the point where it seems pretty hopeless). Because Serena is so expressive, you can see the moments when she gets down on herself, becomes frustrated when things aren't going her way, or loses focus. Yet, I'm always inspired by her ability to find a way to dig deep, regain confidence (and usually win) due to her belief in herself.
In my own life, I strive to live by what she told ESPn in 2009: "I believe in my game, and I believe in me. At the end of the day, I'm my biggest fan." Being my own biggest fan helps me to get back on track when self-doubtcreeps in, and regain the confidence we all should have.

Patricia Thompson, Ph.D.
Corporate Psychologist
Patricia Thompson, Ph.D., is a corporate psychologist, management consultant, executive coach, and author. She received a B.A. in sociology from the University of Toronto and later earned her Ph.D. in clinical psychology from Georgia State University. Thompson works with organizations and individuals to help them meet their career and/or personal goals. Her advice has been featured in The Harvard Business Review, Forbes, Fast Company, and more. You can take her emotional intelligence quiz here.