This Is How Long It Takes Collagen To Work For Skin, If You're Curious

mbg Beauty & Wellness Editor
By Jamie Schneider
mbg Beauty & Wellness Editor
Jamie Schneider is the Beauty & Wellness Editor at mindbodygreen. She has a B.A. in Organizational Studies and English from the University of Michigan, and her work has appeared in Coveteur, The Chill Times, and Wyld Skincare.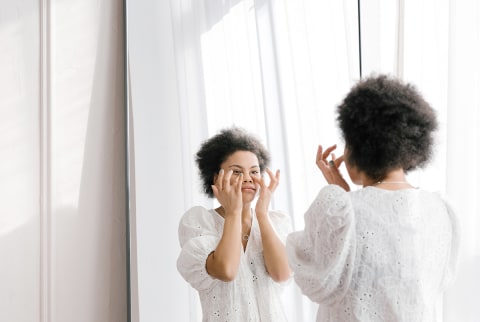 Image by ALINA HVOSTIKOVA / Stocksy
July 29, 2022
There are plenty of reasons to start a regular collagen routine, but one of the most popular perks is a glowing, supple complexion.* I'll spare you the biochemistry lesson on how it works, but if you're new to collagen (hi, welcome!), here's the gist: Hydrolyzed collagen peptides have been shown to help promote your body's natural production of collagen1 and other molecules that make up the skin, like elastin and fibrillin; this, in turn, can support your skin's hydration levels and promote a youthful texture2.*
Now, the next question becomes: How long does it take to see results? Skin is outward facing, after all, and any changes (like a firmer, more radiant complexion) are relatively easy to spot. So how much time should you give your supplement before you make the final call on its efficacy? Here's what the science says.
Advertisement
This ad is displayed using third party content and we do not control its accessibility features.
How long does it take for collagen to work for skin?
Allow us to start by saying that different health support areas have different benchmarks. For example, if you're looking for joint support, research shows it can take anywhere from 12 weeks to six months; if you're hoping for enhanced nail strength, the studies available were measured at 24 weeks3.* (Here's a breakdown of all the time frames, if you're curious.)
As for skin, 12 weeks (3 months) is a common duration according to robustly designed research, assuming you're taking collagen daily. This 2019 study, for example, found that participants taking a collagen supplement (which included collagen peptides, acerola fruit extract, vitamin C, zinc, biotin, and a vitamin E complex) experienced enhanced skin elasticity, hydration, and density4 after that time period, and another with a blend of collagen and antioxidants found that respondents experienced smoother skin texture5.* Additionally, this 2021 systematic review and meta-analysis of 19 clinical trials from the International Journal of Dermatology found that hydrolyzed collagen supplementation is effective for improving multiple dimensions (hydration, elasticity, and wrinkles) of skin aging after 90 days6.*
That's not to say you won't be able to see results sooner. One 2018 randomized controlled trial measured skin-related outcomes (such as hydration, elasticity, and wrinkles) from low-molecular-weight collagen peptides at both six and 12 weeks—skin hydration was apparent after those six weeks, but participants had more significant results7 after the latter.*
Another study even said they found statistically significant skin elasticity enhancement8 from hydrolyzed collagen peptides after just four weeks, but the results were even greater at eight weeks9.* Finally, this 2020 study measured the skin markers after taking a nutrition supplement containing 10 grams of collagen peptides at two, four, six, and eight weeks—with noticeable results at six and eight weeks10 but not before.*
That was a lot of science speak (told you collagen had a noteworthy breadth of clinical evidence!), so what does this mean for your supplement routine? Well, you can start to see results after the second month of use (8 weeks), but if you want full results, you should stick with collagen until at least three months (12 weeks). Again, that's assuming you're taking the collagen daily, but then you can assess whether or not it's actually working—if it's not, you may want to double-check you have the proper dosage (research points to 10 to 20 grams per serving), a clean, high-quality formula with clinically backed ingredients, and the best types of collagen based on your needs.
Advertisement
This ad is displayed using third party content and we do not control its accessibility features.
The takeaway. 
When you incorporate a new supplement into your routine, it's important to give the formula enough time to work before you judge its efficacy. In the case of collagen and skin health, research suggests you give it at least three months before deciding if it's the right formula for your complexion goals. You may start to see some changes after two months (call it a bonus!), but be sure to give it the full 12 weeks before making the call. And if you still don't notice any results? Perhaps give another one a go—here's a list of our favorite collagen powders, just in case.
If you are pregnant, breastfeeding, or taking medications, consult with your doctor before starting a supplement routine. It is always optimal to consult with a health care provider when considering what supplements are right for you.