paid content
 for

Here's How I Traveled Around The World And Back Without Jet Lag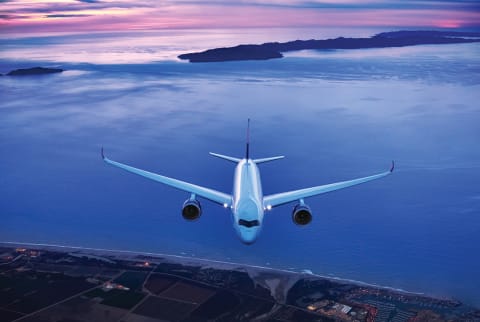 July 25, 2018
As a mindbodygreen editor, my work takes me all around the world. This week, I've explored what wellness means in Shanghai, China. In four short days, I've brewed longjing with tea ceremony masters, marveled at the Jade Temple, and floated down the Zhouzhuang canals. I've barely adjusted to the 15-hour time change and it's time for me to head back home. I used to think of long-haul flights as something to recover from; now I see it as where my recovery begins. To turn this 16-hour travel marathon from a chore to a chance to restore, I'm flying on Delta's new jet lag-fighting Airbus A350, then heading straight from the tarmac to the yoga mat to take Sweatlag, a class scientifically designed by Delta and Equinox to help fight jet lag on the ground.
1.) Choose an airline that does long-haul right.
Flying from LAX to Shanghai on Delta's Flagship Airbus A350—the airline's reimagined international aircraft with new wellness-supporting extras (think: LED lighting that helps reduce feelings of jet lag and enhanced air quality for better sleep)—I started my trip alert, rested, and with no jet lag to speak of. The secret to my success? The Delta Premium Select cabin on the A350. This new offering features extra legroom, extra-wide, tufted seats that seriously recline, and an adjustable footrest. Each seat is outfitted with Malin+Goetz Travel Essentials, a cozy Westin Heavenly blanket, noise-cancelling headphones, and an amenity kit to make sure you have everything you need to clock a few zzz's. You know that stale, dry airplane air? You don't get that on Delta's A350, which circulates filtered humidified air to help you breathe easy. I marveled at how the 15-hour time change melted away as I slept like a baby in my comfy Delta seat. When I hit the tarmac, I felt replenished, instead of worn out.
Essential oils go with me wherever I travel. Not only do their beautiful aromas have the power to transport me from a congested customs queue to, say, the lavender fields of Provence, but essential oils are also powerful tinctures proven to help calm the nervous system, sharpen the mind, and promote sleep. Aside from my number one travel partner—lavender essential oil—I love geranium as a natural insect repellent, rosemary for clear thinking, and bergamot for its energizing zest. On this trip, I rubbed calming eucalyptus into my palms before drifting on to sleep on my Delta flight, then diffused it in my hotel bathroom to turn my showers into soothing treatments.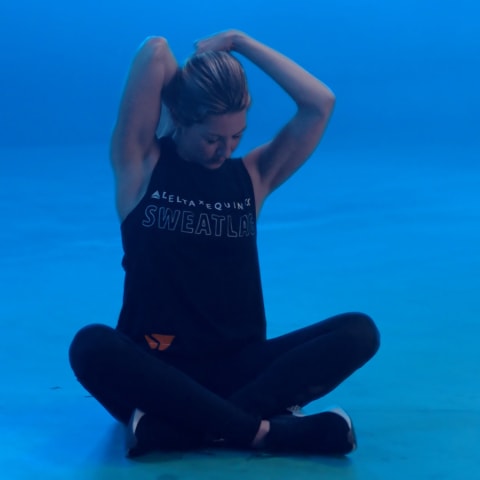 To ease me through the time-zone time warp on my return, I headed off the runway and into the West Hollywood Equinox with my carry-on still packed. Delta and Equinox did their homework in crafting Sweatlag to help fliers sweat out every time zone. From the blue lighting of the studio, to the length of each set, to the intentional adjustments of intensity, this workout is optimized to recalibrate your clocks. Moving my body felt incredible after a long, restful journey, and my instructor Toby was encouraging even when I fell out of my plank. The class ended with high-fives all around the room. Even with a 15-hour time change working against me, I left Equinox feeling invigorated and balanced—and with a complimentary EarthBar salad to snack on.
It's been a whirlwind of a week, but I'm back at work at 9 a.m. sipping on my favorite souvenir, pu'er tea, and already dreaming of my next Delta flight.
Sweat out your jet lag at select Equinox locations in L.A. Check the schedule here, and to get in, just show a recent boarding pass or flight receipt, even if you didn't fly Delta.
As a SkyMiles® Member, you can enjoy a limited-time offer for a complimentary week of club membership and a training assessment—plus, if you decide to join Equinox, the initiation fee will be waived.Offer for 7-day complimentary membership and waived initiation fee are both valid through 12/31/18 and redeemable at any Equinox Fitness Club (Sports Clubs excluded). Must be 18 or older and sign Equinox's standard waivers and, if applicable, membership agreement to redeem. Offer is provided "as is" and is non-transferable and has no cash value or equivalent. Former Equinox members whose membership was terminated by Equinox are not eligible to redeem this offer.