Teach Your Kids To View Nature As Their Playground — They'll Thank You Later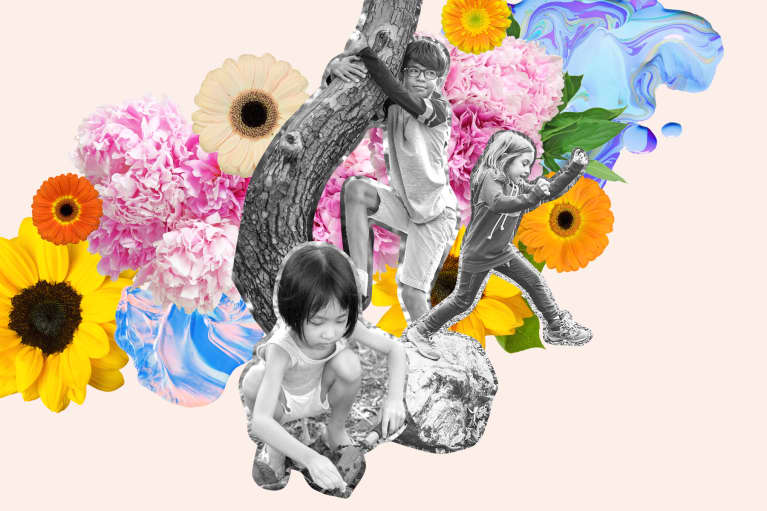 An air of independence, an eye for adventure, a spirit of curiosity: Welcome to the summer of the Wild Child. In this
parenting series
, How To Raise a Wild Child, we're exploring all the reasons you should raise your kid to embrace the great outdoors, start their own expeditions, and let their imaginations run, well, wild. In our second post of the series, we spoke to mom, influencer, and outdoors enthusiast
Rebecca Caldwell
about teaching her two children how to engage in nature. Here, as-told-to mindbodygreen, her best tips.
I grew up playing outside a lot, and my family would go on camping trips. But I didn't think of myself as an "outdoor kid." It was just my childhood and how we did it growing up. And my husband [professional climber Tommy Caldwell], his job is essentially playing outside. So even before having kids, our lives were about getting outdoors and doing this together.
Once we started having the conversation about having kids, it was really important that we embraced being outside. We weren't going to stop that part of our lives just because we had kids. And it was, too, a conscious choice: What we know, and what we just experience in our own lives, it's hugely beneficial to spend time in nature—so that was part of it, too.
They've learned to be comfortable with nature because they've had so much practice. They've embraced it as their playground. If they see a big downed tree, they are going to go climb on it and pretend it's a spaceship. Now, our kids can just see anything in nature and turn it into anything they want. And you can encourage it if your kids are not there yet. When you see a stick, maybe it's about being like, "Wow, look at this branch, doesn't it look like—" and then you just fill in the blank. And once you start, you'll find kids are just so good at discovering things: They just have these little eyes that pick up on everything.
Nature does help bring this out, too. When you are at a playground, and they have it set up like a castle or boat, sometimes it's hard to imagine outside of that boat. You can still do imagination play, but you're always going to be on a boat. But when you are out in nature, it is endless to what you can imagine.
Set expectations for yourself.
You might have these big expectations of "We're going to go out on this adventure!" And then everything changes once you get outside; you just need to be flexible. Some days, yes, it takes effort. Some days, yes, it's hard—especially when the weather isn't great (you know, it's not 70, sunny, and no wind). You even need to psych yourself up to deal with it: knowing that you are going to spend time getting all their gear on, making sure they are comfortable, and packing enough snacks, and then you get outside and it's heinous. You do all that work for what ends up being only 20 minutes of outdoor time.
But for us, it is just going to be what we are going to do. So we just do it, and you get used to it as a parent. You get your systems dialed, you understand what clothes are appropriate for what temperatures, what sort of things you need to pack, and that all makes it easier.
Even our kids, they have days. There are some days where they just run outside and they are in the zone and they are in it, and they just are having fun and playing. Then there are days where they are tired, and it takes more work to get them engaged. But it varies.
On the days they aren't as excited, sometimes you just have to be like, "OK this is what we're doing, we're going outside." It's less romantic, but I just think it's so good for them to be out there regardless if they are in the mood for it at the moment or not. And then, from there, it's usually just getting over the hump. And during those times that they've pushed through, they're really glad they did. Like, for example, getting outside to go for a run is hard. But then after, you're usually happy you did it. The same goes for kids too. And the other parents I talk to, who now have older kids, say that just the best thing you can do is make them get outdoors—even if they don't want to.
Of course there are times you need to call it quits. And every parent knows their kid pretty well: You know the point that you should nudge them and the times you shouldn't. For example, where we live [in Estes Park, Colorado], we can get howling winds, and in those times it just doesn't become as fun anymore; it starts outweighing the benefits of being outdoors. Or if we're hiking, sometimes they start getting tired, which is totally understandable! (Kids are allowed to be tired or just be over it.) Or, more likely, when we run out of snacks. So you just need to pay attention and listen to them. You, as a parent, will know when you've reached a tipping point.
It takes a bit of forethought of what sort of adventure you're going on—how long it will be, how much movement—and then I pack a bit more than I think I need. Kids have these little bodies, and they are playing outside and moving, and they burn a lot of calories. Plus, food just keeps morale high. Also, you need to make sure you have good food that's not going to make them have a sugar crash. So it's things like peanut butter sandwiches, protein bars, carrots, and a bit of fruit. This all being said: We're not fully opposed to sugar. The other day we went on a climbing adventure, and we brought gummy bears. There's a time and place for it.
Finally, always make space for pause.
It can be tempting to be like, "OK, we're going to go do this now! Then onto that! C'mon, let's go!" But you need to give them breaks during to let them explore for themselves. So maybe we're hiking and we get to the trailhead, and then I take a break so they can go play for a bit. It gives them a sense of control, which I think is good. It provides the opportunity to lead the ideas and come up with activities.