How Exercise Transformed My Relationship With Anxiety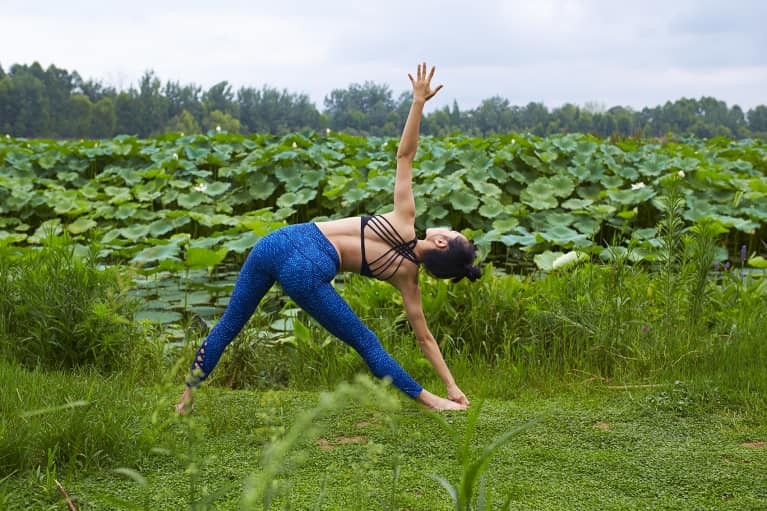 I'm the kind of type-A person who loves few things more than to-do lists and has been known to create spreadsheets for vacations in order to maximize the potential fun for each day. This is an asset in my professional life and occasionally in my personal life, too—I rarely forget a birthday or make a late bill payment. But it also means that I'm predisposed to feeling unnecessary stress, and I was ultimately diagnosed with anxiety after a particularly severe episode.
For many people, exercise is an effective way to reduce anxiety symptoms, but that wasn't always the case for me. I started running shortly after high school as a replacement for field hockey and soccer practices. I was never any good at either of those sports, and they were social activities more than competitive endeavors. But once I started running, my spreadsheet-loving self reveled in how easy it was to track and monitor my progress.
By my sophomore year, I was a decent enough runner to join my college's cross-country team. I was excited at the idea of hitting my running goals without sacrificing a social life, but by the following year, I no longer felt like the 30 miles we were doing in practices each week was enough. I became hyper-focused on metrics like weekly mileage and average page, started doing extra distance runs on my own, and registered for my first half-marathon on an off-weekend during our season.
Long story short: I wound up with my first stress fracture, then did the exact same thing the following year. After injuring myself two years in a row—and being a stressed-out mess over missing workouts during the required six weeks of rest both times—I knew that something had to change. I stopped putting so much emphasis on quantifying my workouts and started paying attention to how I felt, and somewhere along the lines, exercise shifted from a factor that contributed to my anxiety to a tactic that helps me combat it. Here's what I learned along the way.
Not every workout needs to be quantifiable.
I thrive on setting and achieving goals, but making them the focus of my workouts often meant ignoring my body in favor of hitting predetermined mile splits or pacing. Even when I went for an easy "recovery run," I'd catch myself checking my watch every few minutes and picking up the pace whether I meant to or not.
But when I started doing yoga, I didn't feel the pressure to hit specific goals during classes. It's much less quantifiable than running, so even if I wanted to gauge my performance, there weren't any clear metrics to use other than time, and guess what? I loved it. I almost always left classes feeling refreshed and energized, because I was never worried about whether I had a "successful" workout.
Exercise can be enjoyable.
Do you remember how much fun it was to just run around outside as a kid? That's how I felt when I first started running. But as I increased the pressure on myself to constantly improve and hit target metrics, that feeling quickly faded. Working toward a physical goal can be extremely rewarding, but if you're the type of person who tends to get hyper-focused on your goals, it's helpful to make time for activities that you enjoy, free of stress.
One day last week, I'd planned to go for a run after work but it was rainy and cold and I was dreading going out in the dark. So when my roommate asked if I wanted to go to a nearby trampoline park instead, I agreed without a second of hesitation. And while jumping on a trampoline for an hour might not be the exact equivalent of a run, I was sweaty and exhausted by the end, and much happier than I would've been if I'd turned down the chance to try something new for a few miles on a treadmill.
Switching it up is healthy.
Beyond the impact it has on mental health, it's also worth mentioning that incorporating some flexibility into your routine has physical benefits. If you typically focus on high-impact workouts like running or plyometrics, adding yoga or swimming is a great way to give your joints a rest and work different muscle groups. Plus, it helps prevent overuse injuries like stress fractures—and as far as I'm concerned, that's reason enough to swap out an evening run for a yoga class a few times a month.
Inspired? Here's how slowing down made this world-famous athlete invincible.