How Community Organizer & Urban Farmer Indy Officinalis Cares For Herself

mbg Beauty Director
By Alexandra Engler
mbg Beauty Director
Alexandra Engler is the Beauty Director. Previously she worked at Harper's Bazaar, Marie Claire, SELF, and Cosmopolitan; her byline has appeared in Esquire, Sports Illustrated, and Allure.com.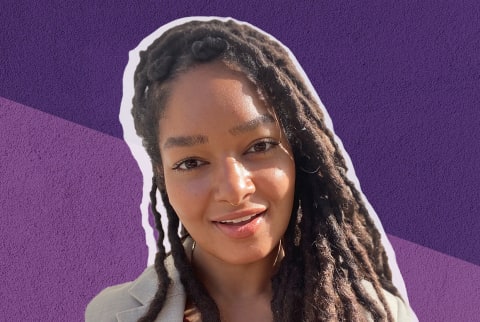 Image by mindbodygreen creative / Courtesy of Origins
Our editors have independently chosen the products listed on this page. If you purchase something mentioned in this article, we may
earn a small commission
.
November 9, 2021
This past year has made many realize how vital community health is for our own individual wellness. When we all work together, we can better our physical, mental, emotional, and social well-being. But it's not always an easy process—and oftentimes it takes leaders in the community to lay the groundwork. One such community organizer is Indy Officinalis, an urban farmer, forager, poet, and activist extraordinaire.
Originally from a small town in North Carolina, Officinalis now lives in Los Angeles, where she manages a rooftop garden on Skid Row, an area in downtown L.A. with many unhoused residents. Not only does she get involved in the day-to-day, hands-on part of community building—she's able to provide inspiration, advice, and insights for broader activism through her robust channels. (She has just under 100K followers on her Instagram to date.) Officinalis is now working with natural and clean skin care brand Origins, hoping the partnership can expand her message that everyone deserves to be able to care for themselves—and feel cared for.
Advertisement
This ad is displayed using third party content and we do not control its accessibility features.
"We are thrilled to have Indy join our Origins family," said Ada Lien, senior vice president and general manager of the brand. "Indy's respect and enthusiasm for our planet blends perfectly with our guiding principles at Origins. We are excited to work together to create meaningful programs and content that support our shared love of high-performance active natural skin care, the power of mushrooms and taking care of our planet."
In this Q&A, we asked her all about how she supports her own well-being—because as we know, caring for others requires a generous amount of self-care, too.
How did you get started in your work?
It definitely started when I was a teenager. I had just found out about a few local health food stores. I was excited to go and buy a bunch of natural produce and skin care products. But while I was there, I quickly discovered organic produce was very unaffordable to me at the time. But while I was making my way around the store, I noticed that they had packets of seeds. I noticed that those were very affordable. I left with my $4 bundle of seeds with a lot of determination to turn them into the vegetables I had seen at the grocery store. I went home, planted my seeds in small pots, and I was hooked on growing seeds ever since then.
I started volunteering on farms throughout the United States, learning about sustainable agriculture, getting my permaculture certification, and studying herbal medicine. Then I started speaking at agriculture conferences. And working in the nonprofit sector of farming because it's a lot more people-focused. And just overall becoming very enamored with not only growing food but teaching underserved populations how to grow their own food.
How did the partnership with Origins come about? What was it about the brand that you connected with?
In addition to being an urban farmer, I really love edible and gourmet mushrooms. I spend a lot of time sourcing a lot of naturally derived ingredients in all aspects of my life in urban farming to foraging. I love that Origins values natural ingredients.
Additionally, I'm very intentional about my skin care practice. I have a very plant-centric approach. That's what I've always loved about Origins, and I've been using them since I was a teenager. It's amazing to use products and be aligned with a brand that supports climate justice, like I do. And as someone who runs an urban farm for underserved populations, I get to see the firsthand impact we can have if we take care of ourselves and our planet.
Advertisement
This ad is displayed using third party content and we do not control its accessibility features.
You are someone who spends a lot of time taking care of other people. How do you take care of yourself? What are your must-do self-care practices that you refuel?
I love journaling. I think it's such a great mindfulness practice to reflect on your emotions and center yourself. Also: It's free and accessible to everyone. Having a nice warm cup of tea is a great way to become centered and come back into your body.
And of course just having a very steady, ritual skin care routine has helped me so immensely to just better connect with my body. It's a moment I can show myself that self-love.
So what is your skin care routine?
I follow the same thing daily. I find that routine and continuity has the best effect on the skin. I also take an inside-out approach to skin, so when I wake up I have a huge glass of lemon water. I drink a mug of warm green tea. And then I use one of those jade rollers under my eyes and cheeks for inflammation.
Then I wash my face with the Perfect World Antioxidant Cleanser with White Tea and then I use the Mega-Mushroom Relief & Resilience Soothing Treatment Lotion. But if I'm in a rush—I'm always rushing to get to the garden—I use the Mega-Mushroom Skin Relief Micellar Cleanser because it's no-rinse, soap-, and alcohol-free. It's perfect for busy mornings. At the end of the day, I use the Perfect World cleanser again. Two to three times a week, I use this Drink Up Overnight Hydrating Intensive Mask. It's really rich and beautiful and great for people who work outside a lot because it's so hydrating. Then, about two times a week, I exfoliate with the Modern Friction face wash. I just really feel uplifted when I take care of my skin, especially since I'm out in the sun all day long. On the days where I'm out in the garden, it's so important to take good care of your skin.
Advertisement
This ad is displayed using third party content and we do not control its accessibility features.
You said you believe that skin care is inside out as well. So what are the ways that you feed yourself and move your body? Basically: What are your go-to wellness rituals?
I love hot yoga, which I also feel is a great way to nourish yourself. Getting a nice sweat a few times a week is just incredible! I love hiking because I forage a lot. I'll go up the California coast and hang out in the Redwoods. I love swimming in the ocean, so I'll put on a wetsuit and go diving. The saltwater on the skin just feels really nice. It's a great way to interact with nature while also moving my body.
You are someone who creates community as part of your job. That's obviously such a large part of urban farming and the nonprofit sector. What do you look for in your own community?
I always try to surround myself with resilient individuals because a lot of the underserved communities and Black and brown communities have a lot of targeted atrocities happen to them. It's really just uplifting and inspiring to meet with folks, who despite not being treated in the best of ways, are still resilient and able to bounce back. That's such an important trait, especially when farming in urban neighborhoods. Just not being attached to certain outcomes but being able to have fun and enjoy yourself. It's so important that communities are able to work together this way to build a better future.
Advertisement
This ad is displayed using third party content and we do not control its accessibility features.
What is the best advice you've ever received about taking care of yourself? This can be mental, physical, emotional, spiritual. Is there advice that you carry with you?
It's twofold for me. The first is routine: Doing the same thing every day can really help, whether it's washing your face at the same time or always having lemon water when you wake up. I think having that routine turns taking care of yourself into ritual. It feels so much more sacred. You are intentionally taking care of your body and intentionally putting that time aside for yourself.
I also think it's so important to look at the way you talk to yourself. Talk to yourself like you would a friend. That's some of the best mental health advice I've ever received: Just listening to that little voice in your head and hearing what that voice sounds like. If that person sounds like a bully, then that's not someone you want to be around. So I really want to stress that you should be gentle on yourself and choose your thoughts wisely. It's definitely something I have had to work on over time: We're all our own worst critic. For me it's all about reframing: I stop and think, What would a friend say to me in this situation? Let's say I locked myself out of my car again—would a friend get mad at me and call me stupid? No, they'd just start looking for solutions and focus on what's positive. So just giving myself more grace in the moment.
You probably inspire so many people, but who do you look to for inspiration?
For me it's the population that I'm with. I wouldn't say that there's one person in particular, because I meet so many people who are unhoused. So many beautiful, resilient people who have found community and a sense of home within these communities whether a tent is your home or the sidewalk is your home. I just really feel inspired by people who find a sense of belonging through food, agriculture, and gardening. I really just find so much inspiration through the unhoused population I work with.
Advertisement
This ad is displayed using third party content and we do not control its accessibility features.
What advice would you give someone who might want to get involved in community building and activism?
Start local. Thinking on a local scale can have the largest impact. So just think about the individuals in your community that might have greater needs. So, look into your local women's shelter, or even just going out and finding the nearest unhoused folks to see what they need. Talking to people. Attending community events and meetings. Just starting on a local level is the best way to get involved with activism.
This interview has been lightly edited and condensed for clarity.
Heal Your Skin.
Receive your FREE Doctor-Approved Beauty Guide

Alexandra Engler
mbg Beauty Director
Alexandra Engler is the Beauty Director at mindbodygreen. She received her journalism degree from Marquette University, graduating first in the department. She has worked at many top publications and brands including Harper's Bazaar, Marie Claire, SELF, and Cosmopolitan; her byline has appeared in Esquire, Sports Illustrated, and Allure.com. In her current role, she covers all the latest trends and updates in the clean and natural beauty space, as well as travel, financial wellness, and parenting. She has reported on the intricacies of product formulations, the diversification of the beauty industry, and and in-depth look on how to treat acne from the inside, out (after a decade-long struggle with the skin condition herself). She lives in Brooklyn, New York.