paid content
 for

6 Ways To Host A Healthy-ish Brunch This Holiday Season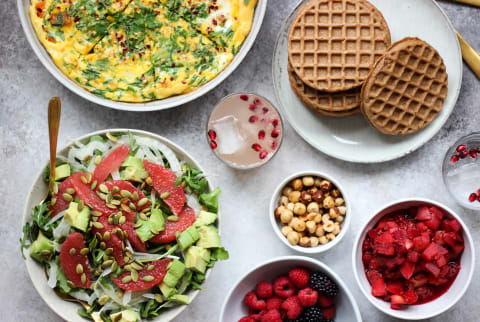 Image by Leah Vanderveldt / Contributor
December 12, 2018
What if, during the most over-the-top, indulgent time of the year, you invited some of your favorite people to your place for a simple, and healthier brunch? We think everyone invited would let out a sigh of relief.
Chalk it up to any combination of excessive cookie swaps, shopping overload, cheap prosecco consumption, or wrapping up a busy work year—we all experience some kind of holiday season burnout during the month of December. Your guests are probably looking for a break, and that's where you come in—with a beautiful, healthy-ish, and easy brunch spread with lots of delicious options with plenty of fresh fruit and vegetables.
Advertisement
This ad is displayed using third party content and we do not control its accessibility features.
We're not looking to add too much to the host's (your) plate either, so we've outlined a brunch strategy that will make all guests feel both healthy and celebratory while preserving your sanity and precious time. So whether you're hosting an event to catch up, swap gifts, or just take some much-needed R&R time with a few close friends, consider making this healthier brunch a part of your holiday or new year tradition.
The Set-Up
Serve everything family or buffet style so guests can build a plate themselves and get a meal tailored to their needs and wants. The following brunch menu is vegetarian, with options for gluten-free, dairy-free, and vegan all available. When the spread is abundant with lots of options for both savory and sweet, everyone will be able to find something that they love while keeping it on the healthier side.
The Menu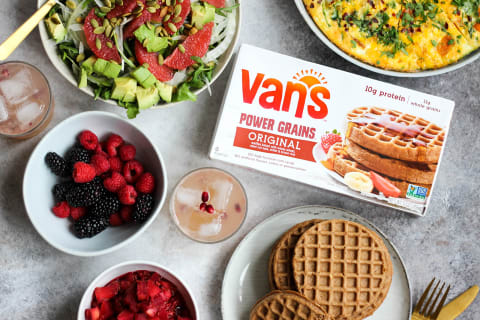 Photo by Leah Vanderveldt / Contributor
Advertisement
This ad is displayed using third party content and we do not control its accessibility features.
Set up a waffle bar with good quality, better-for-you waffles like Van's® Power Grains® Waffles along with a range of toppings, like:
Fresh berries
Warm Apple & Raspberry Compote (Recipe Below)
Pure maple syrup
Honey
Nut butters (peanut or almond are crowd favorites)
Greek and/or coconut yogurt
Sliced avocado
Jammy soft-boiled eggs
Hot sauce
Advertisement
This ad is displayed using third party content and we do not control its accessibility features.
Better than toast, waffles feel more festive and special and still have the versatility of going savory or sweet. Your guests can customize their own waffle toppings and mix and match new combinations.
Toaster waffles like those from Van's® Foods are extremely convenient, but your toaster might be too small to handle a crowd. Consider laying 8 waffles out on a baking tray and baking in a 350°F oven for about 10 minutes until warm and crispy and putting out immediately. Replenish as needed to serve warm.
Apple & Raspberry Compote
2 honey crisp apples, cored and chopped into 1/2 inch cubes
1 cup frozen raspberries, thawed
1/2 teaspoon cinnamon
Pinch of cardamom
1 cup water
Advertisement
This ad is displayed using third party content and we do not control its accessibility features.
In a medium saucepan, combine ingredients and bring to a simmer over a medium heat.
Cover and let simmer at a medium-low temperature, stirring occasionally, for about 10-15 minutes until apples are softened and water has reduced.
A baked egg dish, like a frittata, is the move when you're hosting a group. You can make it in advance or pop it in the oven 30 minutes before you're ready to eat. It tastes good warm or at room temperature so there's no need to fuss over it too much.
Advertisement
This ad is displayed using third party content and we do not control its accessibility features.
3.
Butternut Squash Frittata
2 tablespoons avocado oil or ghee
1 shallot, finely sliced
2 cups butternut squash, cut into bite-sized cubes*
Salt, to taste
4-5 stalks of kale, stems removed and sliced into thin ribbons
12 eggs, cracked into a bowl and beaten with a fork or whisk
½ cup milk of your choice (if using a plant-based milk, just make sure it's unsweetened—cashew and almond work well here)
Crushed red chili flakes, to taste
Black pepper, to taste
2 tablespoons fresh chives, roughly chopped
¼ cup crumbled goat or feta cheese, to serve
*Try to get the cubes roughly the same size, so they'll cook evenly.
Method:
Heat oven to 350°F. In a medium to large (I used a 12-inch) ovenproof skillet, heat avocado oil or ghee over a medium heat, making sure the oil/ghee covers the base of the pan and sides.
Add the shallot and cook, stirring for about 4-5 minutes until softened. Add butternut squash and a generous pinch of salt cook and place a lid on the pan for 5 minutes. Remove the lid and cook, stirring occasionally, for another 5 minutes.
Stir in kale and let wilt down by half—this should take about 2-3 minutes while stirring regularly.
Remove from heat. Add milk to the eggs and whisk to combine then pour egg mixture over the vegetables in the skillet, sprinkle with chili flakes if using and a pinch of salt and place in the heated oven for 15-20 minutes until eggs are set.
Finish with black pepper and chives and serve cheese on the side. Let the frittata stand for 10 minutes before serving. Cut into wedges and serve out of the skillet.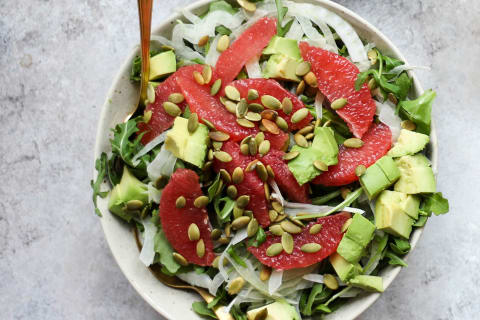 Photo by Leah Vanderveldt / Contributor
A simple, refreshing, and beautiful green salad is the perfect remedy for holiday overindulgence with digestion promoting fennel, arugula, and grapefruit, along with good-for-you fat from avocado.
Serves 8 as a side
Dressing
1 small shallot, finely chopped
Juice of 1 lemon
1 tablespoon honey
½ cup olive oil
Salt and pepper, to taste
Salad Ingredients
5 ounces baby arugula
1 ruby red grapefruit, peeled and separated or sliced into segments
1 small bulb of fennel, shaved on a mandolin or very finely sliced
1 large avocado, cut into slices or small chunks
¼ cup toasted pumpkin seeds
¼ cup shaved parmesan, served on the side
Method
To make the dressing, First combine the chopped shallot and lemon juice in a jar or small mixing bowl and let stand while you put together the salad.
On a large platter, arrange the salad with arugula at the base, topped with grapefruit, shaved fennel, avocado, and pumpkin seeds. If you're putting together the salad ahead of time, wait to slice and add the avocado until the last minute.
Add the rest of the dressing ingredients to the shallot and lemon juice and whisk to combine.
Either dress the salad right at serving time or serve dressing on side with the shaved parmesan.
Pick up a few of your favorite veggie and fruit juices—or make your own. Options we love: spinach and celery, beet and lemon, carrot and orange, apple, and grapefruit.
6.
Kombucha and champagne (or sparkling wine) cocktail bar
Set up a cocktail/mocktail bar with your fresh juices, a variety of kombucha flavors (include a few plain for combining), soda water, and some organic sparkling wine. Be sure to include glasses, an ice bucket, and garnishes of sliced citrus.
Most of all—enjoy! This is your time either mid- or post-holiday chaos to slow down and nourish yourself and your nearest and dearest. Cheers to that.