Weekly Horoscope: Here's What's Written In The Stars For Halloween Week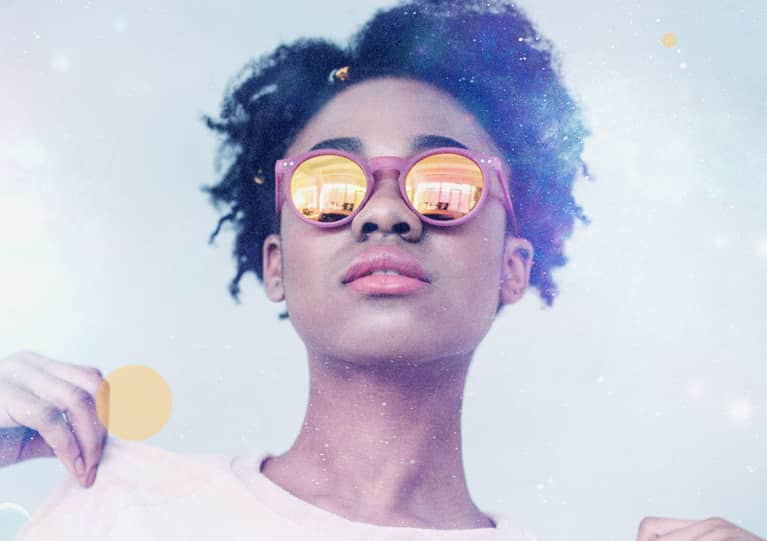 On Wednesday, Mercury moves into Sagittarius and brings on the honesty.
The truth, according to Oscar Wilde, "is rarely pure and never simple." In 2018, this has certainly been proved! What to believe anymore...and who? It's all so unmooring. The good news? Beginning this Wednesday, October 31 (Tuesday, October 30, on the West Coast of the United States), honesty may become the popular code of honor again—for better AND for worse! As mindful Mercury embarks on an extra-long voyage through outspoken Sagittarius, it will be almost impossible to tell a lie. (So maybe don't ask for people's opinions if you don't want to hear what they REALLY think!)
As articulate Mercury wings through the sign of the outspoken Archer, "salon culture" will be on the rise, with people gathering together to talk philosophically about the state of the world. Intersectional Sagittarius is the global ambassador of the zodiac, and this Mercury circuit may inspire people to reach across "borders" in search of common ground. Don't underestimate the power of a great conversation—especially if it involves a culturally diverse dialogue of any kind.
Heads up: From November 16 to December 6, Mercury will be retrograde, a time when a huge dose of tact should be deployed. We may be forced to review situations that happened a year ago (December 3-22, 2017), when Mercury was retrograde in Sagittarius. The silver lining: If similar "code errors" and misrepresentations crop up, we'll be better prepared to greet them proactively than we were in 2017.
On Wednesday, there's a moon in Leo just in time for Halloween.
The costume competition could be fierce this Halloween as the moon prowls through theatrical, expressive Leo on Wednesday. Check out makeup tutorials, then add wigs, sequins, lights—anything to make yourself stand out. (Just save the NSFW regalia for after sundown.) This bawdy energy can bring some playful, passionate flirtations. We'll want to eat, drink, and make merry under this live-out-loud lunar lift. But it might be tough to know where our limits should lie. Go easy on the pumpkin homebrews, though, lest you wake up on Thursday next to the wrong werewolf.
Another reason to play it a little cooler on Halloween? Venus, the planet that governs love and our fashion choices, is still retrograde this week. On October 5, the galactic goddess began her reverse commute through intense, brooding Scorpio, churning up karmic baggage along with some smoky, sexy vibes. Also on Wednesday, Venus floats back into Libra, rounding out the retrograde here until November 16.
Passion or high drama? The last two weeks of this backspin could throw off the delicate balance of relationships. While we'll all need a lot more attention, who is going to play the role of the cheering supporter? After Wednesday, we'll have to work harder at retaining an equal flow of give-and-take. Old flames have a funny way of showing up while Venus is in reverse (so watch out for that ex masquerading as a "changed person!"). Was it only bad timing that kept you apart? There could be some heartwarming reunions over the coming two weeks, but don't get carried away. Got wedding plans during Venus retrograde? No need to cancel the caterers and elope to Vegas. But it wouldn't hurt to squeeze in one extra counseling session before the nuptials JUST to be sure you've worked out all those final knots and fears. We recommend a vow renewal on your first anniversary—thankfully, Venus will NOT be retrograde next summer.