We'd Move Off-Grid For This Cabin Tucked Into The Canadian Woods

mbg Sustainability + Health Director
By Emma Loewe
mbg Sustainability + Health Director
Emma Loewe is the Senior Sustainability Editor at mindbodygreen and the author of "Return to Nature: The New Science of How Natural Landscapes Restore Us."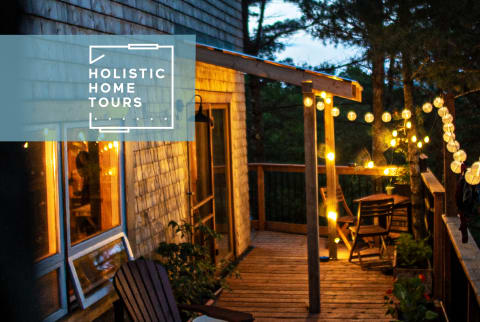 Image by @canadiancastaway
September 30, 2021
Ever dreamt of packing up your life and moving off the grid? In 2017, filmmaker Sacha Roy (@canadiancastaway on Instagram) did just that, and his cabin in the remote woods of Quebec is a testament to the beauty of simple living. Here, Roy shows us around the space he shares with his girlfriend, talks about what it took to build it, and explains why—even on its worst days—cabin life is the life for him.
What inspired you to live off the grid? How did you make that dream a reality?
In my 20s, I was working around the world as a filmmaker, and at some point, I started to feel like I needed to put down roots somewhere.
I came back home and bought the cheapest, most remote land I could find. (As a freelancer, I didn't want to have a mortgage.) I wanted to build something simple to fit my needs—which were pretty minimal back then.
I've always been intrigued by how people live around the world, and spending all that time away from Canada seeing people living in off-the-grid cabins inspired me.
Not everything on my wish list was possible because of the land's geography, but over the last five years, I've been able to build something that I'm proud of—with the help of friends along the way. I've put all my savings into the project, but now I have almost no debt and a house that I own.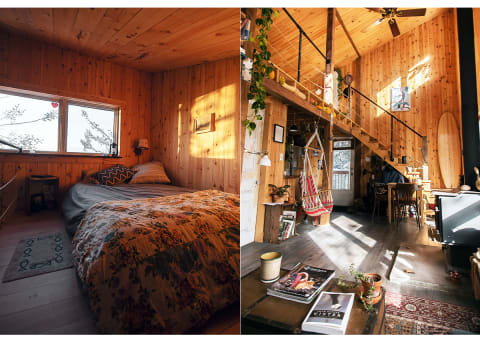 Image by @canadiancastaway
What's the oldest thing in your home? Newest?
One of the oldest things is a cedar shake that I grabbed while rooming on the East Coast of Canada. It's from an abandoned fisherman cabin in Nova Scotia.
The newest is the 6,000-liter water tank that I use to harvest the rainwater for my water supply. (We don't have a well here.)
What noises can be heard in your home? What smells?
Living in an old-growth forest, the nature smells are strong. We hear the coyotes at night. Nowadays, there's also a lot of construction noise. On top of the mountain, sound travels far, and since COVID has hit, a lot of people have been building in the area.
What's the most challenging part of cabin life? The most rewarding?
Managing our water system is difficult, as is staying warm during the Canadian winters when your only heat source is a wood stove.
The most rewarding part is having a nice coffee in the morning, sitting in front of a fire while the sunrise hits the front windows.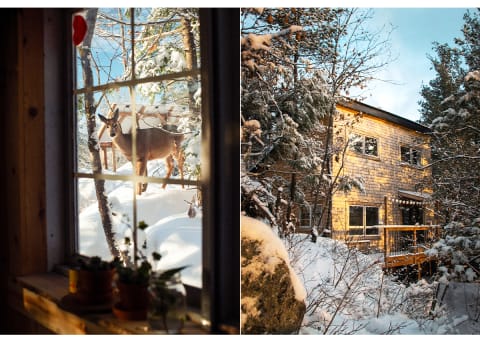 Image by @canadiancastaway
What's the most sentimental thing in your cabin, and what's the story behind it?
A photo of my grandparents in a frame next to my bed. My grandmother used to babysit me, and she taught me a lot of things about life. If she was still alive, I believe that she would enjoy the cabin and the environment around it.
How does your home promote your health and well-being?
I have Crohn's disease, and stress impacts me a lot. Traveling so much for work used to really make me anxious.
It's not totally stress-free in the cabin since we run it using an unconventional system, but it's a much more relaxing environment for me. I'd rather be stressed out by a failing water pump than a 25-year mortgage or a debt-loaded bank account.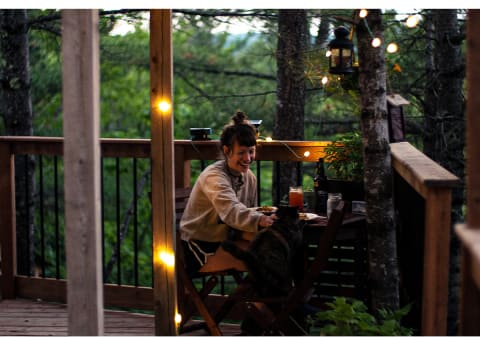 Image by @canadiancastaway
What's the best compliment you've ever received on your space?
Every compliment is the best compliment! But the one I receive the most is that when people come to visit us they say that it feels magical to be here, and they don't want to leave.
Recreate the look: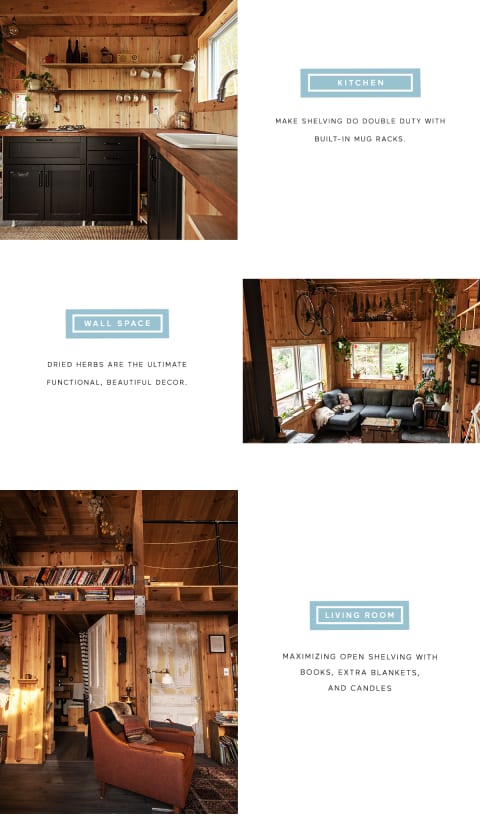 Image by mbg Creative / @canadiancastaway
This interview has been edited and condensed for clarity.