Just Looking At This LA Townhouse Will Lower Your Cortisol Levels
Erika Carlock's Los Angeles townhouse is a millennial pink dreamscape, filled floor to ceiling with cool details. Here, Carlock, who shares the space with her fiancé, shares the easiest way to revamp a room, some clutch coloring tips, and the key to crafting a home that feels like a vacation.
What are three words that describe your design philosophy at home?
Earthy, colorful, and cozy.
How does your home change with the seasons?
The colors shift over the seasons with pops of earthy tones like mustard and peach in the fall, lots of plush blankets in the winter, and of course more bright colors in the summer!
Love all the color in your space—what are your top tips for working with lots of colors?
Keep it consistent! Choose a few colors and neutrals that go well together, and stick to them. In my space I really play up the neutrals with lots of whites and light woods and then add in sprinkles of color using textiles, vases, and wall art.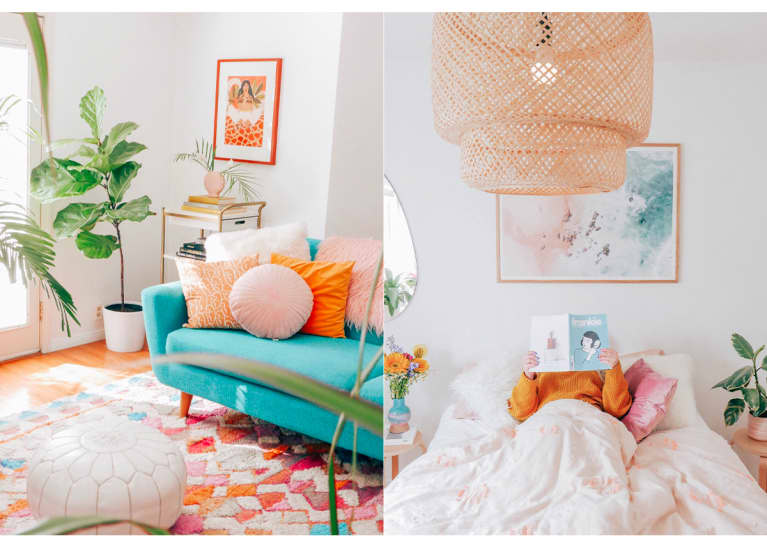 What's the oldest thing in your home? The newest?
We make coffee every morning in my grandma's vintage Chemex. It's such a nice way to start the day.
We just got new globe lights in our dining area and hallway, and I'm obsessed! Swapping out lights in apartments is one of my favorite ways to give a temporary space a more homey, modern feel.
What noises can be heard in your home? What smells?
Old records playing and lots of laughing. We're a bit obsessed with Tiki and tend to have Martin Denny playing in the background.
I'm always burning candles! Usually there are scents of sandalwood in the air, fresh-brewed coffee, and a bit of sage.
What's the most sentimental thing hanging on your walls, and what's the story behind it?
A lot of the prints on the walls are from the travels we've been on together, and they hold such good memories. One of my favorites is from Tulum; it brings me to that place of relaxation from that trip each time I see it.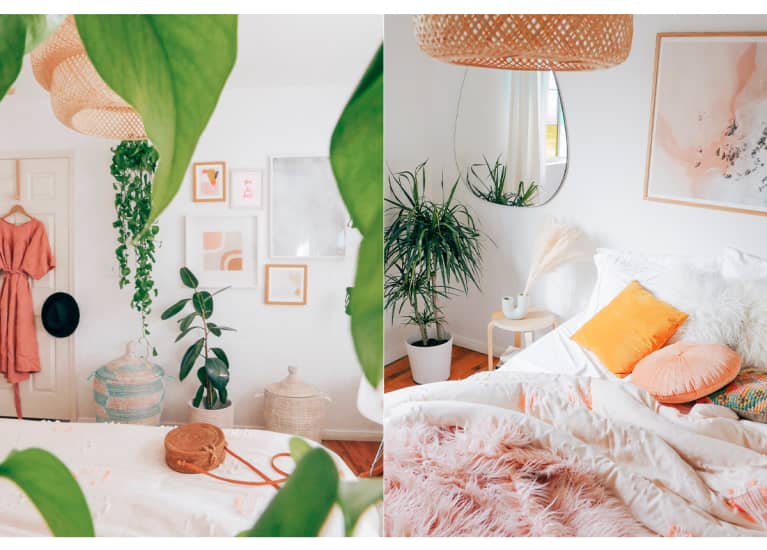 What's your favorite room in the house, and how do you use it?
The bedroom, definitely! I'm either lounging and reading a book on the bed or doing my favorite activity: sleeping!
How does your home promote your health and wellness?
My home is really a bright, peaceful sanctuary full of plants. I really wanted the bedroom to be calming and relaxing, so I went with an airy white and peach palette and removed the TV from our room, so it really is a place to unplug and unwind.
What's the best compliment you've ever received on your space?
Friends always ask me if they can either move in or have me decorate their space!