This Artist's Home Is A Plant-Filled, Minimalist Dream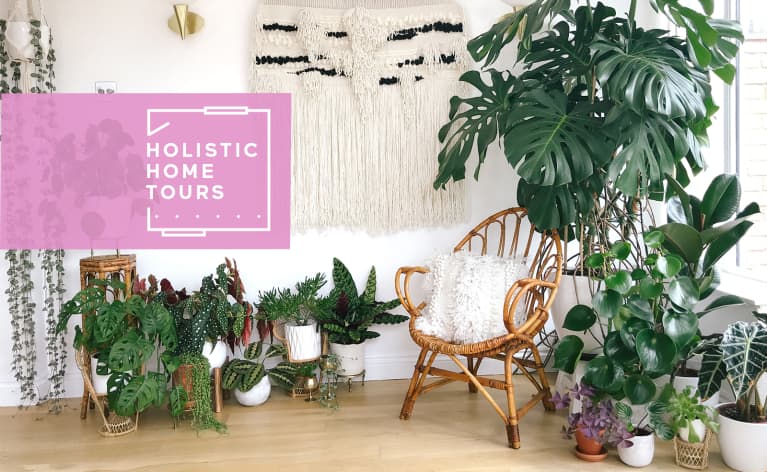 To say Elle Collins is crafty is a massive understatement. For her business, Bamaluz Home, Collins makes sustainably sourced fiber art (think macrame wall hangings, pillows, and chandeliers out of yarn). When it comes to her family's home in Birmingham, United Kingdom, funky handmade touches are everywhere—weaved into a muted color scheme and a crowd of plants. Take a look around, and see if you can spot the miniature room scenes that she crafts for fun (honestly, it fooled us on first glance).
What are three words that describe your design philosophy at home?
Thrifted, midcentury, jungle.
How does your home change with the seasons?
To be honest, it doesn't much! We love it how it is. We buy things to last, and I'll often buy vintage when I can as I love that it's well made and has history. But I do love plants, and those are constantly changing!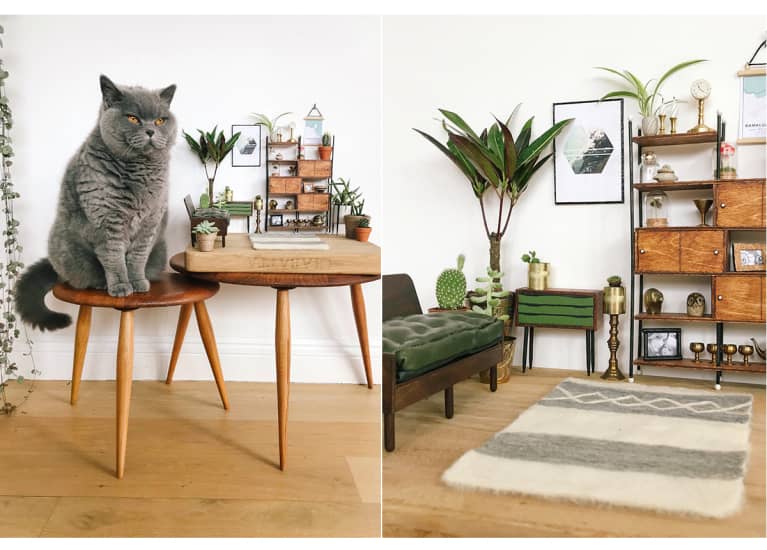 I love the miniature scene of your home. What inspired you to make that?
It started purely because I found a mini wicker peacock chair in a charity shop. I then thought how fun it would be to try to recreate a mini interior scene with miniature handmade wall-hangings and real plants. It then escalated into me making more of my favorite midcentury furniture and trying to make my scenes as realistic as possible to try to fool people! (Everyone needs a hobby when their original hobby turns into their job!)
What's your favorite interior design trend at the moment?
Plants! I only started caring for them about two years ago, and now I'm addicted. I have close to 100, and they make our home feel so calm and tranquil.
What's the oldest thing in your home? Newest?
The oldest must be either our original Arne Jacobsen egg chair or our Japanese free-standing shelf unit. The chair was found in my uncle's loft (then beautifully reupholstered in the original brand of material), and the shelving unit belonged to my late grandparents. Both pieces are dated from the 1960s. The newest would be our large sofa bed in the front room, which we got for guests once our spare room turned into my office.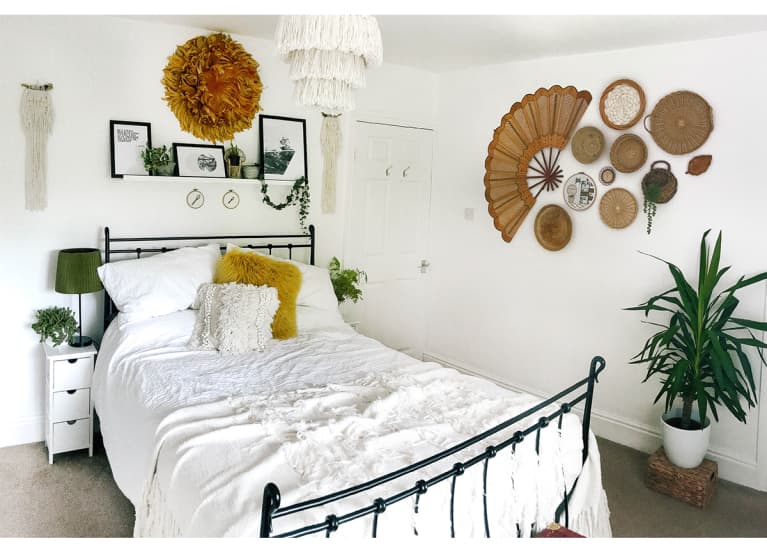 What noises can be heard in your home? What smells?
Noises would have to be the laughter from our 2-year-old. With the open floor plan, he can zoom around on his little trike quite easily! Smells would be just lovely fresh air from all the plants and our skylight windows.
What's the most sentimental thing hanging on your walls, and what's the story behind it?
In our front lounge, there's a geometric print I made of Bamaluz Beach. It's where my husband and I got engaged, and it's my favorite beach in the world. We visit many times a year as a family, and every time I'm there I feel so peaceful, and any worries or stresses just drift away. It's also the beach I named my business after!
What's your favorite room in the house, and how do you use it?
Our kitchen! It's the heart of the home and where we are always together as a family: eating, playing, and working.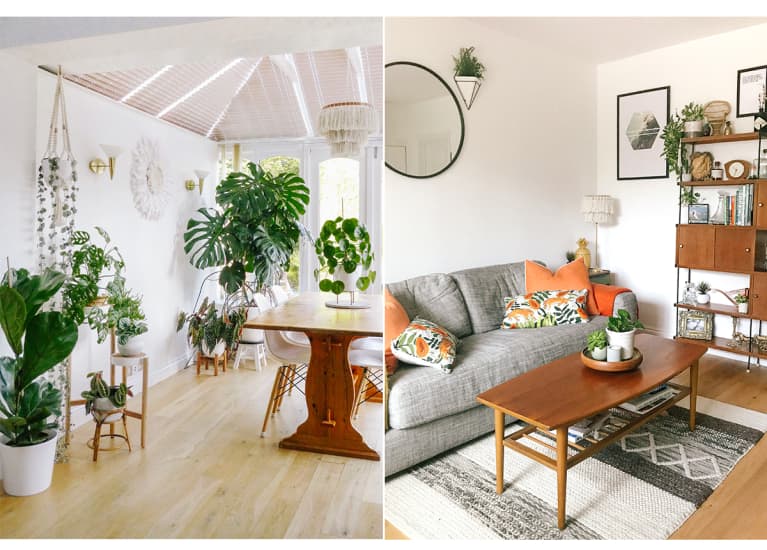 How does your home promote your health and wellness?
There are lots of plants creating oxygen, as well as lots of light, which makes me happy. Plus, being surrounded by all the things we love makes us feel relaxed.
What's the best compliment you've ever received on your space?