The Secret To This Instagram-Ready Home Costs Less Than $20 On Amazon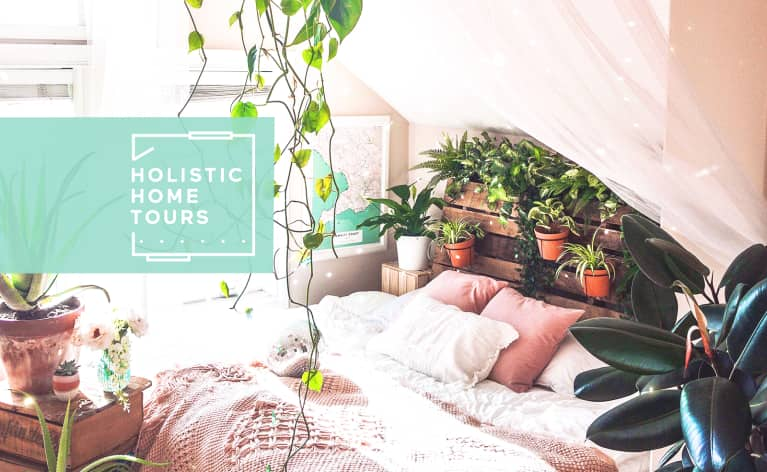 Our editors have independently chosen the products listed on this page. If you purchase something mentioned in this article, we may
earn a small commission
.
Kimberly Wynn's Instagram bio says it all: "Plant disco, greenery, & rainbow vibes." The home she shares with her husband, Chris, in Edmonton, Alberta, is a maximalist escape that breaks all the rules. It's colorful, sparkly, and full of plants—and it helps the filmmaking duo stay upbeat through long days of editing from home.
Snag some of her tips for incorporating color into every nook and cranny of your space, working with natural light to boost your mood, and creating beautiful plant displays for next to no money.
What's the oldest thing in your home? Newest?
The oldest thing is my aloe vera—it was the first plant I bought and didn't kill! There's definitely sentimental value to that. The newest is my jade plant I got from my sister-in-law for my birthday.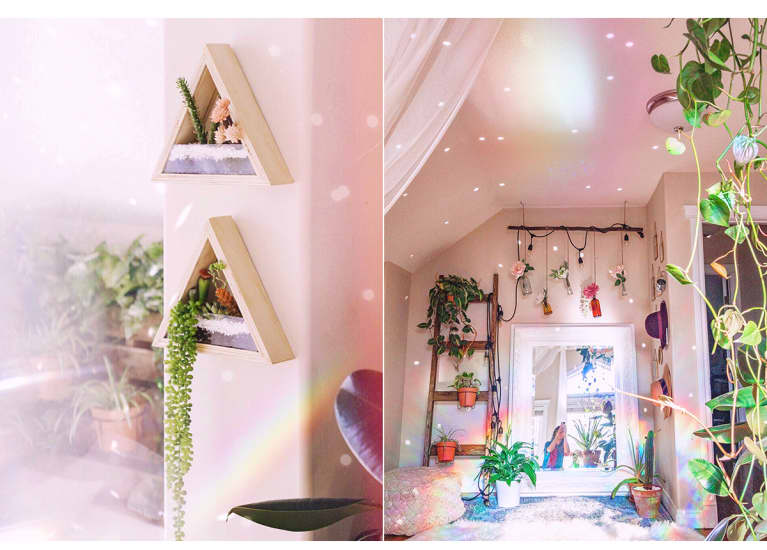 I love all the creative ways you display your plants and leaves! Can you talk about some of them?
I'm definitely proud of all the plants in my home, and I consider them my children. A lot of inspiration comes from other bloggers on Instagram and, of course, the almighty Pinterest. Oftentimes I'll make mood boards on my phone and combine ideas to create what I have in the house now.
My favorite touches include my wooden headboard that holds lots of little pots. We get compliments on it all the time, and it cost me next to nothing! I went on Kijiji (Canada's version of Craigslist), searched for wood pallets, and found that a bunch of local businesses were giving them away for free. I brought a few and lined the top with plants. Then, I spotted plant hangers at Ikea that perfectly fit through the gaps. I think those three pots hanging in the front really make the headboard.
The little touches of light in your home are so magical. How do you create them?
We have a disco ball that moves around the room a lot. I like placing it directly in sunlight to cast sparkly lights across the walls and ceiling. But my not-so-secret light weapon is Rainbow Window Film. It's an easy to stick-on film that you can apply to your windows to casts rainbows all across the room when the sun hits. You can find one for less than $20 on Amazon.
How does your home change with the seasons?
All the plants change. Sometimes I'll move them around to get them more or less light, and sometimes I'll bring new ones home that I found in the greenhouse.
What noises can be heard in your home? What smells?
Our place actually sounds like the start of a Disney movie...there's always birds chirping and squirrels making noise outside the windows. And because of all of the plants, certain rooms smell so fresh—but most of the time it smells like whatever is cooking in the kitchen.
What's the most sentimental thing hanging on your walls, and what's the story behind it?
On the wall near my bed, there's a map of the Amalfi Coast—the part of Italy where my husband and I tied the knot. I love the meaning behind it, plus it just so happens to go with the color theme of our room: green, pink, and blue.
How does your home promote self-care?
Well, not only do plants purify the air, but I think they also create a little oasis for you to escape your worries. I had a very stressful job once upon a time, and the only part of my day that I truly enjoyed was sitting in my plant-filled home. There's something about caring for a living thing and seeing it grow that gives back in the most unexpected ways. Taking time out of your day to unplug and sit on the floor next to your plants and read is so very calming.
How does your home support your wellness journey?
It sounds cheesy, but I love being able to feel like I'm in nature when I'm stuck working inside all day. Especially during the cold winter days here in Edmonton, I often find myself drawn to the plant room.
Want to add some of these dreamy vibes to your own space? Here's how.