paid content
 for

Here's How To Make Your Diet More Sustainable, Stat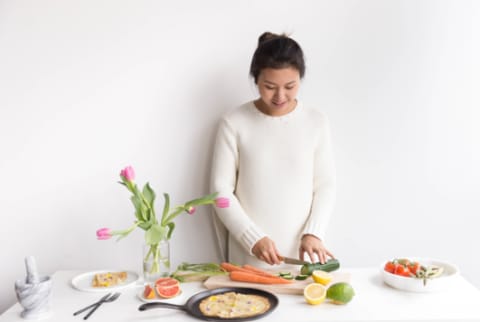 April 20, 2017
We all know that the food we eat plays a massive role in our environmental impact. So instead of beating you over the head with statistics on how much water the meat industry uses or the prevalence of pesticides in conventional produce, we want to help you take action that feels comfortable, simple, and downright fun. Give some of these sustainable swaps a try to lower your carbon footprint while boosting your health.
Breakfast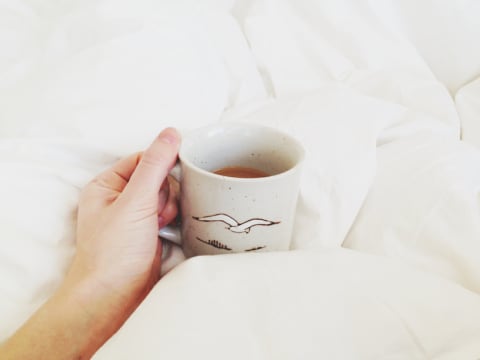 If you make coffee at home, swap out the brand-name beans with fair trade or Rainforest Alliance-certified ones. That way, you'll know they were responsibly grown using techniques that benefit the environment and farmers. Or support a local coffee shop that's transparent about its sourcing, such as Neighbors in 1 Hotel Brooklyn Bridge's lobby. Don't forget to bring a reusable mug when you go! The sideways glances from other customers are well worth the satisfaction of knowing you're saving plastic.
Swap out your splash of dairy milk for coconut milk, especially if you live in a tropical region where the fruit is native. Why coconut? It doesn't come from an animal, plus it doesn't require the massive amounts of water to grow that most nut milks do.
The majority of eggs in the United States come from chickens raised in conventional cages, which are oftentimes dirty, cramped spaces around 67 square inches. (A standard sheet of printer paper is 93!). Go for pasture-raised eggs instead. Of all the labels out there (cage-free, free-range, etc.), this one is the most likely to mark eggs that come from hens that roamed free outdoors.
Lunch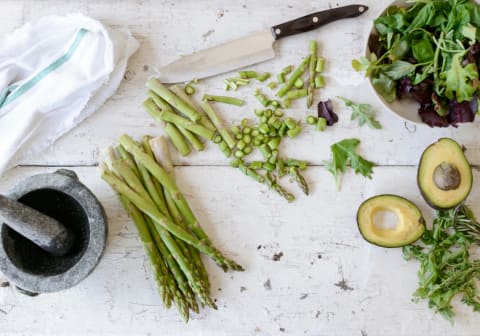 With fruit, it's best to go with varieties that are organic and seasonal because there's a better chance they were grown locally instead of shipped halfway around the world to make it to your plate. So how can you tell what's in season from month to month? Do a quick search online, join a CSA program, or visit your local farmers market to get a sense of the selection. Or if you're in the New York area, you can get a sampling of fresh, seasonal juices by stopping by 1 Hotel's Earth Day Juice Bar on April 22.
Anything you make at home is probably better for the planet than something you buy in stores, as long as it has whole, unprocessed ingredients. Plus, home cooking means your food won't contain unnecessary, unhealthy additives (namely, sugar, chemicals, and more sugar). Start making Sunday a meal-prep day in which you forage your local farmers market, crank up the relaxing music, and get cooking for the week. Grain bowls, veggie burgers, pastas, wraps—the lunch possibilities really are endless.
Dinner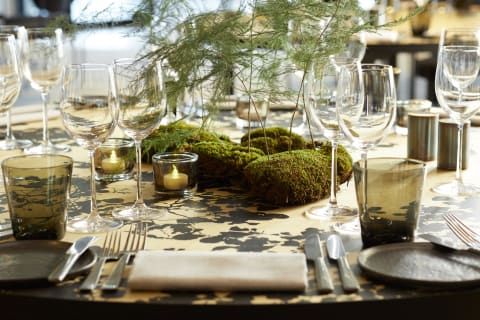 Yes, plant-based diets typically leave less of a trace on our planet, but there are ways to eat meat responsibly. Chicken and turkey require three times less water than beef and nearly six times less carbon dioxide than lamb. Go with poultry from a local farm and you're cutting down on transport emissions, too. Some more labels to look out for on meat include Certified Humane Raised and USDA Certified 100 Percent Organic.
Next time you're breaking off a square, opt for chocolate that comes from a bean-to-bar facility (it will say on the packaging) and is fair trade certified. As for what you wash it down with, go for organic wines or up the ante and seek out a biodynamic variety. While a bit harder to track down, these bottles were produced using farming practices that harness the natural ebbs and flows of the earth. For example, instead of killing the insects on vines, a biodynamic farmer will let them do their thing and use their waste as natural fertilizer.
Sample Grocery List
Now that you have the basics down, add these staples to your grocery list and you're well on your way to greener, cleaner eats:
Fair Trade or Rainforest Alliance-certified coffee beans
USDA Certified Organic or Certified Humane Raised chicken
Pasture-Raised eggs
Seasonal fruit and vegetables (bonus points if you can find a way to utilize the parts you usually toss in the trash)
Bean-to-bar dark chocolate
Biodynamic wine
Coconut milk
Share your eco-friendly meal swaps on Earth Day tagging @mindbodygreen, @1Hotels, and #1EarthDay.