In today's ultra-busy world, many of us feel like we simply don't have the time to slow down. Between busy work and home lives, taking time for self-care can feel overly indulgent and like something that will only hurt our productivity.
But according to research, taking time to slow down and take care of ourselves is actually one of the best things we can do not only for overall happiness and well-being but when we want to get more done. Meditation, for example, can improve focus and memory, and studies show that the more hours we spend working the less we get done.
Long story short, we know slowing down and taking a few minutes to take care of ourselves every day is crucial, but actually making that time is often easier said than done. Having the right tools, like The Ritual of Ayurveda Collection, can help you get excited about self-care and actually motivate you to make time for it regularly. Here are four creative ways to make time for self-care every single day.
In 2017, the average American adult spent 2 hours, 51 minutes on their phones every day—that's 86 hours per month! Think about what would happen if you just took a half-hour chunk of that time and dedicated it to self-care instead.
Consider using that time to take a restorative soak in the tub using The Ritual of Ayurveda Bath Foam or utilize the calming properties of essential oils to sit for a short meditation. Both of these practices will work wonders for your body and mind and will help you sleep—and nothing helps people be more productive than a solid night of sleep.
2. Make lunchtime your self-care time.
Rather than power through your work with your "sad desk lunch," consider reclaiming your lunchtime and using it for self-care instead. Take a midday walk to boost your energy levels, and consider keeping The Ritual of Ayurveda dry oil at your desk to help you stay grounded and energized.
And if you don't know your dosha type, try taking this quiz to find out. That way, in addition to using dry oils, you can incorporate ayurvedic eating practices into your lunches, which is an excellent form of self-care.
3. Spend a few minutes journaling either in the morning or at night.
There are a number of health benefits associated with daily journaling; from helping with goal achievement to activating mindfulness, both are crucial to self-care and overall happiness. Enjoy lighting The Ritual of Ayurveda candle while you journal—it will help you be all the more mindful and make your journaling session even stronger.
4. Take time to care for your skin.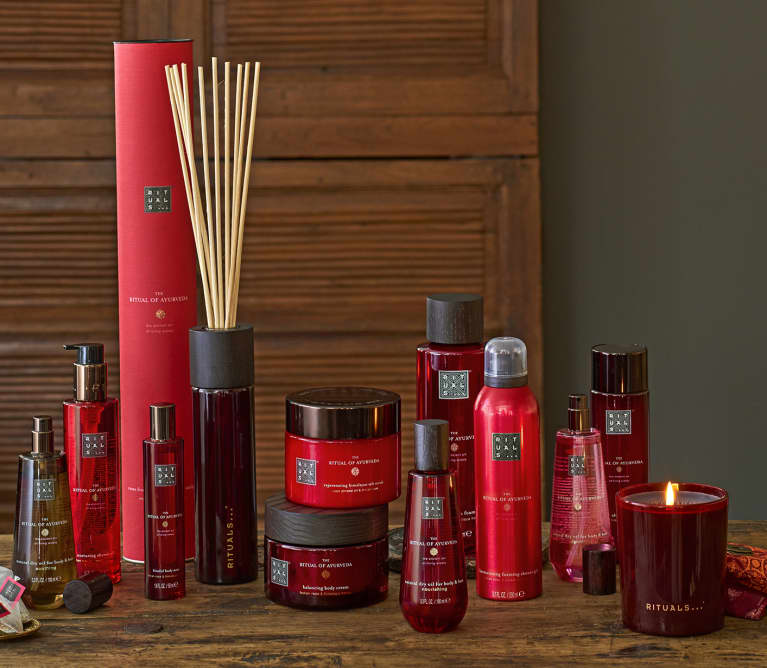 It's no secret that dry skin isn't exactly comfortable, and The Ritual of Ayurveda Collection has all the products you need for your smoothest, most nourished skin ever. From dry oil catered to your dosha type to body scrub and soothing hand balm, your skin will thank you for spending an extra few minutes caring for it. Plus, the daily routine can be extremely soothing for both the mind and body, so go to town.