Close Banner
Advertisement
This ad is displayed using third party content and we do not control its accessibility features.
Eating Vegan Doesn't Have To Be Expensive—Here's How To Make It Doable

By Caroline Muggia
mbg Contributor
Caroline Muggia is a writer, environmental advocate, and registered yoga teacher (E-RYT) with a B.A. in Environmental Studies & Psychology from Middlebury College.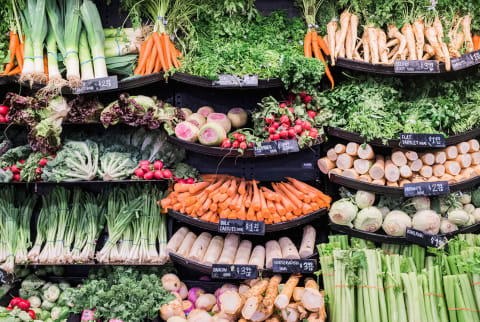 Image by Melissa Ross / Stocksy
Katy Beskow is an award-winning cook, the face behind the blog
littlemissmeatfree
, and the author of the new cookbook
15 Minute Vegan: On a Budget
. Katy believes that
vegan cooking
should be accessible to all and therefore shares over 100 vegan meals that feature affordable ingredients and are made to cook in 15 minutes or less. In this excerpt from her new cookbook, she tells us her top tips for cooking vegan on a budget. Whether you're a vegan looking to
lower your food costs without compromising on taste
or a non-vegan looking to incorporate some more vegan meals into the mix, these tips are for you.
Cooking delicious, fast vegan food starts with having the right ingredients. Shopping on a budget doesn't have to be difficult; it just requires some preparation, knowing where to shop, and how to find the best quality ingredients for the lowest prices.
1.
Think about this week and next week.
When meal planning, consider breakfast, lunch, dinner, and snacks so you can stock up on the ingredients you need for trying new recipes or creating your family favorites. It's also worth noting how many portions the recipe makes; if you make more than needed, don't forget to freeze the leftovers, and you have a homemade ready meal available for another week's meal plan. The short investment of time it takes to create a weekly meal plan can really make financial savings. Think of a meal plan as a list of what you're going to cook and eat for the week—it's simple and effective.
Before writing a shopping list, take a look inside your fridge, freezer, and cupboards. Note what you already have and think about how to use it while creating a meal plan for the week. For example, you may already have half a bag of onions from the week before, along with frozen peas and rice in the cupboard, so you've already got the basic ingredients for Kedgeree with paprika yogurt. This reduces waste and the cost of your food bill.
Write a shopping list and stick to it! After creating your meal plan, you know exactly what you're going to cook and eat, with ingredients you already have available and what else you need to purchase. Mindfully purchase exactly what you need, and try not to go shopping on an empty stomach—you'll only be tempted into pricey extras that you haven't budgeted for.
4.
Think about where you want to shop.
Choose where is best to shop. Whether you prefer a large supermarket for its wide selection of products, a small supermarket due to proximity, or online shopping for convenience, you'll find vegan items readily available. While larger, well-known supermarkets may stock more choice of specialist vegan products such as nondairy cheeses, plant-based milks, and vegan chocolates, budget chain supermarkets are certainly catching up with their selection. Veganism is growing, and the availability of products is a reflection of this.
5.
Try a vegetable market.
Consider shopping at fruit and vegetable markets for good prices on seasonal produce. Markets are often useful when buying products in bulk if you are batch-cooking or preparing meals for a family. Generally, the overheads of the market traders are less than supermarket chains, so savings can be passed onto the consumer. It's great to support local traders too.
6.
Consider a different supermarket
When you're refilling the spice rack, take a look at the range and price of spices at Indian, Middle Eastern, Asian, and Chinese shops and supermarkets. You'll be able to purchase more for your money! While you're there, check out the rice, egg-free noodles, and coconut milk, as these items are often cheaper too.
7.
Look in the world-food aisle.
When shopping in a large supermarket, look in the world-food aisle for store cupboard essentials such as chickpeas, green lentils, coconut milk, tahini, soy sauce, rice, and egg-free noodles. These staple ingredients are often remarkably cheaper in this aisle.
8.
Switch to supermarket-brand products.
One certain way to reduce your food bill is to switch your branded products for supermarket-brand products. Supermarket "value" ranges are another great switch, particularly for dried pasta and spaghetti, as these basic items are less likely to contain eggs in order to keep costs low (always check the ingredients). Challenge yourself and your family to determine whether you can tell the difference between branded products and store-brand products. Your wallet will thank you!
9.
Purchase only what you will use.
Reduced price, use-by date, "yellow sticker" items may seem like a bargain, but don't be tempted into buying something you won't eat just because it has been reduced to sell. If you make a purchase, eat or cook with it by the next day, or freeze it for use in the future (but don't forget it's in the freezer!). Similarly, be cautious of coupons and vouchers, and purchase only what you will actually use, no matter the discount.
10.
Consider pre-prepared food.
Pre-prepared food isn't always bad, especially when cooking on a budget. For example, cooked beetroot that has been vacuum-packed is convenient and saves you a long cooking time at home. Chopped and frozen butternut squash, sweet potato, seasonal fruit, and herbs are great buys to reduce preparation and cooking time, then you can use as much as you need before returning the rest to the freezer, resulting in no food waste.

Caroline Muggia
Caroline Muggia has a B.A. in Environmental Studies & Psychology from Middlebury College. She received her E-RYT with Yoga Works and is a graduate of the Institute for Integrative Nutrition. A writer and environmental advocate, she is passionate about helping people live healthier and more sustainable lives. You can usually find her drinking matcha or spending time by the ocean.