Herby Chickpea Lemon Soup From A Blue Zone With Half The Heart Disease Rate Of America

New York Times Bestselling Author
By Dan Buettner
New York Times Bestselling Author
Dan Buettner is a National Geographic Fellow and bestselling author who discovered and reported on the Blue Zones.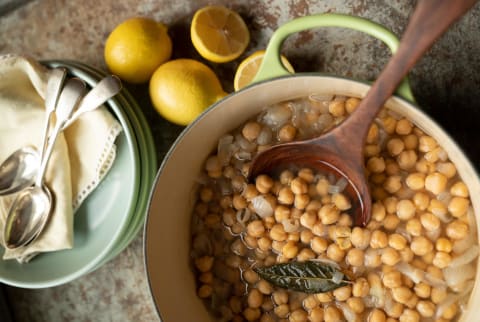 September 1, 2023
We carefully vet all products and services featured on mindbodygreen using our
commerce guidelines.
Our selections are never influenced by the commissions earned from our links.
Greeks, and Ikarians, especially, have mastered the blend of lemon, olive oil, and herbs. This simple soup is a warming alternative to chicken soup in the winter and yet another way to creatively make beans taste good and figure into your daily diet. Chickpea soup is one of the most classic comfort foods in Ikaria and even throughout the rest of Greece—you'll find it in almost every home and tavern.
Total Cook Time: 2 hours, 20 minutes (45 minutes if using canned chickpeas)
Chickpea Soup With Lemon & Herbs
Ingredients
1 pound dried chickpeas, soaked overnight, rinsed, and peeled (or four 15-ounce cans low-sodium chickpeas, drained)
1 medium onion, coarsely chopped
1 garlic clove, minced
1 bay leaf
1/2 cup extra-virgin olive oil, plus more for serving
Salt and pepper
Juice of 3 lemons, for serving
Directions
Place the drained chickpeas in a pot with just enough water to cover, and bring them to a boil. Remove from the heat, drain, rinse, and put them into a clean pot.
Add the onion, garlic, bay leaf, olive oil, and enough water to cover the ingredients. Stir to combine.
If using dried chickpeas, bring to a boil and then simmer for about 2 hours, or until chickpeas are soft.
If using canned chickpeas, bring to a boil and then simmer for 30 minutes, adding a few tablespoons of water at a time to thin the soup as needed.
Remove from the heat and discard the bay leaf. Add salt and pepper to taste.
Serve with generous drizzles of lemon juice and olive oil.

Dan Buettner
New York Times Bestselling Author
Dan Buettner is a National Geographic Fellow and multiple New York Times bestselling author. He has discovered the five places in the world—dubbed "Blue Zones"—where people live the longest, and are healthiest. His New York Times Sunday Magazine article about these places, "The Island Where People Forget to Die," was one of the Times' most popular and his National Geographic cover story "The Secrets of Living Longer" was a finalist for a National Magazine Award. His TED Talk "How to live to be 100 " has been viewed over 4.5 million times.
He is the author of The Blue Zones series of books: The Blue Zones: Lessons for Living Longer from the People Who've Lived the Longest, Thrive: Finding Happiness the Blue Zones Way, The Blue Zones Solution: Eating and Living Like the World's Healthiest People and The Blue Zones of Happiness, The Blue Zones Kitchen, The Blue Zones Challenge & The Blue Zones American Kitchen. Buettner also holds three Guinness Book of world records in distance cycling.