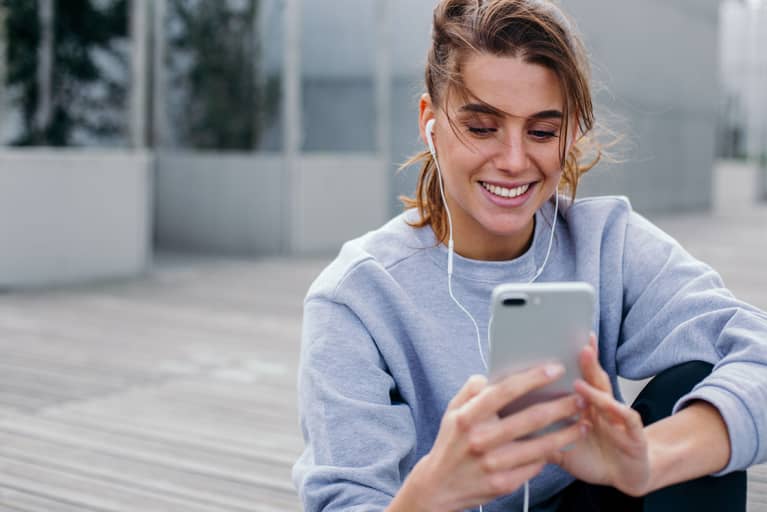 Minimalism isn't just a means of clearing the clutter in your junk drawer and closets. It could be harnessed as an approach to simplify and, OK yes, spark joy in all areas of life. Get those headphones on and hit play on these four audiobooks—you might find an all-new way to use a little minimalism in your routine, decision-making, and more.
Digital Minimalism: Choosing a Focused Life in a Noisy World
Hands up if you've ever tried going on a digital detox: It's always harder than we realize, and that fact alone is why digital minimalism is so important these days. NYT best-selling author Cal Newport applies the theory of minimalism—aka the art of knowing how much is just enough—to our use of personal technology in his newest book. Whether or not you constantly catch yourself mindlessly scrolling through your social feeds, this one's a must-listen.
The Second Mountain: The Quest for a Moral Life
Ever feel like you just can't check off enough boxes? Between to-do lists, bucket lists, and life's milestones—there's a lot that can leave us feeling unfulfilled if we let it. The upcoming book by David Brooks, an NYT op-ed columnist and one of the country's leading social commentators, simplifies the search for meaning into a single question: What are you committed to? Whether it's a partner and family, a vocation, a philosophy or faith, or a community, listen to wisdom from those who've lived joyous, committed lives.
Outer Order, Inner Calm: Declutter & Organize to Make More Room for Happiness
We challenge you to listen to this excerpt and literally not start organizing your immediate area! Happiness expert Gretchen Rubin, whom you might recognize as the best-selling author and notable podcast host, makes one of the strongest cases for clutter clearing in her latest book, and she's filled it with the most practical and tangible tips for freeing your mind (and shelves) for what we truly value.
Spark Joy: An Illustrated Master Class on the Art of Organizing and Tidying Up
No list about minimalism would be complete without mentioning the KonMari method, which revolutionized the way mainstream audiences approached spring cleaning and basically put decluttering on the map. This essential guide is tidying expert Marie Kondo's follow-up to her iconic, international best-seller The Life-Changing Magic of Tidying Up, and in it you'll hear how exactly to spark joy, step-by-step. Consider it required listening if you're diving headfirst into the minimalism movement.