Close Banner
Advertisement
This ad is displayed using third party content and we do not control its accessibility features.
This Magical Island Is One Of The World's Healthiest Vacation Destinations
Author & Podcaster
By Liz Moody
Author & Podcaster
Liz Moody is the host of the top-rated The Liz Moody Podcast, author of bestselling books "100 Ways to Change Your Life," "Healthier Together: Recipes for Two—Nourish Your Body, Nourish Your Relationships," and "Glow Pops," and a popular online content creator who has helped millions of people transform their lives. A regular speaker, panelist, and podcast guest, Liz shares her own deeply personal anxiety journey that led her to where she is now as well as actionable, fun, and science-based ways for everyone to live their best lives.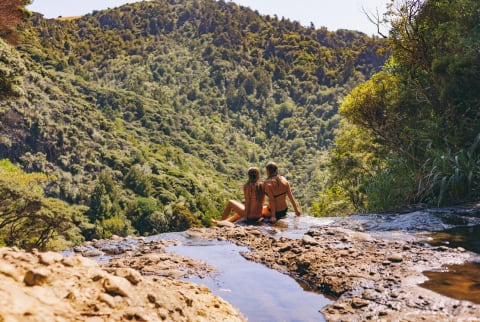 Photo by Jordan Donaldson
Delilah works at a rustic booth, the kind that neighborhood kids might construct from found wood when they decide they want to open a lemonade stand. The bright green grass is still wet from the morning's heavy shower, and around the gravel-covered parking lot, chickens strut aimlessly about. Delilah (she looks 15 but never shares her age) has stopped telling us about the variety of raw, organic chocolates on display and started in on why she, after a fight with her parents, found herself on Kauai, the least populated island in Hawaii, the most isolated island chain in the world.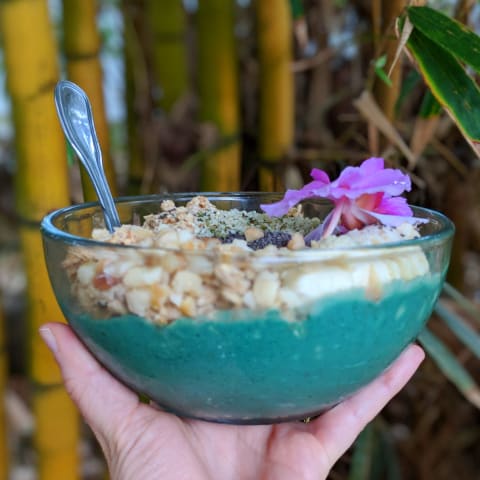 Not all who wander are lost, but many who are lost seem to find their way to Kauai. "It's the heart chakra of the islands," said the girl at the chocolate stand, and while the internet doesn't back this claim up (if anything, a few less-than-credible sites assert that Kauai is the third eye of the Hawaiian Islands), it's hard to deny the palpable spirituality of the place. Far less developed than the rest of the islands and dominated on one side by the "Grand Canyon on the Pacific Ocean," Kauai is a place where people go to escape. They are several thousand miles from the mainland, but they're also far from the tourism and large-scale resorts that dominate the other islands. It feels more quiet, more isolated—while on Maui, you could almost wave to someone on the Big Island on a clear day, whereas there's only one small island visible from Kauai, a remote outpost home to a few hundred former farmworkers, with no stores and no commercial transit options to get there. While there for a week, I met a former accountant from Texas, a divorcee from Indiana, a former NYC trial lawyer, and dozens of other people who'd left one life behind in pursuit of another, more spiritually connected one. They hiked, did yoga, meditated, drank green juice, and ate vegetables and fruits grown in personal gardens, taking on jobs as restaurant waitstaff or Uber drivers to pay their bills. One of them, from Romania, started Mahalo, an organic skin care line that utilizes locally grown ingredients to make brightly colored, decadent masks and healing salves. Another started Kauai Juice Company, which makes green elixirs and kombuchas sold around the island.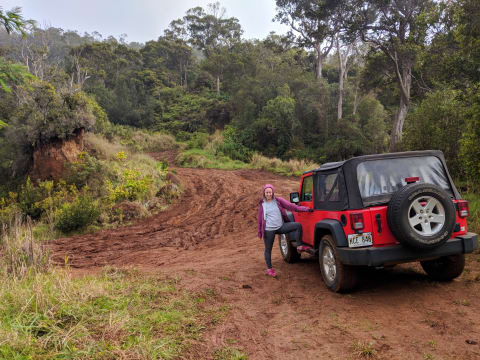 Then there are the Hawaiians from generations back, who showed me a different side of the island's bounty. From the U.S. purchase of Hawaii in the 1950s to the 1970s, it was illegal to speak Hawaiian or engage in traditional Hawaiian practices. Now, the culture is experiencing a resurrection, with locals eager to share the literal roots of their heritage. At Waipa Farm on the verdant north shore of the island, near Hanalei, Stacy Sproat-Beck is focused on bringing back the local agriculture that used to define the region. She grows native Hawaiian plants and the "canoe plants," the name for the 21 species the first Polynesian settlers determined they needed to survive, bringing them with them on their canoes for food, building materials, and potent medicinal properties.
On a rainy day (it is often rainy on the north shore, with a misty cloud hanging low over the dripping mountains, but it's still T-shirt comfortable, and this is part of the charm), she walked us through the gardens, pointing out shampoo ginger, sugar cane, and the taro fields that were the lifeblood of early Hawaiians. When taro is cooked, smashed, and left to ferment, it becomes poi, a tangy gut-healing superfood exclusively made by Hawaiians. Sproat-Beck gave me some to try (you eat it from a communal bowl with your fingers, often with a side of salty, cured fish), and it was pasty, sweet, and a little tangy. Every Thursday, in the spirit of You. We. All., Waipa makes a huge batch of poi, delivering it to locals in an attempt to help locals connect to their roots, correspondingly enhancing their health (Native Hawaiians have the worst health profile of anyone living in the states).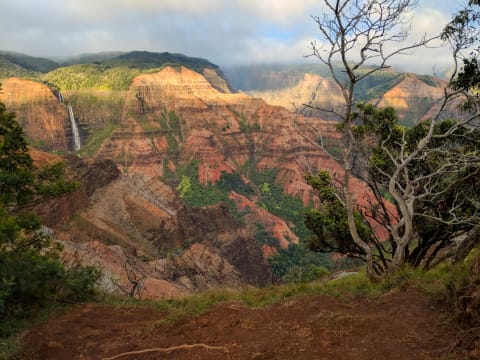 A few miles down the road from Waipa is Angeline's, which is dedicated to preserving traditional Hawaiian wellness culture in a more physical way. Named after the recently deceased founder, Angeline's is tucked away in a courtyard-dominated house in a residential neighborhood. Here, visitors wrap themselves in brightly floral sarongs, then experience a traditional Hawaiian steam, scrub, and four-handed lomi-lomi massage. It's a far cry from the spa at the nearby St. Regis, but the friendly spiders, occasional nudity, and communal chanting (in sing-songy Hawaiian) of the women makes the experience far more memorable.
Whether you embrace the new world wellness or old, Kauai offers options—including that of simply disconnecting from the frenetic world, setting your phone down (you likely won't have service anyway), and breathing in the sweet scent of wet earth, eucalyptus, and palm trees.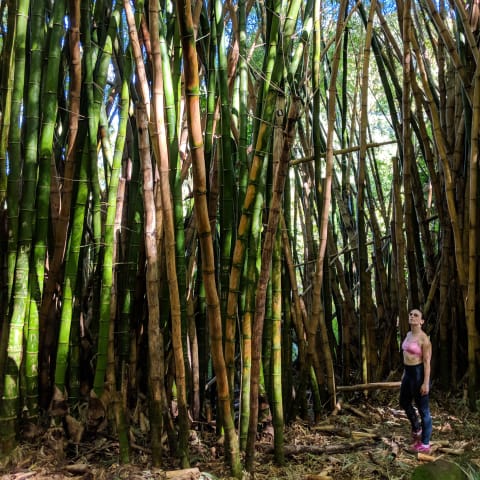 Your Ultimate Healthy Kauai Travel Guide
How to eat healthy in Kauai.
JO2 Restaurant in Kapaa serves some of the best food on or off the island, with locally sourced, mostly organic ingredients and grass-fed meats. Kapaa is also home to Kauai Juice Company, where you can pick up a light breakfast, juice, smoothie, or kombucha, and Eat Healthy Cafe, which is all vegan and gluten-free and has Instagram-worthy smoothie bowls and a magical back garden. On the southern part of the island, The Fresh Shave has artificial-color- and flavor-free versions of the Hawaiian classic, shave ice, with local produce and ingredients like chia seeds. While you're there, check out a few of the food trucks and the warehouse full of shopping options. On the north shore, Kauai Ono does twice-weekly BYOB farm-to-table dinners. The menu changes based on what's fresh, but it's always delicious, and the outdoor seating under twinkle lights and twinkling stars makes the night truly magical.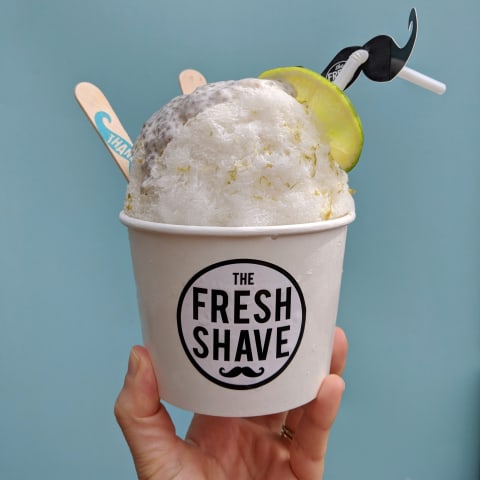 What to do in Kauai.
While Kauai doesn't have the same level of water sports as say, Maui, there are a few good beaches. For white sand beaches, hit up the west coast of the island, where the water is a bit calmer. At Tunnels Beach in Hanalei, you can snorkel with giant turtles and seals; there's also a beautiful beach on the Kalalau hike, about 2 miles in (although the water there is a little rough). Speaking of the Kalalau hike: You'll want to do the first two (or even four) miles of this 11-mile hike. Two miles of beautiful views gets you to a stunning beach; turn inland and walk an additional 2 miles to a beautiful waterfall that you can swim under. It's one of the best hikes on the island, matched only by the Alakai Swamp Trail in Waimea Canyon (a stunning, painted-desert-looking lookout unto itself). For the Alakai Swamp, if the trail is too muddy (and it often is, as this area is one of the rainiest in the world), you can take a 4WD vehicle to meet up with the trail's other entrance and skip the muddy part entirely. Near Kapaa, there's a rainbow eucalyptus grove, where the trees have somewhat disconcerting streaks of neon green and pink. Taking a farm tour at Waipa is also a must—at the end, they prepare you traditional Hawaiian cuisine using farm-fresh ingredients, and then you explore the next-door farmers market. Finally, alleviate any hiking soreness with a trip to Angeline's (see above for more details).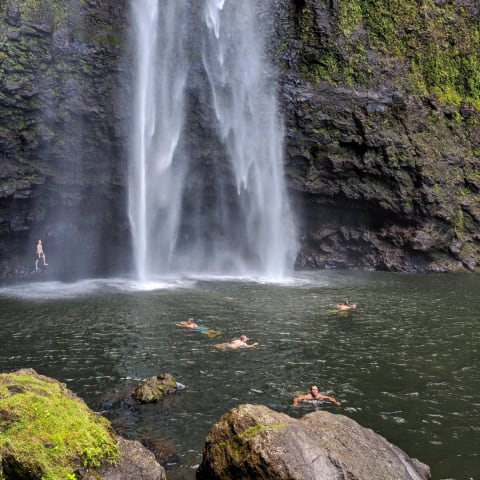 Where to stay in Kauai.
There are a few great hotel options on the island, which differ based on budget and the type of wellness you prefer. If you're looking for the ultimate, high-end Hawaiian resort experience, the Princeville St. Regis is the best (and only) way to go. The rooms cascade down an ocean-side cliff (a magic trick-like feature allows a glass panel to the bathroom to be either opaque or translucent, giving you the possibility of viewing the stunning outside scenery while you shower), and you can hear the sound of the waves crashing against the shore (and the ubiquitous Kauai roosters) as you drift off to sleep. There are green juices available in the on-site mini-market, and you can have them make green smoothies for you for breakfast (the restaurant focuses on sourcing locally, as well). To keep your fitness game strong, there are also myriad water activities available at the on-property beach, from surfing to kayaking to stand-up paddle-boarding. For more accessible accommodations, Fern Grotto Inn is perfectly situated in Kapaa (near a number of healthy dining options) and has a kitchenette for self-catering or slicing up all of the pineapple and avocado you purchase from roadside farm stands. They have a few signature touches that makes the mini-apartment feel that much more luxurious: Amazon Alexas in every room (you can play white noise on them to get to sleep; a two-person shower; a free washer and dryer to clean your hiking clothes, which will get very muddy). They also have kayaks that you can take up the river (visible from most of the rooms) to a secret waterfall hike, which I highly recommend.
What to bring to Kauai.
Sunscreen is a must on the island, of course (Suntegrity makes a number of great options that use only non-nano zinc for protection). As Kauai is the wettest of the Hawaiian islands, you'll also want to get a great natural mosquito repellent and apply it liberally—I love Intelligent Nutrients Smart Armor spray, which goes on light and doesn't make you smell like a candle. You'll also want a good pair of hiking boots, as the trails, while not difficult, are muddy, making it hard to stay upright in sneakers (the Altra Lone Peak trail running shoes are a great lightweight option with tons of grip to avoid slipping in the mud). The Lululemon In Movement 7/8 tight is far and away the best hiking pant, especially for the unpredictable weather that often plagues the island. They're flattering, super light weight (we're talking second skin here), and it's moisture-wicking fabric allows you to stay dry even on the hottest days, while being completely protected from bushes, bugs, and mud. I also always recommend an arsenal of healthy staples on trips, from Vital Proteins collagen packets to Amazing Grass powdered greens to a pharmacy of herbal teas (more on those here).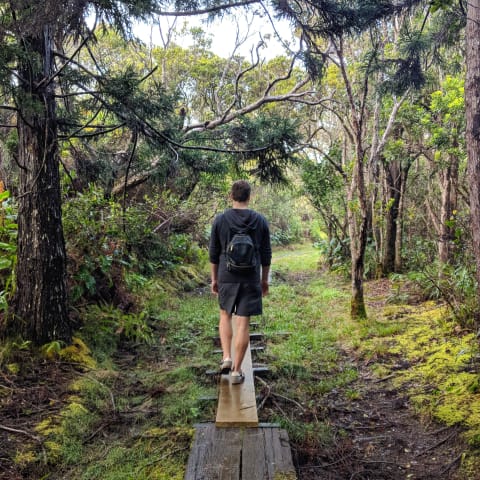 What to bring home from Kauai.
Coconut candy is a must-try, and a great souvenir to give family and friends a taste of the island. Kauai Farmacy carries teas, tinctures, and herbs that rely on traditional Hawaiian medicinal formulas and are all grown locally on the island. Pick up some homemade vanilla and an organic, local chocolate bar at Garden Island Chocolate. Mahalo skin care, which can be purchased on the island or online, will make you feel like you're back in tropical paradise whenever you paint their potent, detoxifying cacao and coffee bean mask on your face.
Want to plan more adventures? We've got all the healthy travel guides you need right here.
Watch Next
Enjoy some of our favorite clips from classes
Watch Next
Enjoy some of our favorite clips from classes
What Is Meditation?
Mindfulness/Spirituality | Light Watkins
Box Breathing
Mindfulness/Spirituality | Gwen Dittmar
What Breathwork Can Address
Mindfulness/Spirituality | Gwen Dittmar
The 8 Limbs of Yoga - What is Asana?
Two Standing Postures to Open Up Tight Hips
How Plants Can Optimize Athletic Performance
What to Eat Before a Workout
How Ayurveda Helps Us Navigate Modern Life
Messages About Love & Relationships
Love & Relationships | Esther Perel
Love Languages
Love & Relationships | Esther Perel
Related Videos (10)
What Is Meditation?
Box Breathing
What Breathwork Can Address
The 8 Limbs of Yoga - What is Asana?
Two Standing Postures to Open Up Tight Hips
How Plants Can Optimize Athletic Performance
What to Eat Before a Workout
How Ayurveda Helps Us Navigate Modern Life
Messages About Love & Relationships
Love Languages
Advertisement
This ad is displayed using third party content and we do not control its accessibility features.
More On This Topic
more Lifestyle
Advertisement
This ad is displayed using third party content and we do not control its accessibility features.
Advertisement
This ad is displayed using third party content and we do not control its accessibility features.