Healthy Planet, Healthy You: August 2023 Climate News To Know

mbg Sustainability + Health Director
By Emma Loewe
mbg Sustainability + Health Director
Emma Loewe is the Senior Sustainability Editor at mindbodygreen and the author of "Return to Nature: The New Science of How Natural Landscapes Restore Us."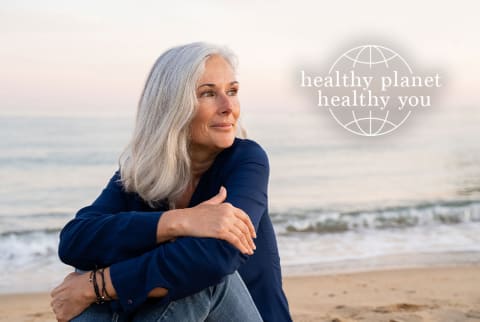 Image by Alba Vitta x mbg creative
August 10, 2023
Our series Healthy Planet, Healthy You explores just how tightly human health and environmental health are intertwined—for better and for worse. Each month, we'll share the latest news on how nature can rejuvenate us on one hand and damage our health when it's not cared for on the other. We'll end with timely tips and tools to help you care for your environment so it can care for you.
1.
Could this hot summer be the cause of your brain fog?
Extreme heat can harm health in many ways—including, it seems, by impacting cognition. One study that monitored 44 college students during a heat wave found that those who didn't have air conditioning in their dorm performed worse on processing speed and working memory tests than those who did. This research was conducted in the summer of 2016, so we can only imagine what this summer—projected to be the hottest on record—means for mental capacity. (Read the research here1.)
2.
Visiting green space may help you sleep better (especially if you're stressed)
For this study, high school students in California filled in a questionnaire about their stress levels and sleep. Unsurprisingly, many of them clocked fewer than eight hours a night. Researchers also collected information about the kids' neighborhood and family income and came to the conclusion that those who lived in closer proximity to green space were more likely to get enough sleep. The calming effects of nature seemed to be more significant in kids from lower-income families and those who noted more stress in their lives. (Read the research here.)
3.
Air pollution increases cancer risk—and not just for lung cancers
We know that air pollution can contribute to lung cancer risk2, but there's relatively little information about how pollution correlates with other cancers. Until now: A new study on particulate matter (PM2.5) and nitrogen dioxide (NO2) exposure found that these common pollutants can increase one's risk of colorectal and prostate cancers. Both PM2.5 and NO2 are emitted by burning fossil fuels, underscoring the need to transition to cleaner energy sources for the sake of our health. (Read the research here.)
4.
How should we design cities for metabolic health? New research offers a road map
For clues on how to design the built environment to combat metabolic syndrome, scientists collected data from different neighborhoods in Alberta, Canada. They found that people were more likely to be metabolically healthy if they lived in an area that was within walking distance of community spaces like schools and shops. Higher dwelling density (i.e., living near one's neighbors) was also associated with fewer metabolic syndrome risk factors. This makes the case that the healthiest cities are those that are walkable and facilitate plenty of opportunities for connection. (Read the research here3.)
Monthly focus: Walk and talk
The latest environmental health research makes a few things very clear: Getting outside is good for us—and doing it with others might be even better. Beyond helping us reduce stress, promote creativity, and boost mood, nature can also present fertile ground (no pun intended) for us to combat loneliness by connecting with others.
As summer flutters to a close, see how you can infuse more nature into your social plans. Maybe instead of meeting a friend for drinks, you join them for a walk around the neighborhood. Or, you can replace an indoor dinner with an al fresco picnic. Spending time with others outdoors can help you stay in good spirits—and, as these studies show, in good health.