Thanksgiving might be the ultimate You. We. All. holiday, with an emphasis on giving back, gratitude, and community—and, of course, plenty of delicious food. While a typical Thanksgiving table might be enough to induce a stomachache based on sight alone, we think of the holiday as an opportunity to nourish your body, in addition to your soul. With that in mind, we reached out to some of the year's biggest food stars to share their favorite healthy Thanksgiving recipe and some tips, tricks, and traditions that help them get through the holiday with a smile on their face (and bellyache-free!).
Alison Wu has been wowing Instagram with her gorgeous, Portland-chic aesthetic and pastel-tinged layered smoothies. Her Wu Haus blog is a soothing oasis of creativity on a chaotic internet, and her food is always elegant and absolutely beautiful (think: edible flowers everywhere), with a solid grounding in strong, unique flavors. This Miso Black Sesame Pumpkin Pie is no exception—it's the perfect gut-healing, creative addition to any Thanksgiving dessert table.
mbg: What are your favorite Thanksgiving rituals?
I always practice yoga in the morning at my local studio before heading home to cook all day. I love moving my body before the big feast and starting my Thanksgiving with a gratitude practice. I always make an elaborate snack platter for everyone to nosh on during the day before dinner. I always love spending the day relaxing with friends, sipping delicious cocktails, and there's usually a game of Settlers of Catan or two at some point.
mbg: What are your best tips for making Thanksgiving dinner a bit healthier (but just as delicious)?
Use less butter and cream and more avocado or coconut oil and plant-based milks. I also tend to focus the meal around seasonal vegetables and always include a big salad on the menu. When the meal is centered around vegetables, it tends to be healthier overall. I often make a Brussels sprout and chanterelle dish that is usually a big hit.
mbg: When you're feeling super full post-Thanksgiving, what do you do to feel better?
My Thanksgiving is always pretty healthy, so while I'm usually full after mealtime, I don't typically feel overly full or gross. And honestly, I love to relish in the full feeling, enjoy it for what it is, spend time with loved ones, and watch a good movie. The day after Thanksgiving, I usually plan a butt-kicking workout to get myself back on track.
Pumpkin Miso Pie With Black Sesame Crust
This dessert is relatively low in sugar compared to most holiday desserts, relying on maple syrup as opposed to any refined sugar. I prefer desserts that aren't overly sweet, so this one strikes the perfect notes. This pie is also packed with healthy fats. Coconut oil is rich in medium-chain fatty acids, which improve brain and memory function. Walnuts are a great plant-based source of omega-3s. Finally, the addition of probiotic-rich miso adds an extra gut-healing punch.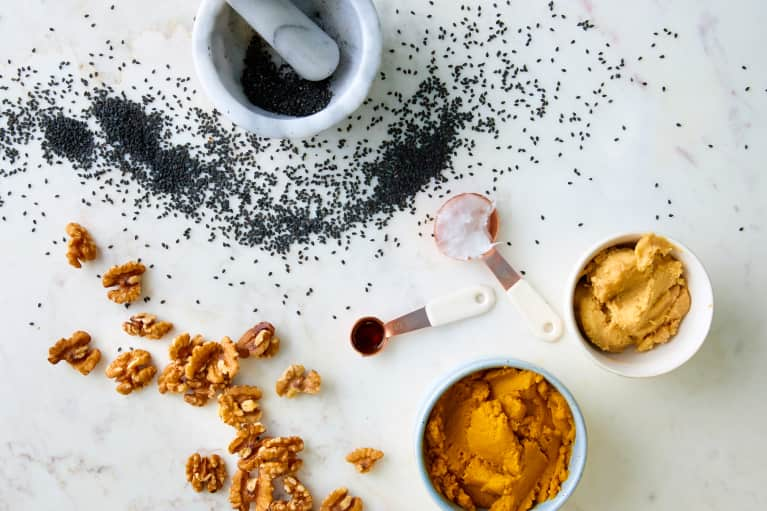 Ingredients, black sesame-nut crust
½ cup almond meal
½ cup raw walnuts
½ cup raw pecans
⅓ cup black sesame seeds, finely ground
6 dates
2 tablespoons extra-virgin coconut oil
Pinch of salt
2 cups raw cashews, soaked in water for at least 6 hours
2 tablespoons white miso
1½ tablespoons extra-virgin coconut oil
½ cup + 1 tablespoon coconut milk, from a carton (can use any nut or soy mylk)
⅓ cup maple syrup
2 tablespoons sunflower lecithin
1 tablespoon water
1 teaspoon vanilla extract or vanilla powder
Pinch or two of salt
1½ cups pumpkin puree
1 tablespoon miso
3 tablespoons coconut milk
2 tablespoons maple syrup
Pinch of salt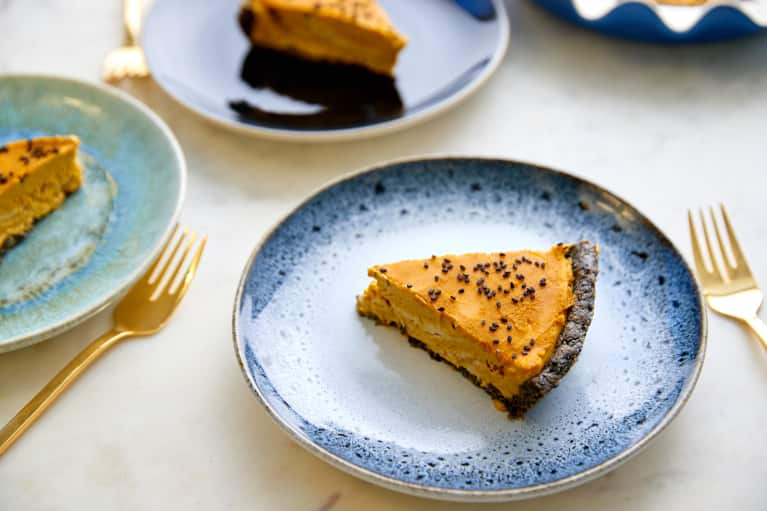 Soak the raw cashews in water in the refrigerator overnight, or on the counter for at least 6 hours.
To make the crust, finely grind black sesame seeds in a coffee grinder or mortar and pestle. Set aside. In a high-speed blender or food processor, pulse walnuts and pecans until finely ground. Some small chunks OK. Add the dates and coconut oil and process until well-combined. Finally, add the almond meal and ground black sesame seeds and process until combined. The dough should stick together when pressed between fingers.
Using a 9-inch pie pan, press the dough evenly throughout the bottom of the pan until the entire bottom and sides are covered. Cover the crust with plastic wrap, and place pan in the freezer to chill while you make the filling.
In a high-speed blender, combine the first set of pie filling ingredients (cashews, miso, coconut oil, coconut mylk, maple syrup, water, vanilla, and salt). Blend on medium until very smooth. Pour ¾ of the mixture into a bowl and set aside.
Add the remaining ingredients (pumpkin, miso, coconut mylk, maple syrup, and salt) to the remaining ¼ of the filling in the blender and blend on medium until very smooth.
Remove the crust from the freezer. Using 2 separate containers of the same size (a 1-cup measuring cup works great), alternate pouring the pumpkin filling and the cream-colored filling on top of each other in the center of the pie until the mixture spreads to the edges and fills the whole pie. This will create a subtle marbling that you can see when you cut into the pie. Using a rubber spatula, smooth over the top of the pie to create an even finish.
Place pie in the freezer and allow to set for about 2 hours. Remove pie from freezer 10 to 20 minutes before serving. Garnish with black sesame seeds. Cut into 8 slices and enjoy!
Store any leftovers in an airtight container in the freezer or refrigerator. Will keep for quite a while in the freezer. Just be sure to remove from freezer 30 minutes before serving, or move to the refrigerator several hours before serving.
Want to turn your passion for wellbeing into a fulfilling career? Become a Certified Health Coach! Learn more here.